Story highlights
Katharine and David Lowrie quit long-term jobs to go sailing
British couple spent more than$100k on their sailing boat
Baby Theo lived aboard Lista Light for most of his first year
British couple Katharine and David Lowrie were newly weds who had just turned 30 and wanted to work in nature conservation.
So why not sail the world?
"We both care hugely about the natural world, and David comes from a sailing background, so suggested we should sail, use the power of the wind, rather than fossil fuels," Katharine told CNN.
"I had never sailed, my maiden name was Land. I was scared."
Work-life balance
Although both were on a career path, David as a management consultant for accountancy firm Accenture and Katharine as an ecologist for the Royal Society for the Protection of Birds, the increasing lack of work-life balance prompted them to quit their steady jobs and go exploring instead.
David had spent his childhood sailing with his parents off the coast of Britain and the North Sea, aboard modern yachts, but he had never skippered a boat.
"I completely trusted him," said Katharine. "I had never sailed – a couple of dinghy episodes before we set off. I would learn on the go."
Fishing boat
In 2008, the couple, both keen runners, embarked on their journey in a 50-foot long, 35-ton wooden converted former cod fishing boat, built in Norway in 1935.
They spent £80,000, just over $100,000, on the vessel, called Lista Light, which they had bought from a family who had it for 20 years and also sailed it around the world.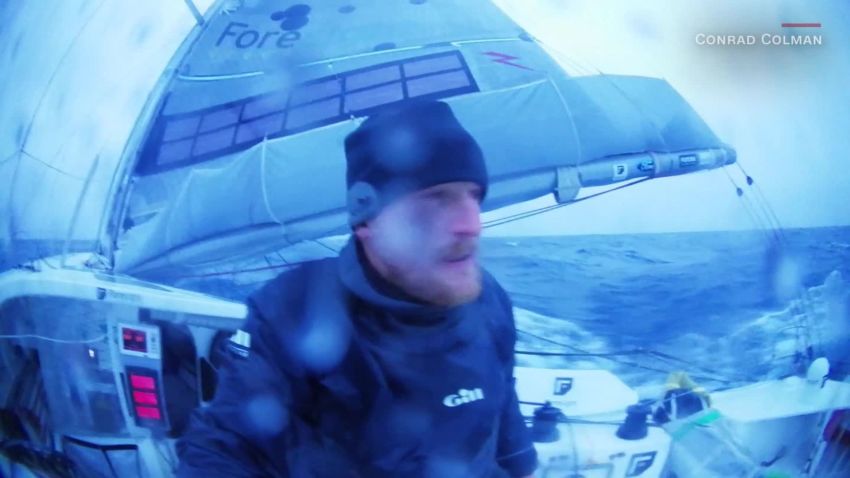 Conrad Colman: Face-to-face with Mother Nature
In an extract from her 2017 book, "Running South America With My Husband and Other Animals" which chronicles the couple's epic 6,500-mile run across the continent, Katharine describes their boat:
"Lista Light couldn't have been further away from David's ideal craft, but he had fallen head-over-heels for her. I understood. She was utterly beautiful, even though the dizzying web of rope suspended above our heads filled me with horror. How on earth would I ever work out what was what or what did what?
"David reassured me that we had a whale of a beast, fit for fighting whatever the sea and weather gods might hurl at us."
To keep fit, Katharine strapped a discarded rowing machine to the deck, while David fitted solar panels to its cabin-top and invested in a wind-come-wake turbine to create energy.
Dismasting in the Atlantic
In the middle of the Atlantic, halfway between Mauritania and the Caribbean, disaster struck.
In the middle of the night, in heavy winds, Lista Light's main mast broke off, with its rigging threatening to perforate its wooden hull.
"It was so horrific, I thought we were going to die," said Katharine, adding she had prepared the dinghy in case they had to abandon ship.
But after they managed to pull the waterlogged foresail and jib back on board, David set the mast free by working an angle grinder through the tangled rigging as the boat crashed through the waves.
As Lista Light is a ketch – a two-masted, fore-and-aft rigged sailing boat – they were able to continue sailing after David built a jury rig on top of what was left of the main mast.
Barefoot run
For the next seven years, Lista Light would become their home. They sailed thousands of miles: crossing the Atlantic to the Caribbean, where they spent two years undertaking the first ever complete seabird survey of the eastern Caribbean.
Then the couple headed into the Pacific Ocean through the Panama Canal to visit the Galapagos Islands, Easter Island and ultimately South America for their next big adventure.
After leaving the boat in Uruguay on the eve of the London 2012 Olympics, the Lowries embarked on a 15-month, mostly barefoot run across Latin America, while pulling a 100-kilogram trailer with all their possessions, to raise awareness of the environment and nature conservation. They became the first people to have run the Amazon Basin.
Baby on board
Following their run, the couple went back to the UK for a short break, during which Katherine gave birth to their first child. They returned to Lista Light in January 2015.
The Lowries finally arrived back home in Falmouth, south west England in August of that year, following a two-month long Atlantic crossing from Cabedelo, Brazil with their baby son Theo, who had lived aboard the boat from the age of three months to almost a year.
"Babies are amazing," said Katharine. "Very versatile. We had a full medical kit, our doctor provided us with antibiotics. We had an area under the table that we fenced off so it was Theo's play zone and safe zone, so we could run up and work together when necessary and know he was safe."
Lista Light also had wooden planking all around the boat for safety.
"We let him walk and crawl around on deck when it was calm, but one of us was always close," said Katharine. "His balance was amazing – he could stand up holding on to the swaying fencing."
Sailing with an infant came with its very unique set of challenges.
"We used reusable nappies, I washed them by hand and dried them in the rigging," Katharine said. "They dried very quickly in hot climates. Conventional nappies don't really work as most boats don't have enough space to store them and also they stink!"
READ: Sailing the world - with three children
'Very humbling'
After returning to Britain, the Lowries had a second child, and have since embarked on a career in public speaking and writing books about their sailing and running expeditions.
Although Lista Light was sold to another family, they plan to go sailing again once their children are around eight to 10 years old.
"It is an incredible way to travel, you are at the will of weather and nature and it is very humbling," said Katharine. "So much happens and yet so little. It is a wonderful way to travel with children, as you can bring your world with you."
Visit CNN.com/sailing for more news and features
"We recently cycled through northern Argentina and Theo really missed his home and his routine," she added. "Sailing can really help that. But you do need to be incredibly resourceful, sailing will teach you it if not."