Story highlights
'Plastic attacks' have taken place at supermarkets around the world
Campaigners want stores to cut down on plastic packaging
The aim is to reduce the environmental impact of plastic waste
When a group of concerned citizens started protesting plastic packaging at supermarkets, they had no idea that their actions would spark a global movement.
Earlier this year the activists in the UK began organizing "plastic attacks," where customers unwrap their shopping in a supermarket and return single-use packaging to the store.
"We decided it was time to show supermarkets just how many shoppers were concerned about the amount of plastic packaging on their food," explained Alex Morss, who helped organize some of the first events.
The average person in the EU generates 31kg of plastic packaging waste each year. Globally, as little as 14% of plastic packaging is collected for recycling, according to the Ellen MacArthur Foundation, and each year, more than 8 million tons of plastic waste makes it into the world's oceans.
Read: Ocean plastic predicted to triple within a decade
Morss says the movement snowballed when videos of the first plastic attacks started being shared on social media. Soon, like-minded people from around the world began contacting the organizers, asking how to hold their own protests.
Now there have been well over 100 plastic attacks around the world, mostly in Europe, but also in Hong Kong, South Korea, Canada, Peru and the United States.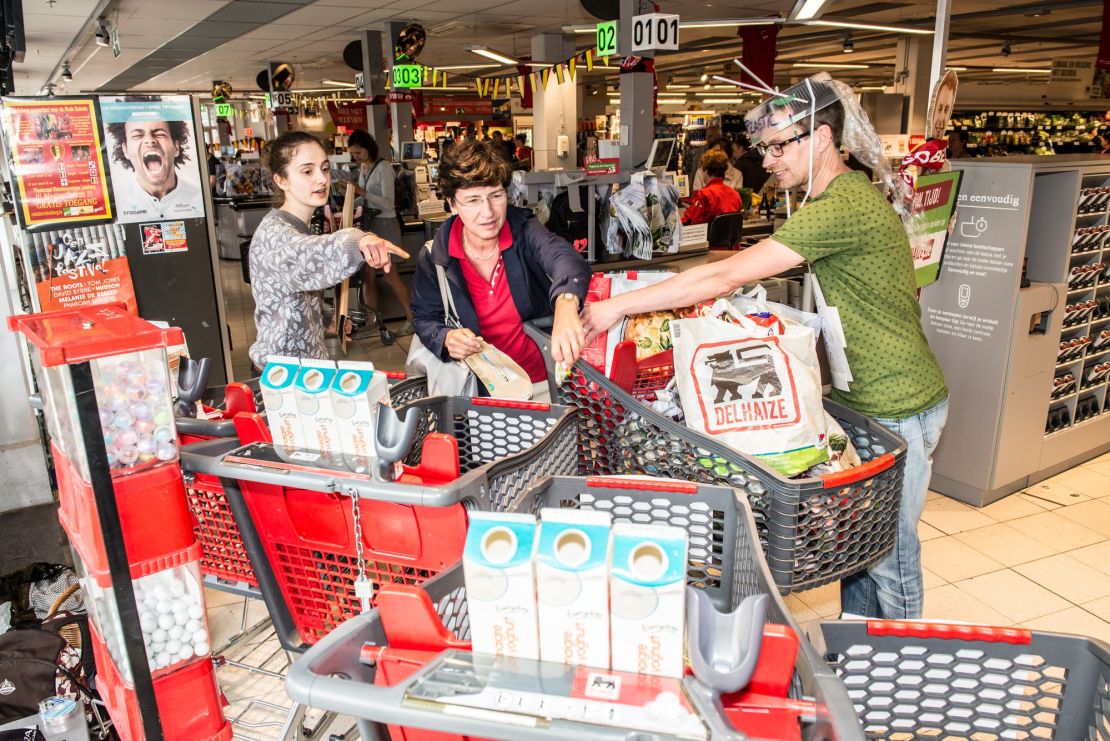 'We're just regular people'
In Belgium, Christophe Steyaert was one of those inspired by the UK events. He now runs the Plastic Attack Global Facebook page, and advises groups around the world. At the moment, he says he's helping to organize attacks in Belgium, Colombia and Spain.
"It is a decentralized movement," he explains, "and we promote it as such.
"We're trying to reach as many people as possible – not only the customer to raise awareness, but also the shops, the industry that is creating the plastic, and the government."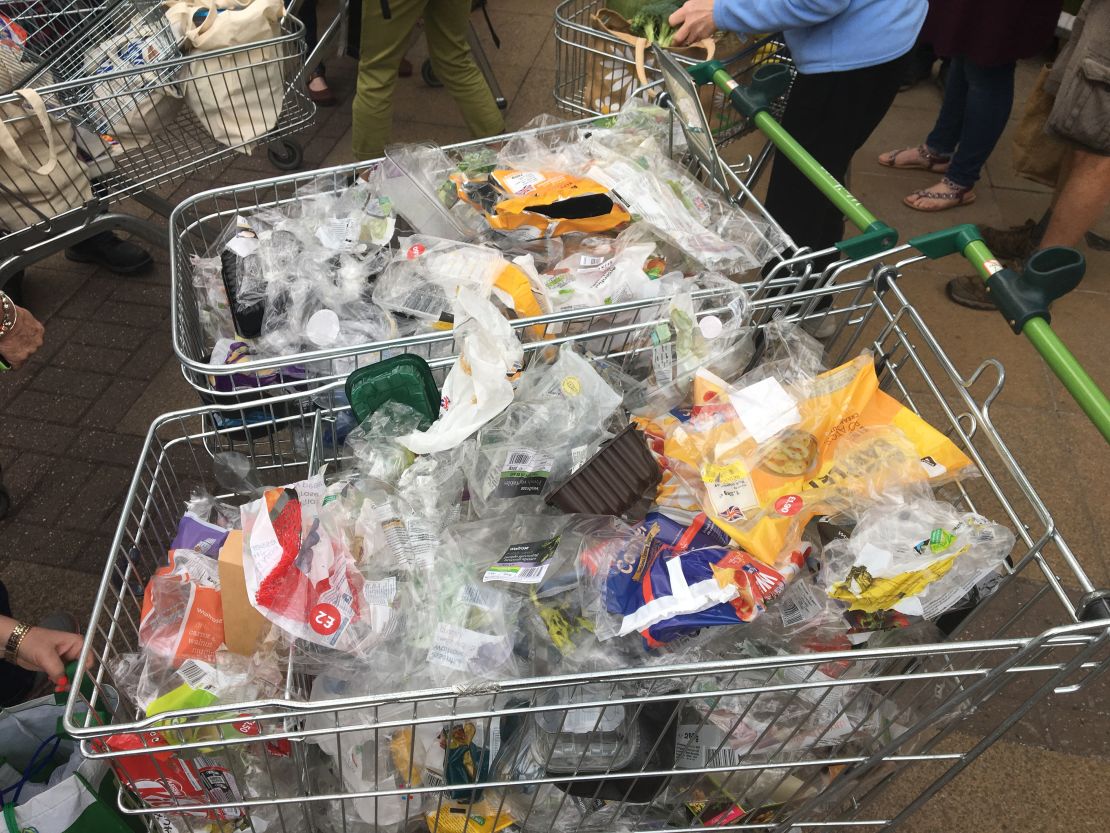 Steyaert says that the biggest attacks in Belgium have drawn hundreds of people.
"We're just regular people who are very aware of the problem and want to do something," he said "and the best way to do something is to change yourself and spread the word that it's not so difficult to change."
Read: Australia is banning plastic bags. Here's what other countries are doing
Morss, a journalist, ecologist and educator, says the protestors have generally been welcomed by supermarkets, and staff are often supportive of their aims. She says they always get permission from the supermarkets. The unwanted packaging is put into shopping trolleys and recycled by the stores where possible.
"We're not a bunch of anarchists," says Morss. "We're very polite, well-mannered people of all ages, from teens to people in their 80s and 90s."
Supermarkets taking action?
There are signs that the plastic waste debate has entered the mainstream. In the UK, a Greenpeace online petition asking supermarkets to "ditch throwaway plastic packaging" has more than 500,000 signatures, and international retailers including Lidl and Carrefour have recently announced initiatives to reduce their plastic waste.
Read: The man who fishes for plastic from a floating bicycle
The British Retail Consortium said: "Retailers are working hard to reduce the amount of packaging and innovating to ensure the packaging they do use is recyclable.
"Recent examples include offering non-plastic cutlery, crockery, straws and drinks stirrers, eliminating polystyrene and PVC from food packaging, selling tomatoes on cardboard trays rather than plastic ones and allowing customers to use their own containers at meat and fish counters."
Some environmentalists argue that plastic packaging can have benefits. They say that by extending the shelf life of food it can reduce food waste, helping to fight climate change. And because it weighs less than some other types of packaging, it can reduce fuel consumption during transportation.
A spokesperson for the British Plastics Federation told CNN: "Plastic protects products from potential damage during transportation, permits the transport of goods over longer distances … and is hygienic, preventing the risk of contamination.
"With regard to the wider ongoing debate about plastics, everyone wants the same thing: to leave the environment in a better place for future generations. But plastics will continue to play a huge role in packaging – they have so many unique benefits."
Read: Plastic-free supermarket aisle debuts as momentum builds to reduce waste
Morss argues that there are other ways to extend shelf life. She says shops could display fruit and vegetables in closed containers, rather than wrapping them individually, and that shoppers can easily store fresh produce in reusable containers in their fridges at home.
"In delis and zero-waste shops, meat and cheese are wrapped in wax paper or things other than plastic," she says. "Food will last perfectly long enough if we are more responsible and sensible with our buying decisions."
Morss adds: "Plastic should not be used to justify the argument that it enables food to be flown further around the world – why not buy local and reduce your carbon footprint that way?"
She believes this is an issue where ordinary people can make a difference.
"We're not powerless – we do have a voice and if enough of us speak up, they have to listen."