Investigators searching for missing University of Iowa student Mollie Tibbetts have gotten hundreds of tips and are looking for her in ponds, fields and from the air, officials said Friday morning at a news conference.
"Unfortunately, we have not yet found Mollie, but it has not been due to a lack of effort or a lack of resources," said Kevin Winker, director of investigative operations for the Iowa Department of Public Safety.
Tips on the missing student "have been coming in regularly," and 30 to 40 investigators are on the case, Winker said.
The 2-week-old case is "very frustrating, but it hasn't slowed our efforts," Winker said, adding that investigators "come to work everyday with the attitude that we're going to find Mollie."
Asked whether they're investigating Tibbitts' disappearance as an abduction, Winker said they are treating it as a missing person case. He would not say whether investigators have any suspects or persons of interest.
Tibbetts disappeared on July 18 in Brooklyn, Iowa, a small community an hour east of Des Moines, according to the Poweshiek County Sheriff's Office.
"Days seem like weeks," Rob Tibbetts, the young woman's father, said at the news conference. He thanked investigators for their work and the news media for coverage of his daughter's disappearance. "We're all in this together. We're all trying to bring Mollie back."
Reward fund tops $170,000
Mollie Tibbetts' relatives and friends have been posting fliers seeking information on her whereabouts. Her family and Crime Stoppers of Central Iowa announced Thursday that a reward fund has raised $220,000.
"We believe that Mollie is still alive and, if someone has abducted her, we are pleading with you to please release her," said her mother, Laura Calderwood.
Calderwood said she feels her daughter's presence every day. "Mollie was an incredibly strong young woman, and I don't know that I have the strength in me, but Mollie is lending me her strength every day, every night," she said.
Rob Tibbetts called the reward "another tool in our arsenal" to bring her home.
"We're providing this fund to provide some financial incentive for someone who's otherwise reluctant to come forward," he said Thursday.
Asked whether he had a message for his missing daughter, the father earlier told HLN, CNN's sister network: "Just hang in there, pie. We're fighting like hell. … We'll find you."
More than 200 interviews have been conducted in the investigation into Tibbetts' disappearance, said Richard Rahn, the special agent in charge with the Iowa Division of Criminal Investigation for the Major Crime Unit, earlier this week.
Investigators have been looking at various data, including social media and information from a Fitbit that Tibbetts is known to have used.
'No one just disappears'
Tibbetts, a sophomore, was studying psychology and wanted to earn a doctorate and write books, her father said.
"It's intolerable. No one just disappears, no one just vanishes without a trace," he told HLN.
On the day she vanished, Tibbetts' brother dropped her off at her boyfriend's house so she could dog-sit, HLN reported. She was last spotted jogging around 7:30 that evening, wearing gym shorts, a black sports bra and running shoes, the sheriff's office said.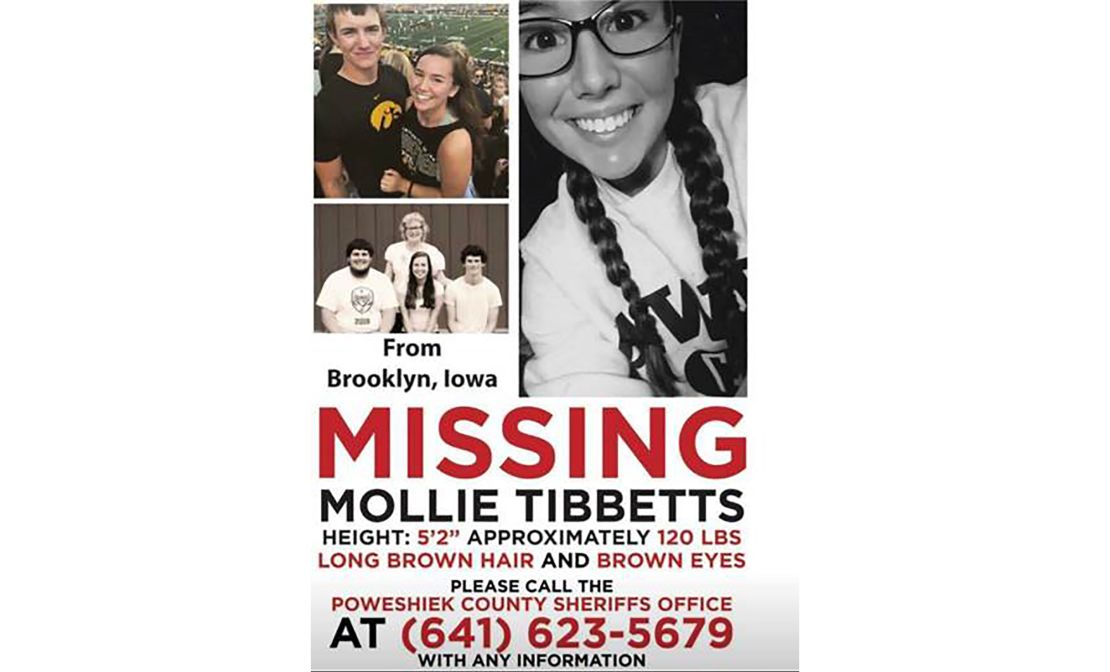 Calderwood said the recent weeks have felt like torture.
"The first night she went missing, I was distraught," Calderwood told CNN affiliate KCCI in Des Moines. "I knew her phone was dead, but I sent her a text saying, 'I love you. We're looking for you. We will find you no matter what.'"
CNN's Hollie Silverman and HLN's Christi Paul contributed to this report.