On a golf course in northern Australia everything is swinging … not least because 30 players are in the nude.
Well, not completely nude – these golfers strolling around the Humpty Doo golf course near Darwin have compromised by wearing golf shoes and a hat to protect them from the sun.
The "Wandering Bares" event was organized by 69-year-old nudist Bruce Jensen and his wife Julie, who run the "BruJul Nudist Retreat."
"We presented the event before the club committee, it took months of negotiating but they finally said we could play naked golf," Jensen told CNN Sport.
However, the committee did blanch at the naked golfers playing on the eighth and ninth fairways, which are situated in full view of the clubhouse. As a result, those two holes had to be skipped.
"But as it was such a success, I'm going to push to play in those fairways next year," added Jensen.
"The clubhouse is keen to schedule us in for next year."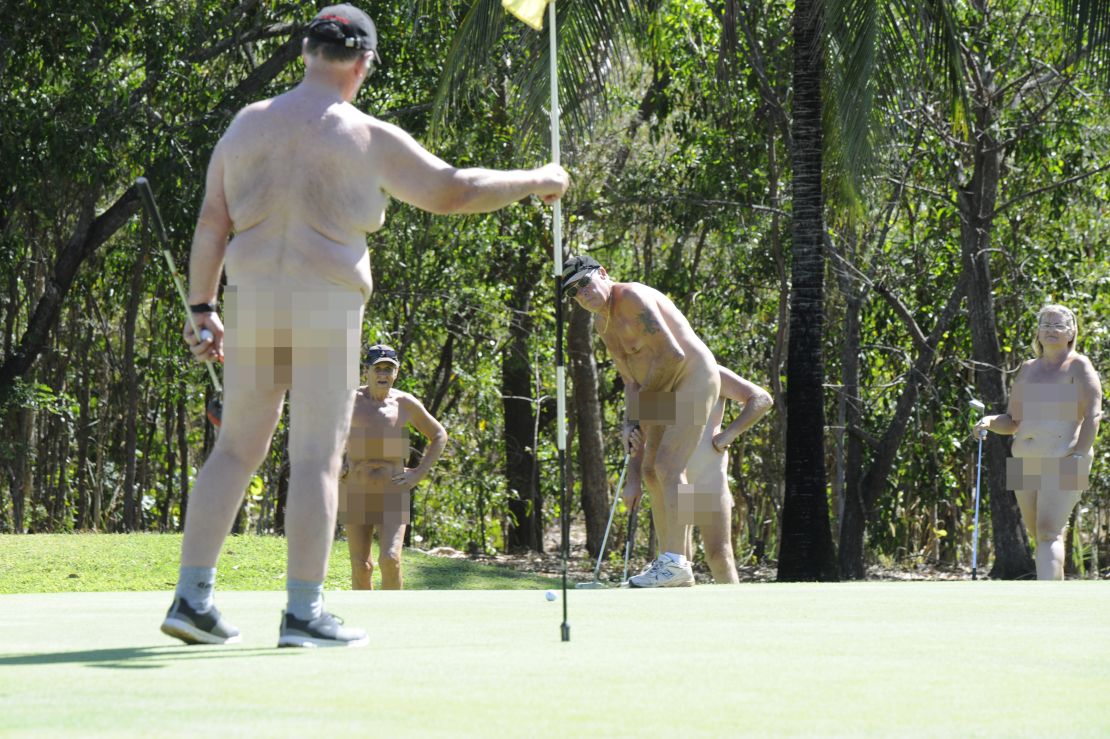 Playing golf in the nude does present its challenges – not least the danger of chafing of the skin in carrying heavy golf bags.
"There was one attendee who instead of using a buggy was using his shoulder to carry his clubs, which was a mistake because you can only do that when you are wearing a shirt as it provides a layer of protection," said Jensen.
"Being naked you do not have that protection – he complained about his shoulder being sore but it was all in good jest."
READ: Naked rowers break Atlantic record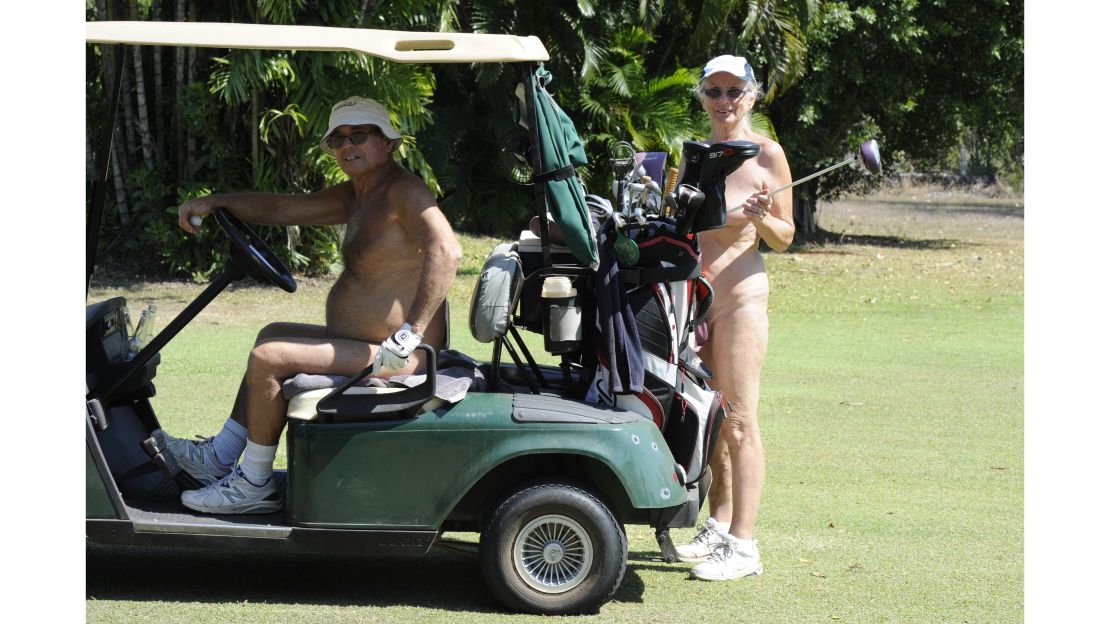 Jensen's curiosity in naturism was peaked in his twenties while living in Newcastle – two hours north of Sydney – after reading an article on nudists sunbathing at Dudley beach.
The beach was close to home and Jensen felt he was missing out.
"I thought to myself, 'How come I have not heard anything about this?'" he said.
"On the same day I shot straight down, dived in to the ocean with no gear on and I was a converted nudist – I loved it."
It took him a little time to convince Julie to join him in the pursuit of nudism, but he eventually persuaded her.
"She was a lady who loved going to the beach and the furthest she had gone was being topless, never fully naked," he said.
"But after going to nudist retreats, it did not take much convincing – she loved it."
For Jensen, nudism creates a strong community atmosphere among like minded people.
He acknowledges that while you can have a good time at a clothed beach, you might be hesitant to strike up a conversation with a stranger.
However, at a nudist beach, he says, by the end of the holiday you would know every single person – creating one big family.
"Once you remove that last piece of material, you remove all of your inhibitions," he said.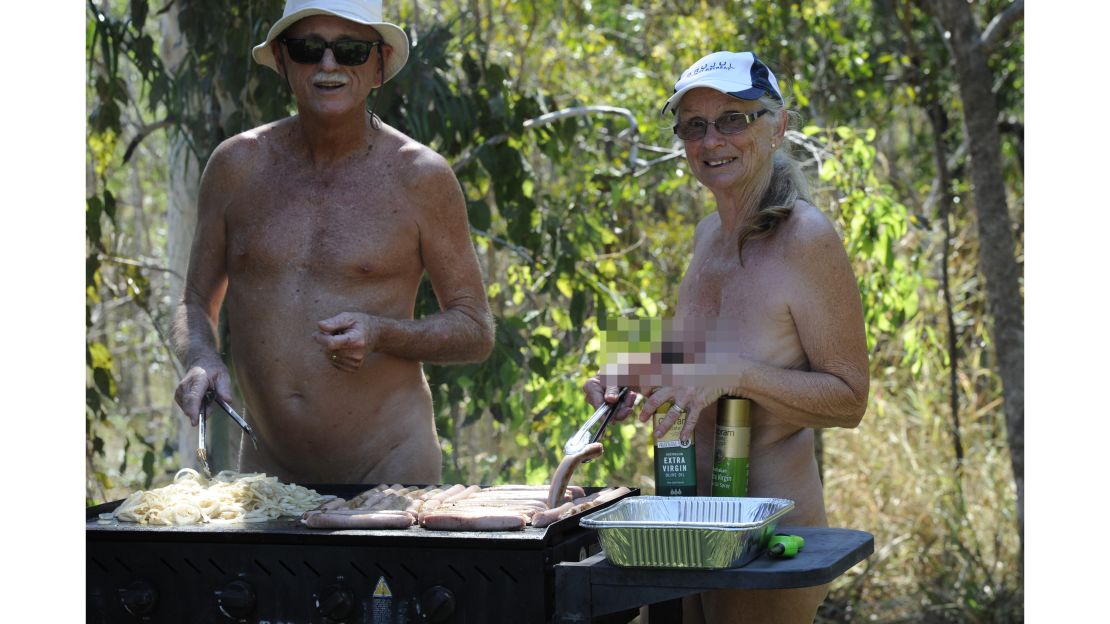 READ: Take a break from the Olympics. There's a 'naked marathon'
A strong community atmosphere
When it comes to playing sports au naturel, Jensen is not alone.
Since 2009 on the weekend after Labor Day, American nudist retreat White Thorn Lodge in Darlington, Pennsylvania has hosted their annual naked volleyball Superbowl event, bringing together 90 teams to participate.
One all female crew discovered that the secret to ease the physical burden of rowing across the Atlantic Ocean was to do it naked.
Skipper of the Row for Freedom team Debbie Beadletold CNN Sport that sea water seeping inside your clothes increases the friction against your skin, causing sores but rowing naked gives you the ability to dry quicker, instead of having wet clothes.
Visit cnn.com/sport for more news and features
For Jensen nude golf, is a liberating way to enjoy the game.
"It puts a different connotation on how you're swinging," he says.