Venezuelan President Nicolas Maduro claimed to have "enough proof" to link the Colombian government to what he called "the frustrated assassination attempt" against him over the weekend.
"It is clear and there is enough proof of the involvement of outgoing Colombian government of Juan Manuel Santos," Maduro said in a video posted on his official twitter account on Tuesday.
Surrounded by members of his inner circle, including First Lady Cilia Flores, Maduro accused Santos of leading an assassination attempt during a military parade in Caracas on Saturday. The attack was carried out by several armed drones that detonated as Maduro addressed the crowd, according to Venezuelan officials. Seven members of the national guard were hurt in the incident.
Maduro claimed his government had discovered that "Colombians trained the assassins" in the Colombian city of Chinacota in the northern Santander state, which borders Venezuela.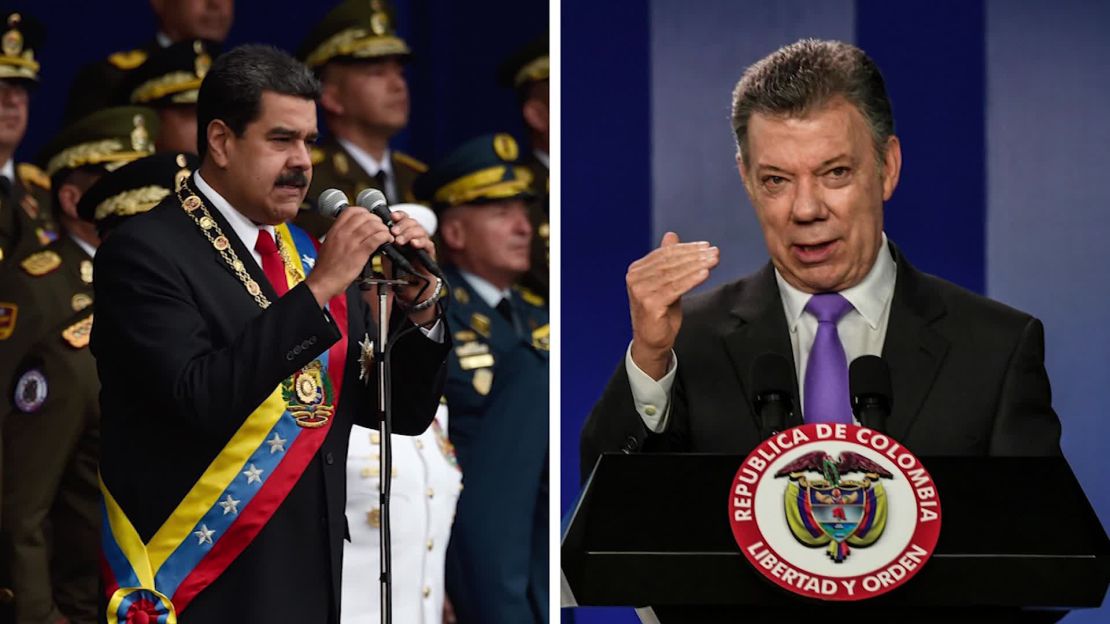 Immediately after the incident, Maduro accused Colombia of orchestrating the attack. A Colombian presidential source told CNN that Maduro's accusations were "baseless."
President Santos, whose last day in office was Monday, responded to the early accusations on his official Twitter account saying, "Don't worry. On Saturday, I was doing more important things, baptizing my granddaughter Celeste."
Maduro also claimed Venezuelans opposed to his government who are living abroad were involved in the plot.
"We are working here, carrying out an investigation into the frustrated assassination attempt, gathering the evidence in record time," Maduro said. He added that all the evidence would be presented "in a matter of hours."
Already six people have been arrested in connection to the incident. The suspects were charged with "terrorism and assassination," according to Venezuelan Interior Minister Néstor Reverol.