He's the secret weapon behind many top sports stars, a Yoda-like master intent on instilling a winning mindset.
Dave Alred was the guru guiding the ice-cool kicking of English rugby legend Jonny Wilkinson, and he inspired golfer Luke Donald to think like an "assassin" as he rose to world No.1.
Alred's latest most notable working relationship is with Francesco Molinari, who recently clinched golf's Claret Jug at the Open.
The English sports performance coach – working alongside Molinari's swing coach Denis Pugh and putting mentor Phil Kenyon – has applied his philosophy for performing under pressure to help transform the talented Italian into a world beater.
Just like Wilkinson when he slotted the winning drop-goal to clinch the World Cup for England against Australia in 2003, the 35-year-old Molinari kept his head in the pressure cooker of playing alongside the resurgent Tiger Woods to clinch his maiden major title at Carnoustie.
"There was probably a missing link between swinging well and scoring well. Dave filled that gap and I can't thank him enough," said Molinari, who will bid for a second straight major at this week's US PGA at Bellerive Country Club, St. Louis.
"He's worked on a lot of things mentally, on my game, on my short game on my long game. He pushed us all a little bit more. You can see the results, the difference that he's made."
READ: Woods and Mickelson targeting $10M Thanksgiving duel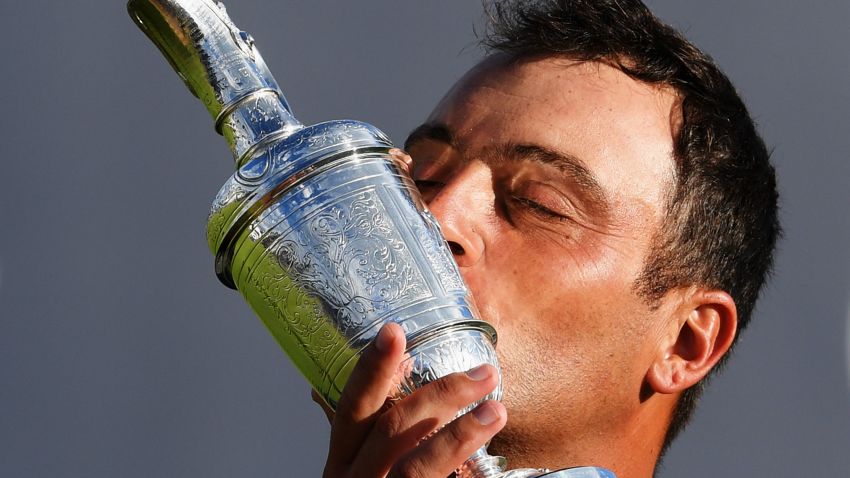 Francesco Molinari and golf in Italy
Alred has been working with Molinari for two years, a constant presence with notebook in hand, watching, recording everything.
You can't improve if you don't know where you're starting from, argues Alred, who has also worked with the England rugby and cricket teams, the British and Irish Lions, the Springboks, Manchester City, British Judo, Queensland Reds and Australian rules football sides West Coast Eagles and Brisbane Lions.
Alred's ideology is more of a long-term behavior change than a technique you can switch on and off, he says. He wants his players to be always striving to improve, and he insists on practising with consequence at all times.
"Once your brain is deflected to the outcome, or as it is sometimes in golf to what you're trying to avoid rather than what you want to achieve, then the process suffers and you end up all over the place," says Alred, who will often get players hitting golf balls or kicking rugby balls into a net to remove the outcome element.
During a session with Molinari – from putting to short game to driving – no shots are hit in vain, and everything has accountability.
"The biggest chunk of stuff is how we practice and prepare in terms of relevancy of practice and does it match the behavior of a tournament," said Alred, a former high-school commerce teacher turned rugby coach, who has a PhD in Performing Under Pressure from Loughborough University.
"We get warm and then as soon as the club is in his hands, the shot counts and I suppose that's the biggest change. I would like to think that sometimes the environment he practices in is more pressurized and potentially more accountable than the tournament."
READ: Tiger Woods targets dual player-vice captain role at Ryder Cup
How Tiger Woods' dream unraveled on the 11th
Drills are all target specific and might involve, for example, seeing how many wedge shots it takes to get 10 within 10 feet, or hitting five shots and seeing how many are within 10 feet.
Pushing yourself into what Alred calls the "ugly zone" – where learning a new skill or refining an existing one becomes uncomfortable, or "when execution doesn't match intention" – is where the biggest improvements are made.
"They've got to want to achieve," says Alred. "Some players will argue, 'when I'm comfortable I play well,' but when you're playing things happen and you get in areas where you're uncomfortable so wouldn't it be better to practice in an area that makes you uncomfortable so you can cope with whatever the tournament throws at you?"
Francesco Molinari gets put to the test
Sometimes Alred needs to change the message to get the point across.
When Wilkinson, a voracious but smart practiser, was once struggling with his place kicking, Alred suggested he visualize a disinterested spectator in the stands, whom he called Doris.
Wilkinson's task was to kick the ball through the posts to dislodge the magazine Doris was reading. Once this was accomplished he aimed for a drink in her other hand. By focusing on the smallest possible target, all thoughts of technique were pushed back into his subconscious, according to Alred.
"I think the most important thing as far as Fran is concerned is he desperately wants to achieve in practice," he adds. "That brings its own pressure but he understands that's the most relevant way of going about stuff.
"We don't spend hours and hours beating balls, it's much more specific than that."
Molinari's 2018 purple patch includes victory in the BMW PGA Championship at Wentworth in May, as well as the Quicken Loans title in the US and second in the John Deere Classic in his two events before the Open, taking him to a career high of world No.6.
"Statistically, he is way better," says Alred of Molinari, a four-time European Tour winner before this season and a two-time Ryder Cup player. "You can track his performance almost within the numbers he gets in practice."
Alred's 2016 book "The Pressure Principle" details his eight fundamentals for performing under pressure – both in sport and in general life, from social occasions, to work situations to job interviews.
The interlinking strands are anxiety, language, managing learning, implicit-explicit balance, behavior, environment, sensory shutdown and thinking correctly under pressure – made famous by the England rugby team under Clive Woodward.
"T-Cup," as it is known, is essentially a conscious shorthand note encapsulating everything else and helping to engage in your process. For former England rugby star Rob Andrew when he was poised over a crucial kick it was simply, "Hard foot, precise piece of stitching."
One of Alred's techniques is to get the player to adopt a performance mindset and emotional state, which might be different to his normal persona.
With Donald, Alred encouraged him to think like an assassin – "it's one shot, one opportunity and you need to hit right between the eyes because you don't get a second chance."
The range of emotions are bespoke for each individual he says, and while the idea of an assassin or a warrior works for some, it might make others too tense.
"With Fran it's actually just getting a bit more excited about the challenge of each shot, excitement tempered with a little bit of aggression superimposed with a sort of command posture seems to be the best way of bringing the best out of him," he says.
Of all the strands, language – allied to tone and body language – is the "ultimate performance-enhancing drug," writes Alred in his book.
"Language for coaching is the most underrated and ignored fact," he says.
"If you listen to most coaches on the driving range or in a changing room, they say things like, 'don't drop the ball, or don't hook it or don't hit it in the bunker.' I don't care how colorful the language is, but try to give an image to the brain of what you want to see, so 'put your hands up for the pass, or hit that spot on the fairway.'
"The skill is almost parking your own emotions, and being objective about what message they need to hear, and that's quite difficult."
Alred works closely with Molinari's caddie Pello Iguaran Valle to help him get the best out of the Italian on the course.
"That's where working with a caddy is so dramatically important," says Alred, who will urge the bagman to "get really fussy with the player."
"[He should say] 'Can you see that little shadow on the green? That's the target,' so you almost displace any concentration on what you want to avoid because if the target is small enough you haven't got the spare mental capacity to focus on anything else."
Visit CNN.com/sport for more news, features and videos
Pressure is in the eye of the beholder. For Alred, it's all in a day's work.