An informal council is exerting sweeping influence over the US Department of Veterans Affairs from President Trump's Mar-a-Lago club, a former VA official confirmed to CNN, corroborating details first reported Tuesday by ProPublica.
This group of three, led by Marvel Entertainment chairman Ike Perlmutter, was very open about the fact that they had been "anointed by the President and had his full support to influence policy at the VA" despite never being appointed or installed as formal advisers, the source said.
Bruce Moskowitz, a Palm Beach doctor, and lawyer Marc Sherman were the other two individuals who worked to influence the VA from the outside, the source confirmed.
The trio, known within the VA as "the Mar-a-Lago crowd," have used their influence with Trump and within the VA for personal gain, badgering career staff, pushing certain policies and products and ignoring government rules and processes, ProPublica said.
It cited hundreds of documents obtained through the Freedom of Information Act in the article, which says the three exercised their influence without "transparency, accountability or oversight," and that officials traveled to Mar-a-Lago at taxpayer expense to hear their views.
CNN has not been able to independently gain access to the documents or confirm their contents.
ProPublica is an independent, nonprofit newsroom focused on investigative journalism.
Its investigation found that Perlmutter, Moskowitz and Sherman pushed for expanded use of private-sector health options at the VA, proposing to invite "private health care executives to tell the VA which services they should outsource to private providers like themselves … precisely the kind of fox-in-the-henhouse scenario that the VA's defenders had warned against for years."
The former VA official corroborated that account, saying there was tension over the issue at the VA, with former Secretary David Shulkin accusing Trump allies of wanting to privatize the VA's health services. The three men told ProPublica they never sought or received financial gain for their work with the VA.
'Most productive'
VA spokesperson Curt Cashour, responding to a CNN request for comment, did not specifically address details related to the "Mar-a-Lago crowd" but said the department appreciates "hearing from experts both inside and outside VA as we look for better ways to serve our nation's heroes."
"This broad range of input from individuals both inside and outside VA has helped us immensely over the last year and a half – a period that hands down has been VA's most productive in decades," the statement said.
CNN reached out to all three men. They have not yet responded to requests for comment.
According to ProPublica, Perlmutter, Moskowitz and Sherman declined to be interviewed and fielded questions through a crisis communications consultant who offered a statement downplaying their influence.
"At all times, we offered our help and advice on a voluntary basis, seeking nothing at all in return," the statement provided to ProPublica said. "While we were always willing to share our thoughts, we did not make or implement any type of policy, possess any authority over agency decisions, or direct government officials to take any actions. … To the extent anyone thought our role was anything other than that, we don't believe it was the result of anything we said or did."
'A huge corruption scandal'
But Virginia Democratic Rep. Don Beyer reacted to ProPublica's report on Twitter, calling the revelation "a huge corruption scandal."
"Trump gave power to make decisions at the VA - affecting every US veteran - to three men who are neither government officials nor vets. Their only qualification: membership at Mar-A-Lago, for which they pay Trump," Beyer said.
Membership to the exclusive 20-acre club in Palm Beach, Florida – now dubbed by Trump the "Winter White House" – reportedly costs $200,000, with annual dues of $14,000.
The ranking Democrat on the House Committee on Veterans' Affairs wrote to VA Secretary Robert Wilkie on Wednesday, demanding any and all communications between VA officials and Perlmutter, Moskowitz and Sherman.
"The situation reeks of corruption and cronyism," said Rep. Tim Walz of Minnesota in a statement.
The trio's influence at the agency caused "frustration and confusion … for career government employees having to work outside the bounds of what we know is right," the source told CNN. "We tried on the government side to keep things appropriate, but senior VA officials were applying pressure to meet these outside demands."
The former VA official noted that in the summer of 2017 some in the organization had been reprimanded for openly discussing Perlmutter's involvement. Shulkin was among those who told staff to keep quiet about the fact that the Marvel magnate was so closely involved in the agency under the "auspices of protecting his privacy."
ProPublica noted that the Federal Advisory Committee Act of 1972 gives agencies a way to consult outside advisers, but those panels and committees have to comply with cost controls, public disclosure and government oversight.
Barking at VA officials
According to ProPublica, Perlmutter would "bark" at VA officials during phone calls, imploring them to move faster. Former officials told ProPublica that the Marvel chairman would say he had no patience for bureaucratic explanations about why things had to be done a certain way or took a certain amount of time.
The source told CNN that Perlmutter was very keen on getting the inside scoop on what changes needed to happen inside the VA and made it clear that he had a direct line to the President and his son-in-law and senior aide, Jared Kushner.
The "sense of entitlement from Mar-a-Lago was handed down directly from the President – Ike was very candid he could go directly to the White House or directly to Jared," the source said.
Perlmutter's conversations were specific about how he could help the private sector get more involved in VA operations and how he could use his relationships to get people to the table.
"I've never met anyone in this town that didn't say they had a genuine interest in helping vets," the source said, adding that beyond that surface level interest, there was no way to know what the true intentions of the Mar-a-Lago crowd were.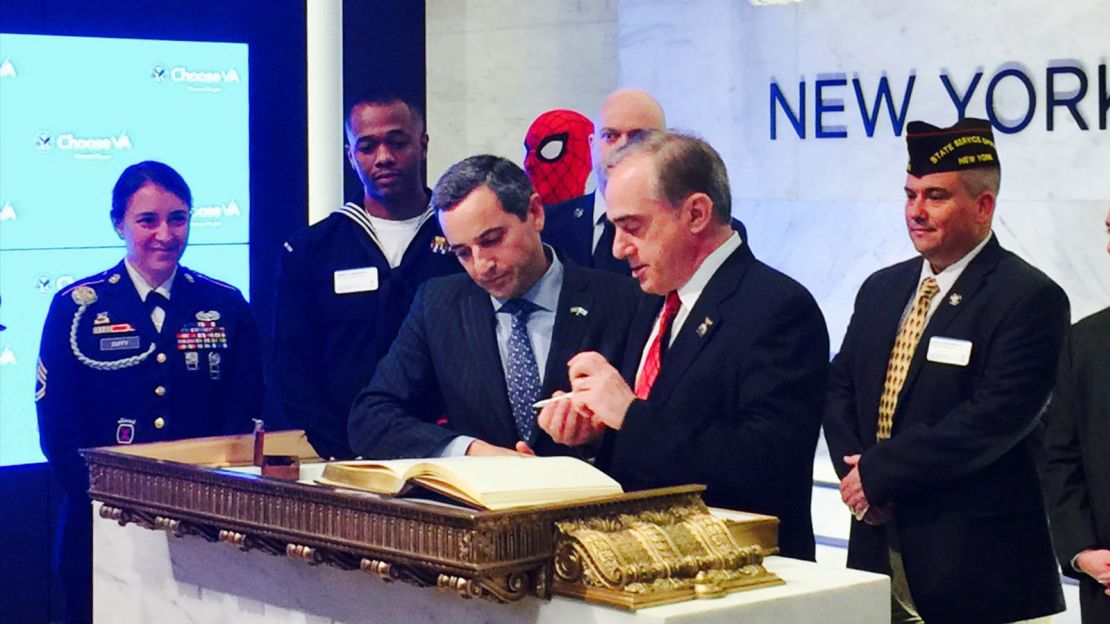 The group used its influence at the VA for personal gain, ProPublica reported, detailing a 2017 Veteran's Day event at the New York Stock Exchange that Perlmutter proposed during a series of conference calls with executives at Johnson & Johnson.
The event was pitched as a way to promote a public awareness campaign about veteran suicide – but ultimately also turned into a promotional opportunity for Perlmutter's company with executives from Marvel, its parent company Disney and Johnson & Johnson acting as sponsors.
A former VA official told CNN that this event – which included Shulkin ringing the opening bell – was coordinated primarily by the VA's Executive-in-Charge for the Office of Information and Technology Camilo Sandoval, who worked directly with Marvel executives on planning the event.
Sandoval, the former director of data operations for Trump's 2016 campaign, came to the VA after working at the Treasury Department and reportedly clashing with staff there.
Marvel 'swag'
Congressional Democrats called on then-Deputy Secretary Thomas Bowman to fire Sandoval, saying his appointment raised data security concerns due to his previous position as the Trump campaign's data operations director.
Ultimately, Marvel superheroes Captain America and Spider Man joined Shulkin at the NY Stock Exchange for the event and Marvel "swag" was distributed to those present, according to ProPublica and images of the event obtained by CNN.
Shulkin was recommended to Trump by Perlmutter, but the then-VA secretary quickly became frustrated by demands from the Marvel chairman and his informal Mar-a-Lago council, ProPublica reported. Shulkin was ousted in March.
The former VA official told CNN that it was almost as if the Mar-a-Lago group were given influence over the agency as "spoils" after Trump's election victory, adding that the dynamic was "unprecedented."
CNN's Juana Summers contributed to this report