Santa Rosa, California
CNN
—
The charred trees that dot the yards and sidewalks on Jenna Place remain as a reminder of last year's catastrophe, but the heaps of ash and twisted metal that once filled lot after lot are gone.
Ten months after a deadly wildfire tore into parts of the city of Santa Rosa, the middle-class subdivision of Coffey Park is being reborn and an expansive rebuilding effort is taking shape. The tight-knit neighborhood, almost wiped from the map by the monstrous blaze that swept in early last October, is on its way back.
Construction workers are everywhere, pouring cement foundations and erecting wooden framing to begin replacing at least some of the 1,300 homes obliterated by the deadly Tubbs Fire.
The massive wildfire eventually claimed around 5,700 structures, making it the most destructive in California's history. It also cost 22 lives, according to state officials – and left a trail of grief and devastation in its wake.
Now signs of new beginnings offer hope for the future of Santa Rosa residents and, perhaps, some solace to thousands of Californians who are reeling from the massive damage done by this year's fearsome fire season.
"It's very heartening, " said John Wimmer who is rebuilding a new house on the site of his former home.
"I talked to a lot of the neighbors and they're excited about a new house and they're chomping at the bit to get back in … buy new furniture and start all over again."
According to city records, more than 320 homes are under construction in Santa Rosa. Several have already been completed in the Sonoma County wine country city of around 175,000 people.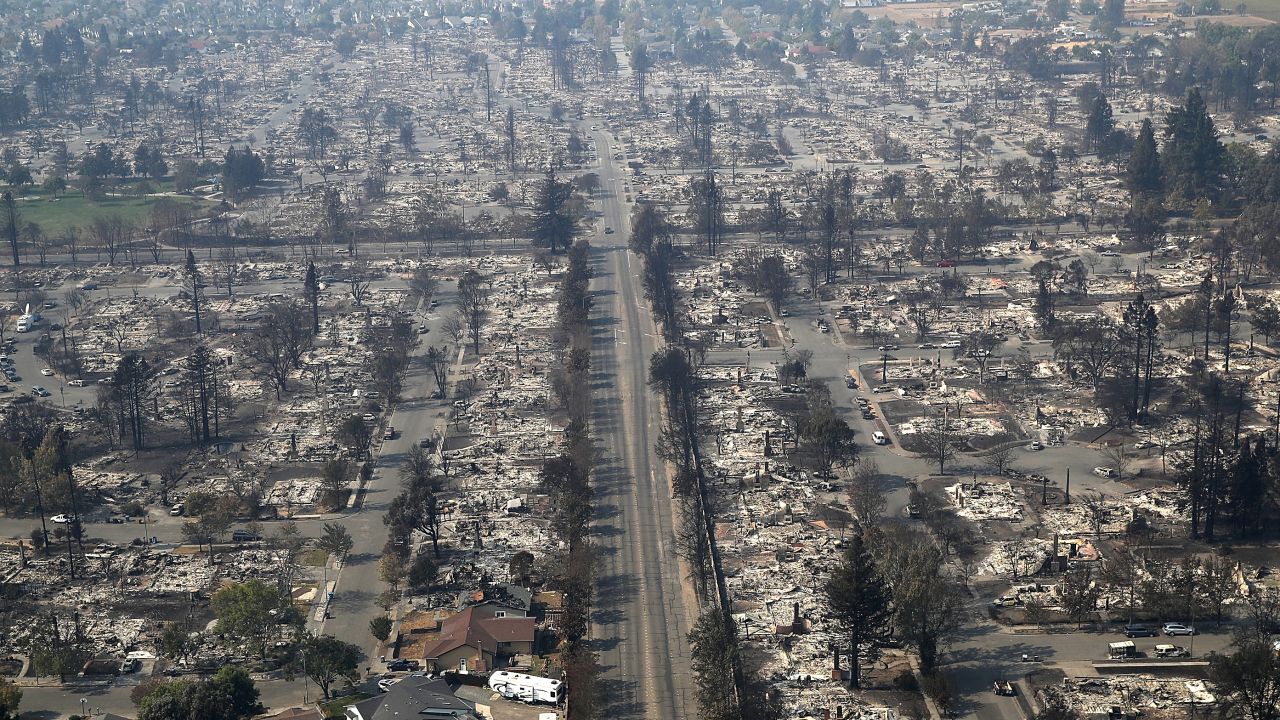 'Take some deep, deep breaths'
While city leaders estimate it will take a minimum of five years to fully rebound, the example of Coffey Park's early resurgence could be especially inspiring for the Northern California city of Redding, which is grappling with the aftermath of yet another historic wildfire.
More than a thousand homes in Redding and its surrounding communities have been destroyed by the Carr Fire. Like last year's Tubbs Fire, the fast-moving blaze turned almost everything it touched to ash, reducing homes and lives to mere remnants.
Santa Rosa City Manager Sean McGlynn, who spent part of last week in Redding sharing his experiences from a challenging year, advises against moving too fast as Redding starts on the long road to recovery.
"You can move too quickly and risk not catching things that need to be repaired, or cause residents to enter spaces that are unsafe," McGlynn warns in a city press release.
Echoing that sentiment, Santa Rosa's Mayor Chris Coursey stressed the need for patience, especially in the early stages. "It's going to be a long haul and not everything will go smoothly," he said in a telephone interview.
"Just stop every once in a while take some deep, deep breaths."
'Coffey strong'
Wimmer, 65, credits a neighborhood support group formed in the wake of the disaster for helping residents navigate through the bureaucratic maze of insurance, FEMA assistance, and the permitting process.
The group, called "Coffey Strong," has also helped neighbors deal with what he believes is a form of post-traumatic stress disorder – brought on by the sudden loss of homes and possessions.
"We've watched kids grow up, we watched the grandkids grow up, so we're one big family," he said. "We've set up some meetings, dinners and lunches. We've had group hugs – and it's been kind of uplifting. We're all going through the same thing, " he said.
Asked whether the latest spate of wildfires brought back a torrent of bad memories, Wimmer began to choke up.
"It's not a good feeling to experience it a second time vicariously. It really stirs up the heartstrings. I hope with the experience that I've had, I can go up there and help some of those folks if they're interested in what we've learned through the process," he said.
Jeff Okrepkie, the founder of Coffey Strong, likened it to a homeowners association, "but without rules and hierarchy."
A commercial insurance agent by trade, he originally put Coffey Strong together to help educate neighbors about the claims and construction process. Overtime, however, it evolved into something far more personal.
"We have 'Wine Wednesdays' where just a bunch of people get together, have some glasses of wine and catch up."
"The hardest thing is just to remember that there's a reason to be hopeful. The highs are really, really, high. You get the floor plan – you're walking on air. But you submit your permit and it gets kicked back – that's a gut punch," he said.
A promise to neighbors
Like the people of Redding, Santa Rosa residents received little warning to flee their homes before disaster struck. Hurricane level winds caused both the Tubbs and Carr fires to spread very quickly, engulfing neighborhoods and destroying homes.
Rick Merian, 60, who along with his wife had lived in Coffey Park for 32 years, said he had only 10 minutes to grab a few belongings. In addition to his home, he also lost a much-loved sports memorabilia collection he valued at more than half a million dollars.
"I had autographed baseballs from Ted Williams and Mickey Mantle. You name them, I had them," he said.
Merian said the only reason he decided to rebuild was a promise he made to his neighbors. He's not so sure he would otherwise have had the emotional wherewithal to deal with the recurring challenges.
"You're in for a long haul and it's not going to happen overnight, " he said.
"We were in pretty good shape financially – on the insurance end – but you have to be patient."
Constantly reminding himself that "it was only stuff and not thinking about the losses," was beneficial but "it's still really hard," he said. He is pleasantly surprised by the progress already made as workers are in the middle of installing the roof on his new home.
To bounce back from a disaster of the magnitude of the one that descended on Coffey Park requires that you "be supportive not only to your family, but others as well," he said.
"Once you go through something like this, life changes."