The death of a 23-year-old student, who killed herself two months after she alleged she was raped has renewed anger over sexual violence against women in South Africa.
Khensani Maseko, a student at the Rhodes University in Grahamstown, said she was raped by another student in May, according to a statement by the university.
On August 3, the day she took her own life, Maseko posted a cryptic message on social media.
"No one deserves to be raped," she wrote and posted on Instagram with a picture showing what is believed to be her date of birth and that day's date.
Maseko's account has since been removed from Instagram.
Rhodes University confirmed her death and said authorities held a meeting with Maseko's parents after she reported in July that she had been raped.
The university says it was agreed that Maseko should be taken home pending an investigation into her allegations.
The third-year student died a few days before her scheduled return to the university, where she was to meet with those investigating the case at the institution.
The man accused of the rape has been suspended, the university said in the statement posted on its website, adding that it was working with South Africa's police and the National Prosecuting Authority to launch an inquest into Maseko's death.
Police have not released the suspect's name.
"The tragic passing of Khensani will not mark an end to the investigation into the circumstances leading up to her passing," Rhodes University Vice-Chancellor Dr. Sizwe Mabizela said.
The university's flag will be flown at half-staff to honor Maseko, Mabizela added.
There was a mass outpouring of grief from friends, family and the university community as the student was laid to rest in Johannesburg Thursday.
Maseko's mother in an emotional tribute to her daughter, said her death has left a "gaping and bleeding hole" in her heart, local media reported.
"Khensi' your tragic passing left a gaping and bleeding hole in my heart. You were my pride and joy from the moment I held you for the first time. I loved you with every fibre in me'" Thembi Thobile Maseko said at the funeral.
"You were my child and yet my little sister I never had. We had a wonderful life together. We shared the highs and the lows."
Women killed at higher rate
Statistics show sexual violence against women is a serious problem in South Africa.
According to estimates released in June by the national statistical service of South Africa, 138 out of every 100,000 women in the country were raped in 2016 and 2017.
"This figure is among the highest in the world. For this reason, some have labeled South Africa the 'rape capital of the world,'" it said.
By comparison, the 2015 figures for the number of rapes in Switzerland was 6.4 cases per 100,000 women.
Also, the country's rate of femicide — the killing of a woman or a girl because she is female – is five times more than the global rate.
TotalShutDown march
Maseko's death has sparked public outrage in South Africa, where women often use social media to share images of women who have been killed by their partners.
Thousands of women marched last week across the country to protest gender-based violence in the country.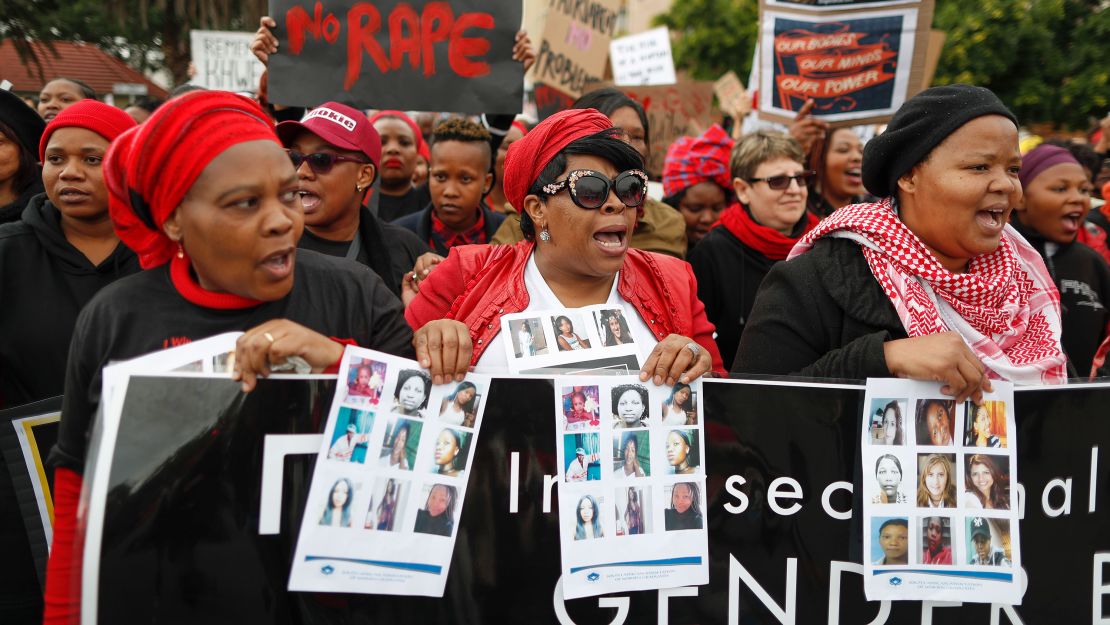 The TotalShutDown protest was held to unite South African women against the ongoing "war on their bodies," said Loyiso Saliso, a spokeswoman for the movement.
"August is the woman's [month] but women in this country are not happy. We have nothing to feel, we have nothing to celebrate. The issue of gender-based violence has only been getting worse rather than better and that is very visible in our statistics as well," she said.
The women marched to South Africa's Parliament, Supreme Court of Appeal and other provincial and regional structures to hand over a memorandum of demands to the government.
"When perpetrators are more afraid of the consequences they are going to face once they violate women, we will start seeing less of women and children disappearing, or being killed," Saliso said.
A priority crime
South Africa is prosecuting some cases of sexual violence against women.
In May, Sandile Mantsoe was found guilty of the Johannesburg murder of 22-year-old Karabo Mokoena, his ex-girlfriend.
The day he was convicted, a student at Mangosuthu University of Technology in Umlazi, Zolile Khumalo, was allegedly shot and killed by her boyfriend.
In many cases of violence against women, partners are involved in the crime, but South African women are also victims of random rapes and killings.
South Africa's former President Jacob Zuma declared violence against women "a priority crime" after a string of killings that shocked the country in 2016.
He called on law enforcement agencies in the country to ensure all perpetrators of sexual violence were brought to justice.
Renewed fears
But Maseko's death has reignited fears over sexual violence in the country.
Star Khulu, 28, told CNN she tries to make herself look less attractive anytime she leaves her home in Johannesburg.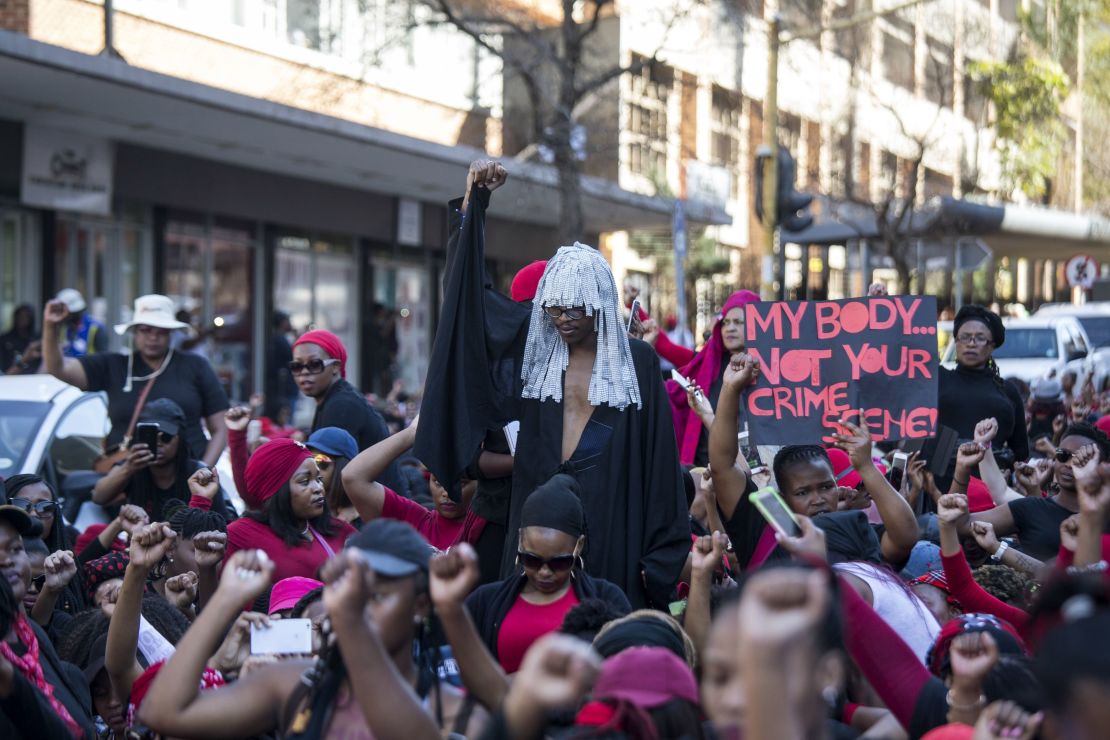 She said she believes dressing in a less provocative manner reduces her risk of being sexually assaulted.
As a strategist in an advertising agency, she avoids coming home late from work. Even in the daytime, she takes precautions.
"I detour if I am approaching more than two men at a time. Sometimes you just don't want to hear the catcalling, even if you say hello and move on – that could be an invitation for more," she said.
Khulu says men have become aggressive in the past when she did not acknowledge their advances.
"A man once grabbed my arm in a supermarket because I didn't look at him and smile when he said I was beautiful. Men grab your bum and don't see anything wrong with it," Khulu said.
"Sometimes, I just smile at them to avoid trouble. I try everything, every day not to get raped," she said.