Massive protests in Bangladesh have given way to a burgeoning social media campaign to free imprisoned critics of the government who are allegedly being tortured – including Shahidul Alam, one of the country's most famous photographers and social activists.
Authorities have denied torturing Alam or anyone else, calling allegations of abuse "completely false."
Alam, a well-known figure in the South Asian journalist community, was dragged from his home by 30 to 35 police officers in civilian clothes at about 10 p.m. Sunday, his partner Rahnuma Ahmed said in a statement.
The arrest took place just hours after Alam was interviewed by Al Jazeera about the mass student-led protests that erupted after the driver of a privately operated bus ran over a group of students, killing two.
Alam accused the government of clinging on to power by "brute force" in the interview.
While being escorted to court Monday, Alam told reporters he had been beaten by police and hadn't been given access to a lawyer.
"They washed my blood-stained tunic and then I was made to wear it again," Alam said while being physically escorted to court. He appeared to require support from police personnel to walk though it was not clear whether this was due to the alleged torture. He had no visible bruises.
"I urge the citizens of the country to protest. I have been told that if I don't obey their instructions they will hurt me more," he told reporters.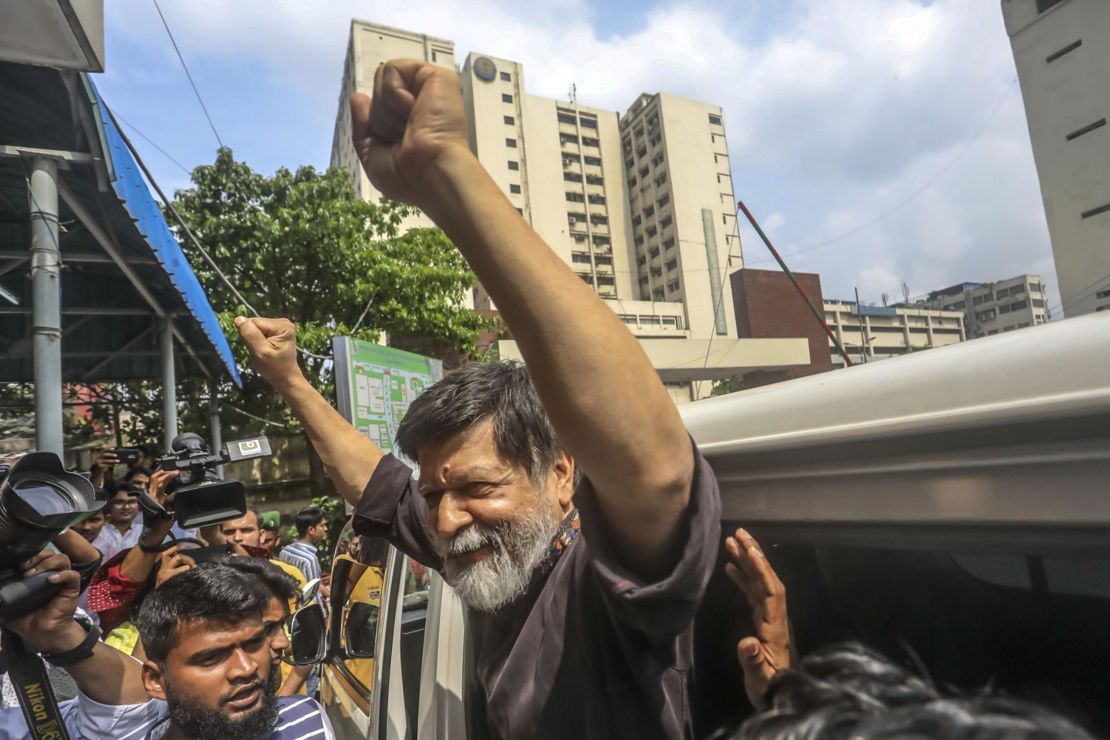 Others in jail may face similar treatment, activists say.
Drik Picture Library Limited, an multimedia organization founded by Alam, said in a statement Wednesday that student protest leaders risk being subjected to torture in police custody as well as harassment and intimidation.
"We demand that the Government investigate allegations of unlawful arrest and torture and immediately and unconditionally facilitate Shahidul Alam's release and punish those responsible for his alleged abduction and torture," Drik said in a statement.
Alam is still behind bars. He has been charged with spreading rumors and false information via text messages and inciting violence against the state. If convicted, he faces a minimum of seven years in prison.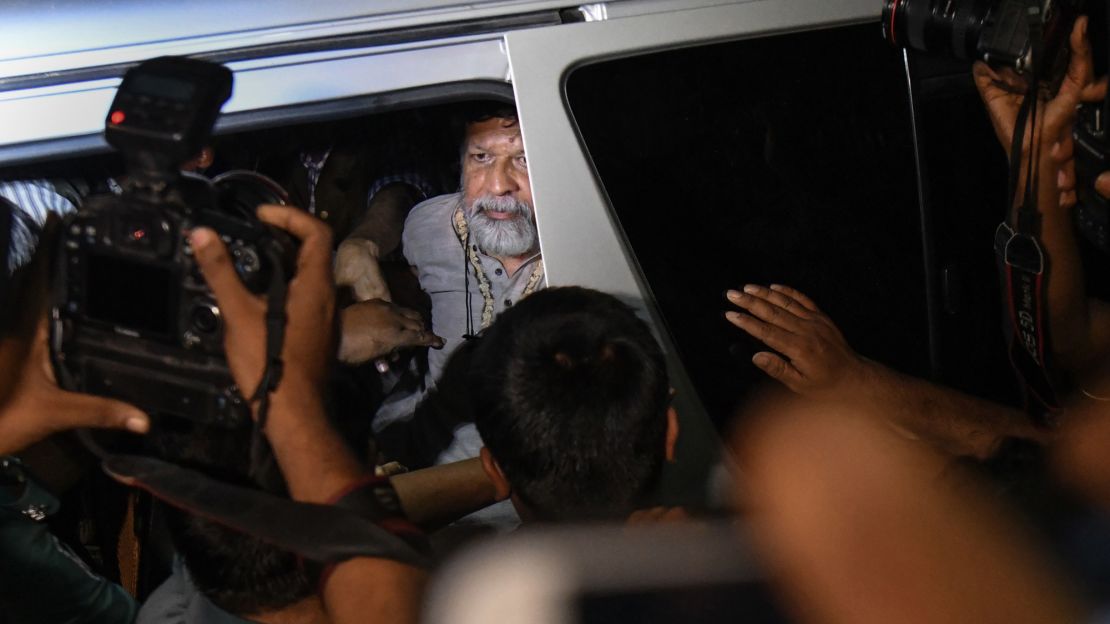 Before his arrest, Alam had been covering the protests over street safety which started on Sunday, July 29, and stretched into the following week.
Police used water cannon and tear gas to disperse protesters outside Dhaka University on Monday, August 6, as crowds attempted to march through the neighborhood of Shahbagh, Maruf Hossain Sardar, a deputy police commissioner said at the scene.
Bangladesh students protest after deadly crash
The protests died down a week later after the government approved new road safety regulations, which include introducing the death penalty for some traffic accident fatalities.
But critics say the arrest and alleged torture of protest leaders and journalists covering the unrest are politically motivated and point to a dangerous crackdown on free speech by Bangladeshi authorities.
Online, supporters are using the hashtag #FreeShahidulAlam to call for his release and that of others imprisoned in the crackdown.
"Instead of silencing critics, Bangladeshi authorities need to make sure that citizens are allowed to protest peacefully and journalists are able to do their jobs without fear of imprisonment," said Jon Sawyer, executive director of the Pulitzer Center.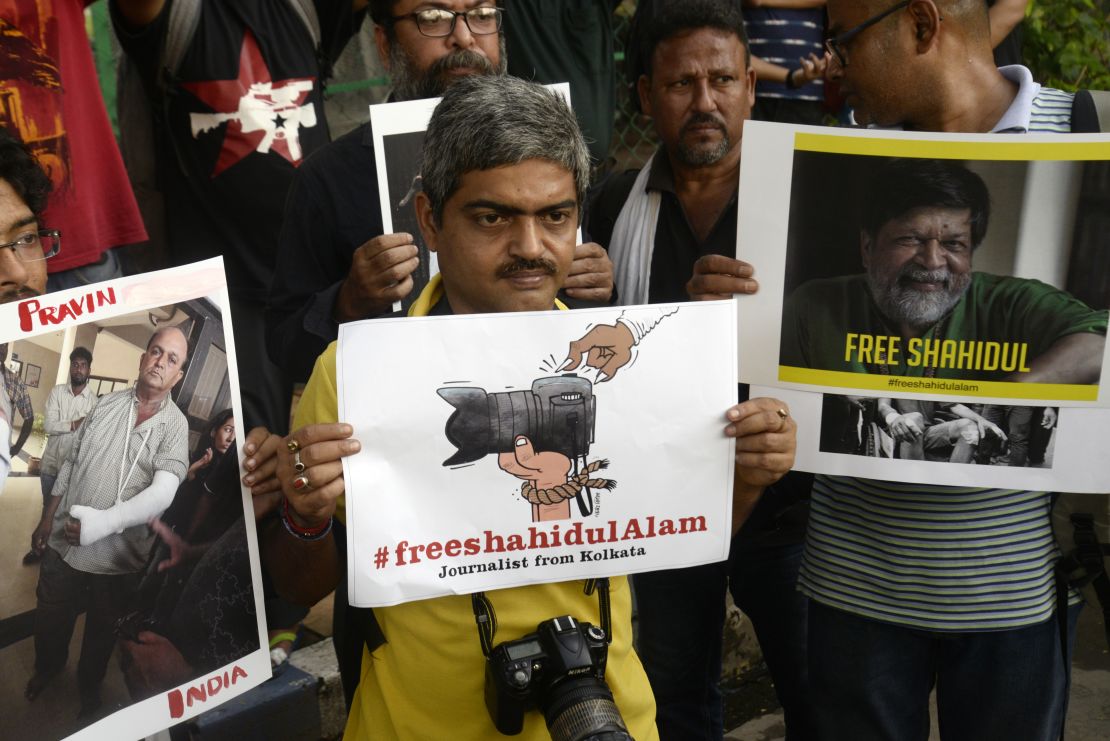 Authorities flatly denied that Alam or anyone else has been tortured.
"It is not the correct information. It is completely false and fabricated," said Hasanul Haq Inu, the country's minister of information.
Sohel Rana, a spokesman for Bangladesh police, told CNN that police " have been carrying out their duties professionally."
"There is a lot of media speculation. There is very clear command to the police officers on the ground … and the police on the ground have clarified the issue to the media and common people: police did not participate in any such violence," said Rana.
The High Court, which is hearing Alam's case, directed police to take Alam to the hospital for a check-up after first hearing the allegations of torture. The doctors who examined him said he is perfectly healthy, Inu told CNN.
Sara Hossain, Alam's lawyer, said the court disagreed with the medical assessment however.
"The High Court gave an order today that another medical report needs to be done. Because the medical report submitted today was done on the context of illness and not in the context of allegations of torture," Hossain said.
The new medical report has to be submitted to the court by Monday.
CNN's Joshua Berlinger contributed to this report