Nobody would call Aretha Franklin a central figure of the civil rights movement. And she was not an overt feminist.
But the singer, who died Thursday at 76, shot to fame in 1967 with a hit song that inspired millions of women and African Americans during a turbulent period of social upheaval in America.
You know the tune, and you even know how to spell it: R-E-S-P-E-C-T.
Franklin's signature song and biggest hit, "Respect" burst from dance halls, car radios and porch windows amid a turbulent year marked by racial tensions and women lobbying for equal rights.
"I think 'Respect' was her national anthem, because everybody could relate to that," Leon Jones, 60, told CNN Wednesday at New Bethel Baptist Church in Detroit, where Franklin's father, C.L. Franklin, was a well-known preacher. Jones said he had stopped in to pray for the ailing Queen of Soul.
"I think she was just talking to people in general," added Jones, who is black. "Not just African Americas, not just Asians, not just Caucasian people, but everybody, because you could get disrespected in daily life."
As an adolescent when the song came out, Evelyn C. White said "Respect" hit her like a thunderbolt.
"Suddenly, my fears and vulnerabilities as a young black girl eased, for as much as I admired Dr. Martin Luther King Jr., I longed to see a black female face speaking out for our freedom, especially after the Birmingham bombing," White, an author, told NPR. "With 'Respect,' (Franklin) gave black women an unprecedented voice and visibility."
A warning shot
The song was actually written by Otis Redding, who had recorded it two years earlier. But Franklin reframed it from a female perspective and tweaked the lyrics, spelling out its title to underscore its defiant message. She also sang it like a house afire, infusing the song with an urgency that Redding's version lacked.
This was no coquettish plea by a doting housewife – this was a warning shot by a strong woman demanding better treatment from her man. Many observers think Franklin's tenacious vocals reflected her stormy marriage to first husband Ted White, from whom she separated a year later.
"She really flips the song on its head," said Jason Hanley, vice president of education and public programs at the Rock & Roll Hall of Fame, where Franklin was the first female inductee. Hanley believes Franklin's message of strength and hope also resonated with African Americans frustrated in the late '60s by the lack of progress on social change.
"Her music really connected to what was happening in the United States at the time," he told CNN.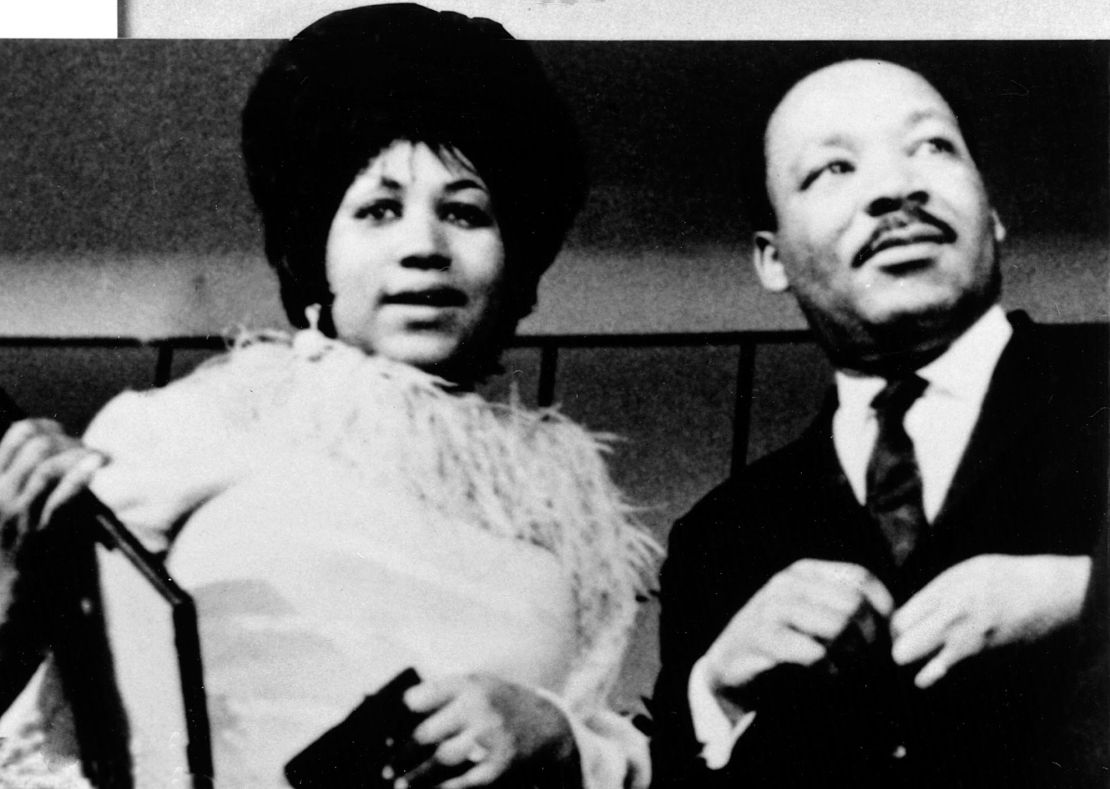 And a battle cry
In her 1999 autobiography, Franklin wrote about how "Respect" spoke to anyone who felt overlooked or unappreciated.
"It [reflected] the need of a nation, the need of the average man and woman in the street, the businessman, the mother, the fireman, the teacher — everyone wanted respect," she said. "It was also one of the battle cries of the civil rights movement. The song took on monumental significance."
That's one reason Rolling Stone named "Respect" No. 5 on its list of the 500 greatest songs of all time, praising Franklin as "a woman calling an end to the exhaustion and sacrifice of a raw deal with scorching sexual authority."
The hits that won Aretha Franklin 18 Grammys
In 2002, the Library of Congress added "Respect" to its national registry of recordings.
"The song has become an anthem for women … for blacks, for the bullied, for anyone who has ever felt or feels marginalized," wrote the library's Cary O'Dell.
"In recent years, few words have been bandied about more – from the op-ed page to the playground – than the word 'respect.' Whether it's demanding it or decrying it ('disrespect'), whether it shouts from T-shirts or bumper stickers, or emanates from rappers or politicians, it seems everyone today is talking about having and showing 'respect.'
"It is both a mandate and a cultural movement, one that comes equipped with its own theme song already attached."
CNN's Bill Kirkos contributed to this story.