The pristine and polished test center of the Sauber Formula One team is a far cry from the humble go-karting track Tatiana Calderon used to tear around as a kid.
Every day after school, Calderon would visit the track – situated in her Bogota neighborhood – with her sister, harboring dreams of one day reaching Formula One, motorsport's promised land.
Having worked her way through local, regional and then national championships – often becoming the first female to achieve various feats – Calderon eventually had to juggle her education and her passion, as karting became more serious.
"I've always been a sports lover but I started karting when I was nine years old," Calderon tells CNN's The Circuit. "My sister took me to our rental go kart track near our house.
Tatiana Calderon: Future Formula One driver?
READ: Tatiana Calderon – Sauber F1 team brings in female development driver
READ: Aseel Al-Hamad wants to blaze trail for Saudi women in motorsport
"And we bought a five minute ticket but we fell in love with it, so we were going there every day after school. The adrenaline, the speed. So since then, I mean, I had it very clear I wanted to reach Formula One.
"Also because Juan Pablo Montoya was there (in F1). But yeah, I think that dream I've always had since the beginning."
In 2012, at just 19 years of age, Calderon moved to Europe to compete in the prestigious Formula Three, a feeder championship for prospective Formula Two and Formula One drivers.
In her opening season, she recorded a ninth-place finish and believes a fair few of her rivals' noses were put out of joint.
"Once you are on the track, of course, you race against the boys that are between 18 and 26 in the lower categories," she explains. "And of course, nobody wants to be beaten by a girl.
"Or by anybody but especially by the only girl in the championship. So sometimes, I have had to crash. Or yeah, to prove a point. So they always expect you to brake earlier, to let them go through.
"Just because you're a girl. So sometimes, to prove that you're not going to give up, that it's your position and you will fight until the end like they do."
Tatiana Calderon: The next female F1 driver?
Calderon followed up her breakthrough season by finishing seventh in the following year's British Formula Three Championship, before her continued success across Europe in the GP3 series caught the eye of the Sauber Formula One team, who hired her as a development driver in 2017.
Calderon now tests tweaks and new parts to Sauber's F1 car in the team's simulator, while continuing to juggle her weekly races at GP3 level.
"When I was asked to join the team, to join the Formula One team, it was definitely a very special day," Calderon recalls. "I mean, I didn't know if I was actually dreaming or if it was happening.
"Because my whole life I've been preparing for that moment, to get that opportunity. It's amazing. There hasn't been that many girls, but also guys, who can reach Formula One.
"So it was a very proud moment. And of course I enjoyed it but I also knew I had to push all the limits to make it count."
Despite the progress Formula One has made in recent years, Calderon recognizes that she still has to work harder to earn the respect of colleagues because, as she puts it, "they always expect a bit less from a girl."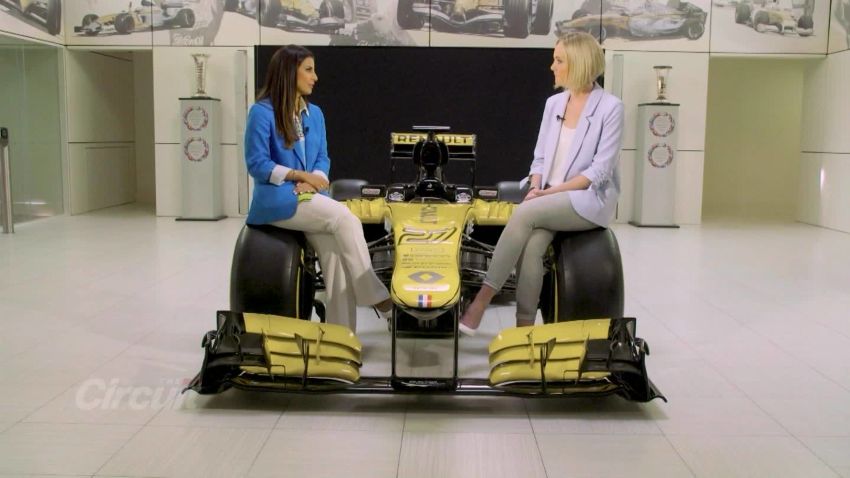 Aseel Al-Hamad: Saudi's Formula One pioneer
It's a battle she is prepared to face and it's one she's fighting both in the car and at the gym.
This year, she has trained her body to withstand the rigors of both F1 and GP3. She says the strength and size of her upper body has increased as there is no power steering in GP3, while her neck has grown nine centimeters to help her cope with the increased G Forces in Formula One.
"Formula One and motorsport in general – people don't realize that it's such a demanding sport physically", she explains. "So of course as a woman, we have 30% less lean muscle than men.
"And we need to compensate that with strength training, with extra hours. And it has been really, really difficult for me to get to that level.
"So I think as a woman, yeah, we have to work harder."