Natalie McGloin remembers nothing of the horrific accident that changed her life.
When she was only 16, McGloin was involved in a car crash which shattered her neck at the C6-C7 vertebrae, leaving her paralyzed from the chest down.
"I don't actually remember being told," she tells CNN's The Circuit. "People always look for that, 'Oh, how did you take it when you were told? What did they say?' I don't remember that conversation.
"I think your brain sometimes has a mechanism of protecting you, but I think I just knew. I think I just knew the fact that I couldn't feel my body.
Nathalie McGloin: Racing fast with disability
READ: Tatiana Calderon – Men "always expect a bit less from a girl"
READ: Aseel Al-Hamad wants to blaze trail for Saudi women in motorsport
"I couldn't move. I couldn't even sit myself up in bed. I was on a tracheotomy with a ventilator."
McGloin estimates she spent two months in intensive care while doctor's stabilized her, but complications – including contracting the deadly MRSA bug – meant she remained in hospital for almost a year.
Remarkably, in an early show of defiance against adversity, McGloin returned to school when she was discharged and earned her A Levels.
She readily admits her love for motorsport developed late, initially being part of Team GB's wheelchair rugby team training towards the Paralympics.
But a serious injury derailed her hopes of making the squad and nine months on the sidelines dampened her enthusiasm for the sport.
"When I went back to the trials to regain my place on the squad, my passion for it had just died slightly," she says. "Well, a lot, actually. I knew I needed something else."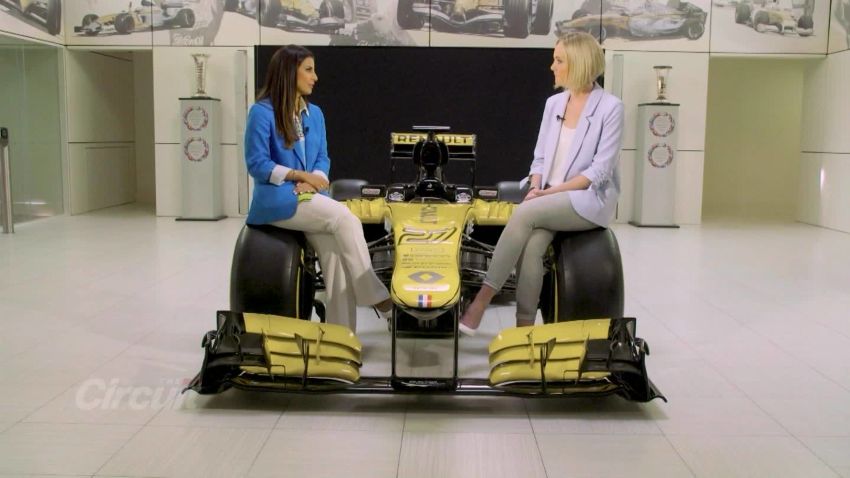 Aseel Al-Hamad: Saudi's Formula One pioneer
That's where racing came in. By that time, McGloin had been attending track days as "just an expensive hobby" for seven years, after a friend initially coaxed her in by telling her, having bought a similar car, his was faster.
She soon fell in love with the sport – as her disability became "a complete non-event" – and the idea that disabled and able-bodied drivers could compete against each other on the track.
"I love racing because I love the fact that nothing else matters about the person who is driving the car other than where they finish over the finish line when the flag is dropped," she says.
"Gender, disability, race, religion, none of it matters. All that matters is your skill and your driving capacity. I think that it's one of the only sports that offers that."
Through her passion for motor racing, McGloin got involved in "Dare to be Different," an organization set up by former Williams test driver Susie Wolff to promote and encourage more females within motorsport.
"The organization gets right to grassroot levels where we see children, girls, coming in and just having a go at stuff that is really enjoyable in motorsports – so karting, the light test that F1 drivers do," she explains.
Tatiana Calderon: Future Formula One driver?
"We've got presenting roles for them, I go and show them my race car. We're just trying to create a bit of enthusiasm with young girls that motorsport is cool, motorsport is fun and motorsport is something they're going to want to do."
McGloin, now the President of the FiA Disability and Accessibility Commission, hopes her story can encourage the next generation of racing enthusiasts to get involved in the sport, proving that neither disability nor gender is a barrier.
"I hope to inspire young girls into thinking that motorsport is for them, just by simply showing them that in racing, anything's possible," she says.
"You know, I'm disabled, I'm female, I go out and I compete against able-bodied men, and females sometimes. But I'm hoping that they can see that by the fact that I am in a wheelchair, that motorsport isn't that scary.
"That if they perhaps maybe saw it as something that was male dominated, I'm a perfect example that it doesn't have to be."