It was like binge-watching history as two of the President's men went down.
A twisting saga of intertwined legal plots and human drama dripping with hubris, vengeance, betrayal and defiance suddenly combined Tuesday in a frenetic, barely believable burst that left Donald Trump's presidency stained by a tide of crime and corruption.
Michael Cohen, the Trump clan's attack dog, and Paul Manafort, the ultimate Washington swamp creature with the ostrich skin jacket, paid dearly for their association with their former boss in near-simultaneous convictions that will mean years in jail.
Trump's riotous, rule-breaking political career is often compared to the voyeurism of a reality show – a perfect forum for his spinning of alternative truths and narratives.
But Tuesday's theater – unfolding in courtrooms about 240 miles apart – was more like the compelling denouement of a slow-building Netflix drama that came together in frenetic, shocking final moments that made their own statement: Truth and facts still matter in America.
Like all good season finales, this surreal cliffhanger tied up some plots but unleashed deeper, more consequential intrigues to tee up more compelling sequels to come. And that may evolve into existential questions for the Trump presidency itself.
For at the end of an afternoon that rocked Washington to its core, the President himself stood accused, under oath – by his former lawyer, who once vowed to take a bullet for his boss but has now turned a smoking gun directly at him – of conspiring in and directing a crime.
Chris Cuomo: This was a bad day for Trump
Not just any other day
Tuesday dawned like every other day of the Trump presidency in a flurry of tweets and speculation about Russian election meddling.
There was little sign of the drama to come.
In Alexandria, Virginia, court reporters filled out crosswords and played cards as the Manafort jury ground out a fourth day of deliberations.
In New York, no one expected Cohen's case to suddenly converge with the fate of the former Trump campaign chairman in such a disastrous way for the White House, though reports over the weekend had said charges were likely in his proceeding by month's end.
The first smoke that became a raging legal inferno emerged at 11 a.m., when Manafort jurors sent Judge T.S. Ellis a note. They asked what to do if they couldn't reach a unanimous verdict on a single count. Ellis sent them back to their room to try to thrash it out, but it was clear: Manafort's fate was close to being resolved.
But the momentousness of the day began to take shape as sources revealed that Cohen was in talks with prosecutors on a plea deal.
Suddenly, the possibility of dual Trump-related legal dramas playing out at once looked likely as speculation washed across the split screens of news channels showing the doors of court buildings in New York and Alexandria.
By 2:30 p.m., Cohen had surrendered to the FBI. His plea agreement was a done deal and he was soon in court, in a dark suit, white shirt and gold tie.
He had center stage for only a few moments before the nation's necks twisted back to Alexandria, after Manafort attorney Kevin Downing walked into the courthouse telling reporters, "It's a note."
Fueling the drama, the President's motorcade cruised up to the 757 version of Air Force One at Andrews Air Force Base, where he took off for the embrace of Trump-loving West Virginia on what was rapidly becoming a disastrous day.
Down below, the Manafort jury had hit a brick wall and announced it had reached verdicts on eight counts but deadlocked on the others. Ellis resolved to talk to jurors individually, raising expectations that their travails might stretch into Wednesday.
But living up to his reputation for running a "rocket docket," the judge decided swiftly to accept a partial verdict, declaring a mistrial on the 10 unresolved charges, and Manafort's moment of destiny was suddenly at hand.
Reporters racing out of the courtroom – where cellphones and computers are not allowed – broke the news that Manafort had been found guilty on one count – before similar verdicts on another seven were quickly confirmed.
As Ellis explained the verdict to Manafort, the man once known as one of the smoothest operators in politics looked on impassively. Some jurors looked him in the eye. One member appeared visibly upset as the jury left the courtroom for the final time. After a combative duel, prosecutors and defense lawyers exchanged handshakes.
And a grim-faced Manafort nodded at his wife of 40 years, Kathleen, as he was led away.
The evolution of Trump and Cohen's relationship
Vengeance
Washington was only beginning to wrestle with the enormity of Trump's former campaign chairman being convicted when an even more stunning scene unfolded in New York.
Cohen did not just plead guilty to eight counts of tax and bank fraud and campaign finance violations. He also fed his grudge against Trump and his belief that he had been hung out to dry by throwing his old mentor under a bus.
He testified that he made payments to hush former porn star Stormy Daniels and had urged the National Enquirer to make a similar payment to former Playboy model Karen McDougal, who said they had had affairs with Trump, in the run-up to the 2016 election "in coordination and at the direction of a candidate for federal office."
The impersonal language could not disguise the grave impact of his words – especially since Trump had previously told the American people he knew nothing about such payments.
Effectively, Cohen was accusing the President of the United States of being a fellow crook.
Cohen read out his statement, admitting to his crimes, without emotion. He said "Yes, sir" and "Yes, your honor" when addressed by the judge. When asked if he was of sound mind and not under undue influence, he revealed that his last alcoholic drink had been a Glenlivet on the rocks at dinner Monday night.
Crestfallen, he left court with none of the swagger that he had used to effect as Trump's cleanup man.
Blumenthal: 'We're in a Watergate moment'
The fight back begins
By now, Trump was back on the ground. And cornered, he acted in the only way he knew – by fighting back.
He said he "felt badly" for Manafort but lashed out at special counsel Robert Mueller, who targeted his former campaign chairman and referred Cohen's case to prosecutors in New York.
"Nothing to do with Russian collusion, we continue the witch hunt," the President said.
Later, Trump hinted at his next political strategy, seizing on a tragedy in Iowa and an undocumented immigrant charged with the murder of student Mollie Tibbetts.
"You heard about today with the illegal alien coming in, very sadly, from Mexico. And you saw what happened to that incredible beautiful young woman," Trump said at his West Virginia rally, in remarks that may resonate more with his base than Tuesday's legal drama.
Indeed, at one point the chant "Lock her up!" – long directed at Hillary Clinton – rang out among Trump's crowd with no apparent trace of irony given the day's events.
Those around the President are already referring to Cohen as "the rat" but they acknowledge things could hardly have gone more badly.
"What a bad day for the home team," one source said.
A source familiar with White House deliberations said staffers were "stunned" and "rattled."
Asked about Cohen and Manafort, Trump press secretary Sarah Sanders told a CNN reporter: "I don't have anything for you on that."
On Capitol Hill, Democrats were crowing.
"Not a witch hunt," tweeted Sen. Mark Warner of Virginia. His Democratic colleague from Connecticut Sen. Richard Blumenthal added that the White House was looking "increasingly like a criminal enterprise."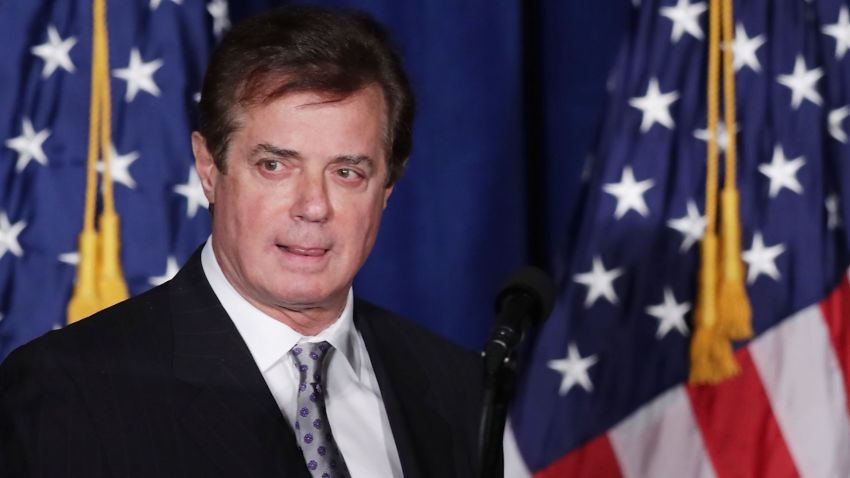 Remind me ... who is Paul Manafort?
The sequel
As the dust settles from Tuesday's frenzy, new plot twists are already developing.
Republicans have been embarrassed, trolled and outraged by Trump – but so far they've never deserted him.
They don't seem likely to do so now, over a campaign finance transgression, but the question has never been more acute about how history will view them, given that the President they are shielding has been implicated in his former lawyer's felony.
Simply parroting the GOP line that Tuesday's drama has nothing to do with Russian collusion won't ease the pressure.
The Trump camp is already fighting back: "Even if Cohen says Trump told him to break the law, the source says, who's going to believe Cohen now, after admitting to lying?" a source with the Trump Organization said.
Indeed, Cohen's claim is not a legal charge and Trump, like anyone else, is entitled to the presumption of innocence. And it's almost inconceivable a sitting President could be indicted for a crime.
But Democrats now have fresh ammunition to subject the Trump White House to relentless scrutiny should they win back the House of Representatives in November. And the question of possible impeachment will now hang tantalizingly over the election.
Had he lost the Manafort case, Mueller would have been under fierce fire from Trump partisans, with the credibility of his investigation in doubt.
But now he may be emboldened – as he presses on with an investigation into alleged Russian collusion and presidential obstruction that is moving ever closer to the Oval Office door.
All eyes are on whether he will move against Trump or more of his acolytes before the fall campaign cranks up.
Trump, as he flew home to a White House being pelted by a later summer storm, had much to brood upon, beginning with the fallout of Cohen's courtroom betrayal.
He might contemplate a pardon for Manafort, but political blowback would be immense.
He must worry that his two former associates, seeking to reduce their sentences, will cooperate with Mueller in other areas that could threaten the President himself.
There are no final answers after Tuesday's double courtroom drama.
But the trajectory seems clear: The Trump show is heading down a foreboding road.
CNN's Erica Orden, Jim Acosta, Jessica Schneider, Jeremy Diamond, Christina Alesci, Sara Murray, Katelyn Polantz, Steve Brusk, Ted Barrett, Phil Mattingly, Noah Gray, Kaitlan Collins, Evan Perez, Liz Stark, Mark Morales, Kara Scannell and Shimon Prokupecz contributed to this report.