An Egyptian former diplomat was detained by authorities in Cairo on Thursday, just two weeks after calling for a referendum on President Abdel Fattah el-Sisi's government, family members told CNN.
"Security forces took my father, Maasoum Marzouk, from our home without explanation and without cause just for practicing his constitutional rights of calling for a referendum," Maisara Marzouk said.
"A minibus of around 15 civilian-dressed, armed security personnel arrived at 1pm and arrested him, then searched his house and took his personal belongings without showing us the legal permit for that procedure," she added.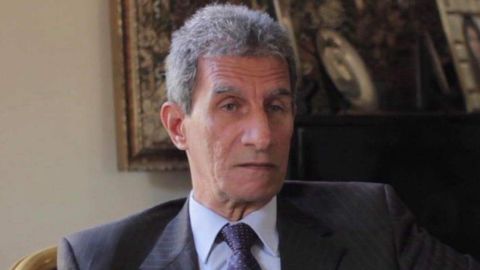 Khaled Ali, Marzouk's lawyer, confirmed the detainment, adding that seven opposition leaders also were arrested in the sweep.
Marzouk is a former ambassador and assistant minister of foreign affairs. He is renowned for his criticism of the Sisi government. He recently founded The People's Democratic Party, an opposition party.
Egyptian authorities have not informed Marzouk's lawyer or family members of any charges that he faces. They believe he is being interrogated for his calls for a national referendum on the president.
Egypt's Ministry of Interior did not reply to a request for comment.
In a statement issued on August 5, Marzouk called for a public referendum to answer one question: "Do you accept that the current regime stays in power?"
The statement outlined a series of critiques, including some of Sisi's political, social and economic policies, which Marzouk said threatened Egypt's well-being. Marzouk's economic ideas and visions were included in the statement and could be implemented after the proposed referendum.
Marzouk said if Sisi rejected the referendum, opposition groups would convene "popular conference" at Tahrir Square on August 31.
Michael Page, deputy director of the Middle East and North Africa division at Human Rights Watch, told CNN that Marzouk's arrest in Egypt "appears to be the latest in an unending wave of repression against anyone who dares to criticize President Abdel Fattah el-Sisi."
"Due process, fair trials, access to a lawyer – all these fundamental rights are regularly denied to the tens of thousands of people El-Sisi has now had arrested with impunity," Page said.
Egyptians Abroad For Democracy Worldwide, a monitoring group based in the US, also condemned the arrest of Marzouk.
"We, immediately demand the freedom for Marzouk and we are holding el-Sisi regime responsible for the safety of his life," the group said in a statement on Thursday.
"Our call to President Trump and the international community, your continued aid to General el-Sisi's regime is a tool to murder, arrest, torture, and, exile the free people of Egypt who want nothing but freedom and Democracy," the statement said.
Sisi was elected to a second term in office in April, securing 97% of the vote, according to Egypt's National Election Authority.