Cox's Bazar, Bangladesh
CNN
—
Yasmin is 33 days old. Wrapped in a checkered blanket, she writhes around in her makeshift crib, a rice sack attached to the ceiling with rope.
Her mother, Meher, picks her up and starts breastfeeding, crouching on the earthen floor. "She is my baby, she is completely mine, and I love her," says the delicate looking 25-year old.
"But when I look at her, I also remember the horrors."
Yasmin was conceived in September 2017 when Meher, a Rohingya Muslim, says she was gang raped by several members of Myanmar's military.
The Rohingya have long been discriminated against in Myanmar, where they are regarded as illegal immigrants and denied citizenship.  
Hundreds of thousands of Rohingya like Meher have fled the Buddhist-majority country, and now live in the sprawling refugee camps of Cox's Bazar in southern Bangladesh.
Yasmin is one of a number of babies born in recent weeks to women who say they were raped by soldiers during a violent campaign in Myanmar's Rakhine state, which the UN has said is a "textbook example" of ethnic cleansing.
Myanmar says its military was there to root out terrorists from the Arakan Rohingya Salvation Army (ARSA) militant group, blamed for coordinated attacks on military posts last August.
"There is no evidence that Myanmar soldiers committed any human rights violations in their response to the ARSA terrorist attacks of 2017," said Zaw Htay, a spokesman for Myanmar's presidential office.
"We have recently formed a new independent commission, which will investigate alleged rights abuses in Rakhine state including rape. We will treat any case in accordance with the rule of law."
Myanmar's military has previously denied killing, raping or torturing any Rohingya civilians, clearing itself in a widely criticized November 2017 report after an internal investigation.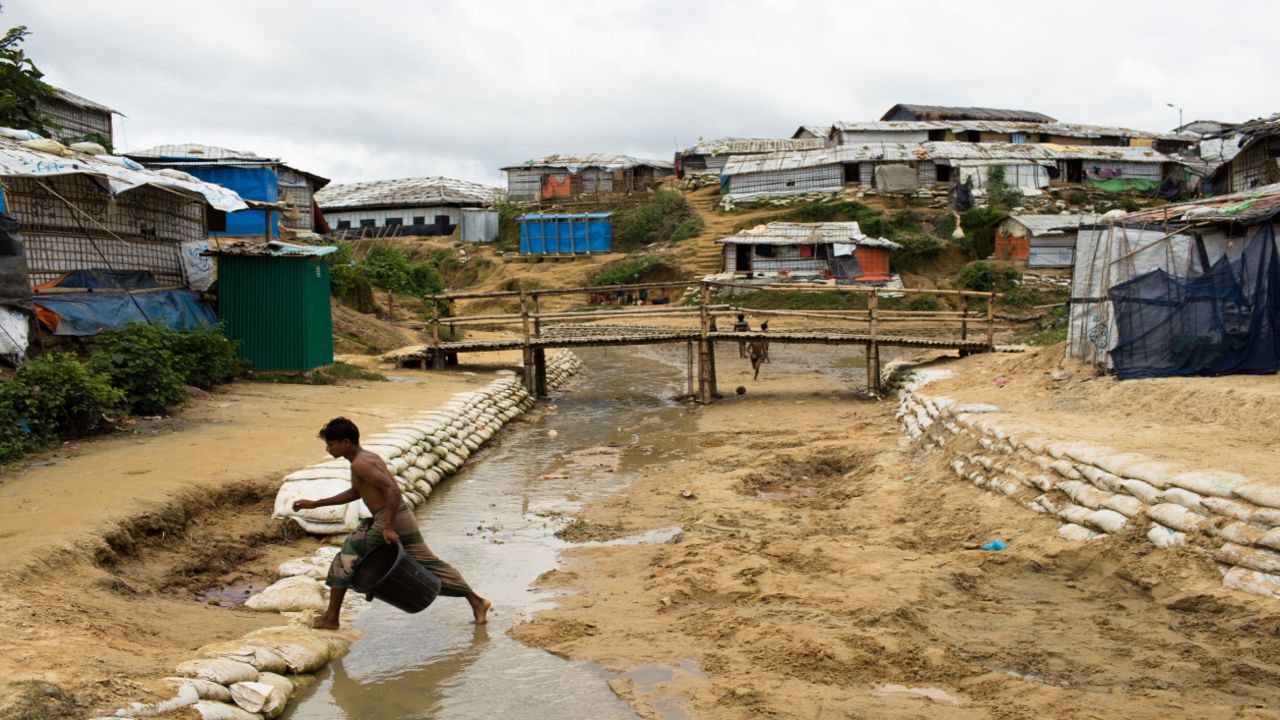 When Meher started feeling her first contractions, in early June, she knew what was coming. She had already borne two children, now aged five and two. She gave birth alone, on the floor of her crude bamboo shack. "It was painful, but thankfully it only lasted five hours," she winces.
The camps are a maze of tarp-covered huts clinging to steep hills. A whole ecosystem has emerged to support the estimated one million refugees who live here.
There are popcorn sellers, fishmongers fanning their catch against the flies, barber shops and old men wearing turbans sitting in front of mountains of mangoes and cucumbers. Naked children with distended bellies play in the muddy streams or kick a ball on an improvised football pitch. Every few hours, this frantic life comes to a halt, as the call to prayer resonates across the camp.
At the entrance to the camps, NGOs have set up clinics where the women can come to give birth. Doctors Without Borders (MSF) estimates that, at any one time, there are roughly 30,000 pregnant women in the camps. Every month, 3,000 of them give birth, according to MSF.
No one knows exactly how many of these babies are the result of rape, but a UN Security Council report in March found humanitarians have provided services to more than 2,700 survivors of sexual violence in the camps.
MSF officials say they have seen 443 rape victims between the end of August 2017 and the end of May. The Hope Foundation, another NGO with a network of clinics, treated 102 in the first five months of the crisis. They say this is just the tip of the iceberg, believing there are thousands – if not tens of thousands – of rape victims in the camps.
"We have seen a slight increase in deliveries in May, nine months after the rapes," explains Giulia Maistrelli, an Italian midwife for MSF. "But most cases go undetected because three quarters of the women have their babies at home."
Many of the women who visit the clinics have conflicting feeling towards their newborns. "They often plan to abandon the baby after delivery, but when they see it, they start to bond and decide to keep it," says Maistrelli.
The night she was raped, Meher was alone at home with her two children. Her husband, a farmer, was still in the fields. Men dressed as soldiers arrived in the village and gathered all the women, before setting their houses on fire. They then brought them into the forest and kept them there for several hours. Exhausted, Meher fell asleep.
When she awoke, she found two soldiers pointing guns at her children's heads. "They threatened to kill them," she remembers, her voice breaking. "I pleaded with them. I said 'do what you want with me but leave them alone.'" So Meher says the soldiers turned on her and raped her, repeatedly.
Meher is among a handful of brave women who wished to share their stories with CNN and not conceal their identities. All the attacks recounted followed disturbingly similar patterns.
Senuara, a 35-year old whose teeth are reddened by chewing betel leaves, was eight months pregnant when she was attacked. "Nine soldiers burst into my house and shot my 18-year-old son dead," she recalls. "Then they tied me to a tree with rope. They all raped me, one after the other, while three men were beating me with boots and guns." She extends her arm to show the pale scars on her wrist.
She says the rapes lasted from nine in the morning until three in the afternoon. "When they left me, I was so weak I could barely move my fingertips," she says in a whisper.
Her brother and a cousin later carried her in a sling hung from a pole for three days, until they reached Bangladesh. 
Once there, she gave birth to a stillborn baby. "I still have nightmares and wake up in a sweat in the middle of the night."
Meher also fled to Cox's Bazar, along with her two children and husband. But her ordeal wasn't over. Two months later, Meher says she realized she was pregnant from the rape. "I went to see a village practitioner and asked her to give me something to make the baby go away," she says. "She gave me a pill, medication mixed with herbs. I took it but nothing happened."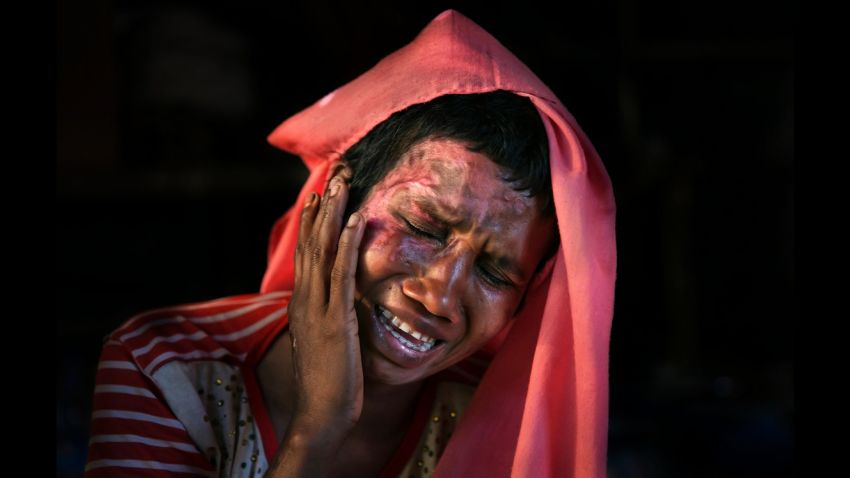 Rohingya women subjected to sexual violence
Aid agencies and doctors say they have seen countless botched self-abortions. "They come in with severe bleeding," says Nrinmoy Biswas, a gynecologist for The Hope Foundation. "They have either taken the wrong dose of medication or had a surgical abortion done by someone with no medical training."
Some women take substances normally used to induce labor, like oxytocin, which don't work for abortions. One 14-year-old girl lost so much blood she needed a transfusion and almost died recalls Biswas.
"Given a choice, basically every Rohingya woman who got pregnant following a rape would have had an abortion," Biswas says. "But many didn't know how to get one or came in too late."
In Bangladesh, abortions are legal up to three months. But most refugees have never been to a doctor, owing in part to the systematic discrimination faced by Rohingya in Myanmar.
Some women only realized they were pregnant at five or six months, when their bellies began to swell.
Hasina was 15 years old when she says Burmese soldiers came for her. When she found out she was pregnant a few weeks later, she didn't hesitate. "I bought some pills from a pharmacy and had an abortion," says the teen. "I am unmarried and would never have found a husband if I had kept the baby." She still thinks about it though. "I regret killing a life, but I didn't have a choice," she whispers.
The stigma surrounding these women is extremely strong in this conservative Muslim community. Especially for those who are unmarried and are now seen as tarnished goods. "Although they are victims, other members of the community see the rapes as being their fault, as something shameful they could have somehow avoided," explains Iftikher Mahmood, a pediatrician who founded The Hope Foundation. "The women themselves feel guilty."
Khustridar, a Rohingya social worker for MSF who goes by one name, met women who were asked, "why didn't you run away?" or told, "you must have flirted with those soldiers if they raped you." Wedding engagements were broken off. Young girls were hastily married to hide their pregnancies. And some women say they had to go through the horror of being raped again, by members of their own community.
Meher's husband rejected her. "He told me that I was no longer his wife because I had had sex with another man," she recalls, silent tears streaming down her face. She pleaded with him, explained she had to let the soldiers rape her to save their children's lives. But he wouldn't listen. "He ignored me during the whole trip from Myanmar to Bangladesh," she says. Once in the camps, he refused to speak or even look at her.
It was worse once he found out she was pregnant. "He said it wasn't his child and told me to give it away to an orphanage," remembers Meher. On the day of her delivery, he refused to help her. "He told me he didn't care if the baby died."
To avoid having to go through this, many of the women who say they were raped by soldiers haven't told anyone. Especially if they didn't get pregnant. When the military came into Dildef's house, her husband was away with their two children, aged five and two. She says they murdered her parents and siblings, before brutally raping her. When Dildef met up with her husband in Cox's Bazar, after hobbling through the forest for four days with blood streaming down her legs, she didn't tell him anything.
"He keeps asking me why I am so weak and cry all the time, but I just don't answer," she says. "If he knew, he would leave me." Sometimes, from the way he looks at her, she thinks he suspects something. But the 30-year old can't give it much thought: her five-year-old son was lost during the trip to Bangladesh and she still hasn't found him.
Beulla, a 21-year old with hazelnut eyes, was thrilled when her daughter Nursadiya was born a little over a month ago. "I enjoyed taking care of her so much," she remembers with a sad smile, standing in front of an empty crib still decorated with balloons. She was only allowed to keep her for 10 days.
"My parents made me give her up for adoption," she sighs. "I didn't want to, but I am not married, so it would have been impossible for me to bring her up."
During her pregnancy, she felt so distraught that she attempted suicide by drinking poison. The baby now lives with a childless cousin and her husband. Beulla will be able to see her from time to time. "But I will never tell her real story."
Aid agencies say they have seen approximately 10 abandoned babies so far. "Some are brought to us, others are simply left in the camps," says Giulia Maistrelli. "One baby girl was found in the latrines."
MSF hands them over to aid agencies Save the Children and UNICEF. "We have set up an informal foster system comprised of Rohingya families who agree to take in a baby and a network of wet nurses," says Daphnee Cook, from Save the Children.
In the camps, rumors of unwanted babies sold to traffickers abound. But no one can name a specific case. "Adoptions are forbidden in Bangladesh, since a child trafficking scandal in the 80s," explains Arun Dohle, who heads the NGO Against Child Trafficking. Adoption is also fairly uncommon in the Muslim world where an alternative foster system called kafala is often used. But Dohle and other experts say child trafficking networks linking Bangladesh with eastern India exist. In recent years, there have been cases of stolen babies sent over the border to West Bengal and sold to Indian or foreign couples wanting to adopt. 
Meher swills a tin plate around in a bucket of grayish water. She shakes it, piles some rice and a spoonful of curry onto it and starts feeding her two-year-old son with her hands. "I try very hard to keep everything clean, but it is difficult in the camps," she sighs. For her one-month-old baby, these conditions could be life threatening.
"We have seen cases of infections and pneumonia in infants," says Iftikher Mahmood. "Women often don't have enough milk because of malnutrition, so they have to give their babies barley or sago milk." Some feed them orange juice or coffee. Or formula mixed with dirty water. It could get worse as the monsoon deepens. Aid workers are bracing for potential outbreaks of cholera and diarrhea.
Meher also worries about Yasmin's future. She will probably grow up in Cox's Bazar, what's been called the biggest refugee camp in the world. Some Rohingyas have been living here for 40 years, after fleeing Myanmar during a wave of repression in the 1970s. Bangladesh refuses to give them citizenship or allow permanent structures to be built in the camps. Yasmin doesn't even have a birth certificate.
There are other obstacles too. "These children face the prospect of lifelong discrimination, says Iftikher Mahmood. "People will take one look at them and probably be able to guess they are half Bamar (Myanmar's ethnic majority), because their features are more Chinese and their skin is paler," he says.
For now, things are starting to look up for Yasmin and her family. A few days after her birth, Meher's husband started to soften. "Now that she is here, he plays with her, smiles at her, gives her love," she says. He has also resumed talking to her. "Everything is almost back to normal," she adds, a smile lighting up her face.
Some names have been altered to help protect the identity of those interviewed.