He's often described as golf's "mad scientist," the physics major with the lab-built swing, the single-length clubs and the unrelenting, analytic work ethic.
Yet Bryson DeChambeau's unorthodoxy is not just some far out formula. It works. And how.
The 24-year-old has collected four PGA Tour wins in just over 13 months, including back-to-back titles in his last two tournaments.
The latest, a two-shot win over Justin Rose in the second FedEx Cup playoff event Boston, cemented his lead in the season-long FedExCup standings.
DeChambeau's singular approach marks him out in a sport known for its conservatism and sometimes "vanilla" stars.
But he insists his unashamed pursuit of perfection, in a sport noted for its vagaries, is not as "crazy" as it seems.
"Crazy is a relative term, you know," he told reporters after his winning in Paramus, New Jersey last month.
"You can say what I do is crazy, but at the end of the day, I'm the one with the trophy this week."
He added in Boston: "I"ve always been a guy that's been weird and unique relative to everybody else, what they think about me. I've always gone about my business trying to do the absolute best I can. Let today's garbage be better than yesterday's. And so I don't view people's criticism as a negative thing. I actually view it as a positive thing."
READ: Volcanoes, lava and crashing waves: Golf Iceland style
Golf in the land of fire and ice
'The Golfing Machine'
DeChambeau's victory in the Northern Trust Open last week made him only the fourth player to win the National Collegiate Athletic Association (NCAA) Championship, the US Amateur title and three PGA Tour events before their 25th birthday.
The others? Only three of the biggest names to have played the game – Tiger Woods, Phil Mickelson and Jack Nicklaus.
Despite DeChambeau's low-key profile, he has collected more titles in the same time frame than Jordan Spieth, Rory McIlroy and Rickie Fowler combined. And so far in his fledgling career DeChambeau has won more than $8.4 million in prize money on the PGA Tour.
"I don't play golf for money," adds DeChambeau, who talks often of biomechanics, spatial awareness, standard deviation, tolerance and ranges of error despite being known as "L'Artiste" by some social media users.
"I play golf to execute that shot, the beautiful shot that everybody adores. That's why I think we all play golf."
READ: Woods to play Mickelson in £9M duel
READ: The guru teaching golfers to think like 'assassins'
DeChambeau's swing is based on some of the theories espoused in the left-field 1969 golf manual called "The Golf Machine" by Homer Kelly.
The geometric-heavy theory – taking the club back on a single plane, with no wrist break – is to improve consistency and reduce the variation in his shots. Critics say it lacks the power of a more traditional swing.
In tandem with the unique method, he also employs clubs that are all the same length – 37.5 inches – from three iron through wedges, compared with most sets which get shorter as the loft of the club increases. Instead of numbers, he stamps the clubs with names, such as "Azalea" and "Gamma."
"When I was starting to do my one-length iron stuff, there were a couple of colleges that just stopped talking to me. Even my dad didn't think it was a great idea," DeChambeau said in Boston.
"I love my dad to death, but we butted heads. But obviously it works now."
Until recently he also used a drawing compass to help gauge precise hole locations before the game's governing body in the US, the United States Golf Association, banned it for being an "artificial" or "unusual" device. And he has experimented with a sideways putting technique until the putter was deemed non-conforming.
The art of speed golf in Italy
'Hiccups'
DeChambeau, who grew up in Clovis, California, confesses he struggled with reading and writing – although not math – as a youngster and "worked my butt off to be an A student."
"I feel like I've always had to work twice as hard to be just as good as others," he says.
Through dedication, he says he can sign his name backwards with his left hand.
"It's not talent, it's just practice," he told Golf Digest in 2016.
"I can be good at anything if I love it and dedicate myself. And I love history. I love science. I love music. I love golf. I love learning. I love life. I love trying to be the best at anything and everything."
When the equation doesn't work out, however, the volatile and unforgiving DeChambeau can sometimes struggle to contain his frustration.
After his first round at the British Open at Carnoustie in July, DeChambeau was filmed having what appeared to be a golfing meltdown on the practice ground. The American threw clubs, despaired with his head in his hands and sunk to his haunches as demons seemingly infested his swing.
The following week, he led the European Tour's Porsche Open by one shot with four holes left before suffering another meltdown. DeChambeau's curt handshake with eventual winner Richard McEvoy drew heavy criticism, forcing him to apologize.
The downs, he says, are more important than the ups.
"Even though I have hiccups every once in a while, those are great experiences I can learn from," added DeChambeau in New Jersey.
"That struggle is what led me to this point. Those moments when you're at your – relatively speaking, lowest, are the times when you can learn the most."
READ: Tiger Woods confident of winning again: 'I'll get it done'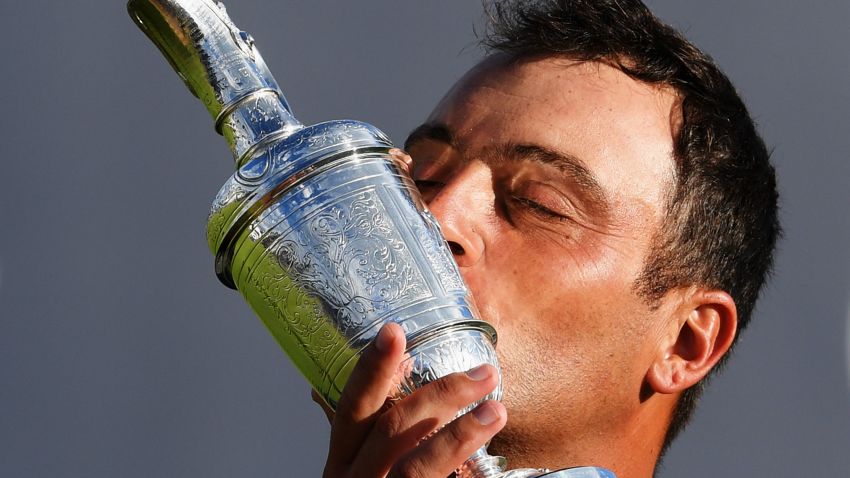 Francesco Molinari and golf in Italy
'Man on a mission'
But DeChambeau's recent results – he also won Nicklaus's Memorial tournament in June – and competitive instincts have made him a lock as a captain's pick for the Ryder Cup in Paris in September.
"We all know he's extremely intelligent, but his heart, he gives it everything he has and is always trying to get better," Woods, the man one place behind him in the Ryder Cup rankings, told reporters in New Jersey.
"We want fiery guys on the team. We are going overseas and we are going into a pretty hostile environment, so we want guys who are fiery. He's a tough kid. He's been through a lot in his life, and he's worked hard to get to where he's at."
Should he get the nod from US captain Jim Furyk Tuesday, DeChambeau would make his Ryder Cup debut against Europe at Le Golf National, but it wouldn't be the first time he has attended the tournament.
Two years ago at Hazeltine he attended as a fan, just to soak up the atmosphere.
Now, though, DeChambeau is a "man on a mission" – to make the US side and win the FedExCup.
Visit CNN.com/golf for more news, features and videos
"Pedal to the metal," he says.