Brazil is sending troops to its northern border to "guarantee law and order" amid an ongoing crisis which is seeing thousands of Venezuelans attempting to cross into neighboring countries and beyond.
Brazilian President Michel Temer signed a decree Tuesday to deploy the armed forces to the state of Roraima, making the announcement during a speech from Planalto Presidential Palace.
In a series of tweets following the decree, he cited the "terrible living conditions" endured by Venezuelans as reason for the migrant crisis and Brazil's reaction.
"The migratory wave in Roraima is the result of the terrible living conditions to which the Venezuelan people have been subjected," Temer said during the speech.
"This is precisely what has led to this tragic situation, that currently affects almost all of South America."
In a followup tweet he added that the Brazilian government has been offering medical and humanitarian assistance to the migrants, including building shelters.
The Guarantee of Law and Order decree – where the armed forces are authorized to take on policing duties – will go into effect from August 29 to September 12.
The northern Brazilian state is the main gateway for Venezuelan immigrants entering Brazil, according to State-run news agency Agencia Brasil.
Along with providing border security, the military contingent will be there to protect migrants from violence initiated by Brazilians angry with the instability created by the influx.
Earlier in August the government announced it would send 120 troops to Roraima, following increased tensions between the state's residents and incoming Venezuelan migrants.
The day before the August 19 announcement, a mob of Brazilians had attacked a group of Venezuelans after a local business owner reported a robbery by a group of migrants from the neighboring country, Agencia Brasil reported.
Around 1,200 Venezuelan migrants fled back over the border after the attack.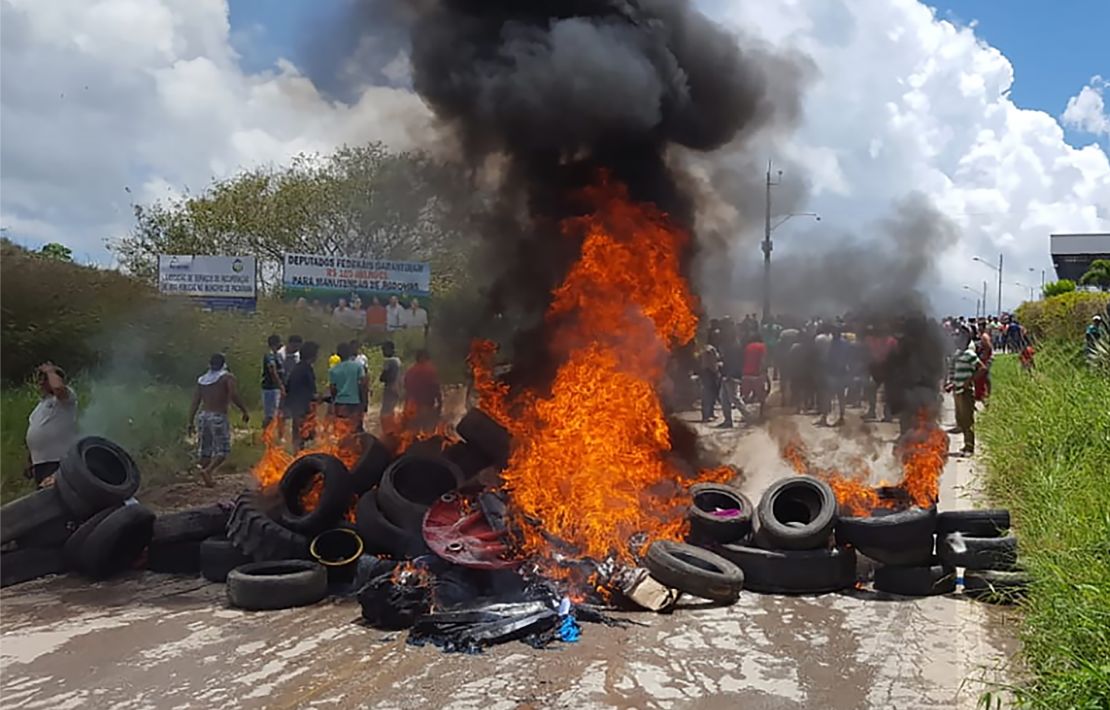 A judge had earlier ruled to prohibit the entry of all Venezuelans to the state but the decision was overturned by Brazil's supreme court.
This latest decree allows more troops to be deployed to the border, as well as allowing them to operate within Brazil as an internal security force.
'Crisis moment'
Hundreds of Venezuelan people cross into Roraima every day in search of safety, the United Nations High Commissioner for Refugees reported earlier this month. Migrants are also flooding across Venezuela's border with Colombia to the west.
The International Organization of Migration (IOM), a related organization of the UN, says the exodus of migrants from Venezuela is reaching a "crisis moment" on par with the Mediterranean flow of refugees from North Africa and the Middle East.
From 2015 to 2017, the agency estimated that the number of Venezuelans living outside the country has more than doubled, from 700,000 to more than 1,600,000.
Venezuela has been engulfed in economic crisis since oil prices plummeted in 2015. The country is one of the world's major producers of oil, and the resource fueled Venezuela's economy under former President Hugo Chavez.
President Nicolas Maduro declared a state of "economic emergency" in early 2016, with issues are rooted in falling oil prices, plummeting currency rates, power struggles within the government, the looming possibility of default and ongoing food shortages.
Recently Caracas issued a new currency in an attempt to bolster its crumbling economy, with Maduro hailing the recovery package as a "revolutionary formula."
Maduro aims to reform Venezuelan Economy
Migrant crisis coordination
Brazil's move to strengthen security in Roraima comes as its immigration officials met with counterparts from three other South American countries to coordinate on policies affecting outward migration from the beleaguered country.
Colombia, Ecuador, Peru and Brazil held two days of talks in Bogota on the crisis and ways to coordinate the countries' response to the crisis that is spilling over Venezuela's borders.
A statement issued after the talks was devoted to a new agreement between Peru and Colombia to share information on Venezuelans coming into their countries – many of them try to claim residence in both Peru and Colombia, which is not allowed.
Eduardo Sevilla, the National Superintendent for Migration in Peru said that many Venezuelans who had applied for a Special Permit of Residence in Colombia were then moving to Peru and applying for a Temporary Residence Permit there.
"It is important that Migration Colombia and Migration Peru know how many of them have been opting for both processes, because they are mutually exclusive," Sevilla said.
"You cannot count on a PEP in Colombia and at the same time have a PTP in Peru," he added, referring to the Spanish acronyms for the country's residency permits.
Many Venezuelans are "pursuing different benefits in different countries," denying migration opportunities to other Venezuelans, Colombia's General Director of Migration Christian Kruger said.
"We want to regulate this phenomenon, give people an opportunity, but in an orderly way. There is no country in the world that can handle an unlimited migration."
CNN's Umaro Djau, Deborah Bloom, and Marilia Brocchetto contributed to this report.