In downtown Chemnitz, the makeshift memorial to the victim of Sunday's stabbing attack, allegedly by two immigrants, still flickers every evening, a sea of candles and flowers that has survived the political turmoil of the last week. 
Local residents have come to pay their respects but few want to speak to the media, angry at the way their city has been portrayed.  
"It is really terrible and sad what happened in Chemnitz … in our city. I am not against foreigners or migrants," says one young man who didn't want to be identified.
"But I feel that I can't leave my girlfriend and children alone to go out by themselves. I feel it's no longer safe in our own home town."
A friend comes to pull him away and then hisses: "You'd better tell the truth and nothing but the truth! The media has been full of lies about us!"
Over the course of one turbulent week, the eastern German town of Chemnitz has revealed deep fault lines in the country over the flashpoint issue of refugees and immigration.
"I was surprised by the amount of resistance, distrust and how violently people reacted," says Werner Patzelt, a professor of politics at Technical University Dresden, who has been following the growth of the right-wing movement in Germany. "I fear no political action can stop this disastrous pull of events. There is a growing bitterness in Germany that no political action can stop."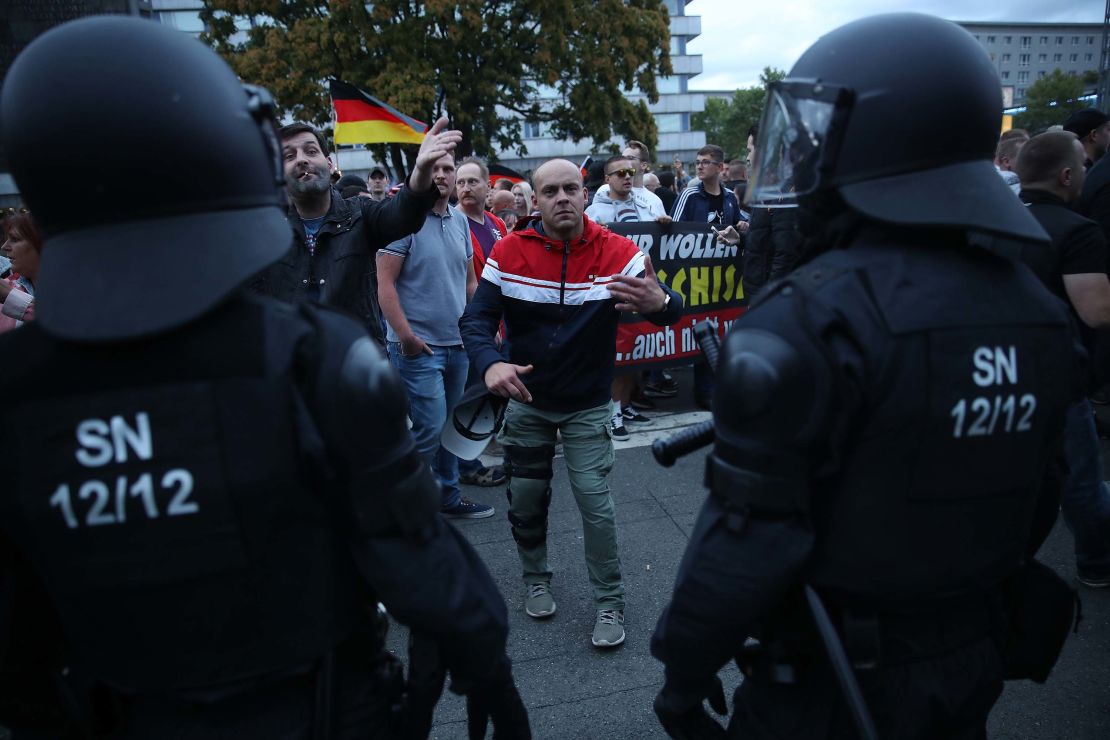 Vacuum of information
So, how did a homicide in downtown Chemnitz unleash mob anger on the streets?
It started at the crime scene in the vacuum that was created between what police officially reported and what was circulating on social media.  
"In the media, it was not immediately clear what had happened," explains Patzelt, "but what was clear was that right-wing extremists had already taken over the narrative. And they decided: We're going to make clear what the 'real reasons' behind this crime are and that's why we demonstrate."
The initial police statement reported a "verbal dispute" between persons of "various nationalities" that turned violent. A 35-year old was killed and two men were apprehended. No other details on motive, weapon or who the suspects might be were released.
But on social media, speculation was rampant. Within hours, online tabloid TAG24 ran a report with the headline: "Man killed attempting to defend woman from molestation." TAG24 attributed the information to a "senior official" at the crime scene.
It went viral. Because it fit a narrative that right-wing extremists have been painting since the 2015 refugee crisis: Foreigners are entering the country to assault local women and attack local men.  
It took more than 24 hours for police to reveal that suspects in custody were a Syrian and an Iraqi, confirming some of the swirling rumors online. Then, when right-wing networks published a leaked copy of the arrest warrant, it showed one of the suspects already had a criminal record, fueling the belief that the "real story" was not being told. 
As police and politicians remained tight-lipped about the killing, right-wing movements jumped into action. The Chemnitz branch of the anti-immigration Alternative for Germany party (AfD) posted the TAG24 article and called people to demonstrate. As did Kaotic Chemnitz, a football fan club known for its links to right-wing extremists, which put out a "challenge" to its supporters to come out on to the streets to "show who's in charge of this city."
By Sunday evening, police said more than 800 of them had overwhelmed their officers and filled the streets chanting "This is our city!" and "Foreigners out!"
Things got worse when the headlines hit on Monday morning and social media videos showed angry mobs roaming Chemnitz.
Chancellor Angela Merkel slammed the violence, with her spokesman Steffen Seibert declaring: "This has no place in our country. Such targeting and hunting of people with different looks, different origins, or the attempt to spread hatred on the streets has no place in our cities."  
But instead of calming things down, such condemnations seemed only to exacerbate tensions in Chemnitz. On Monday evening, police said 6,000 right-wing protesters, four times the initial estimated number, came out to demonstrate, in some cases driving across the country to join in. This time, Nazi salutes were recorded, not only a brazen violation of German law, but a flagrant rejection of the country's conscientious effort to rehabilitate itself from its wartime history.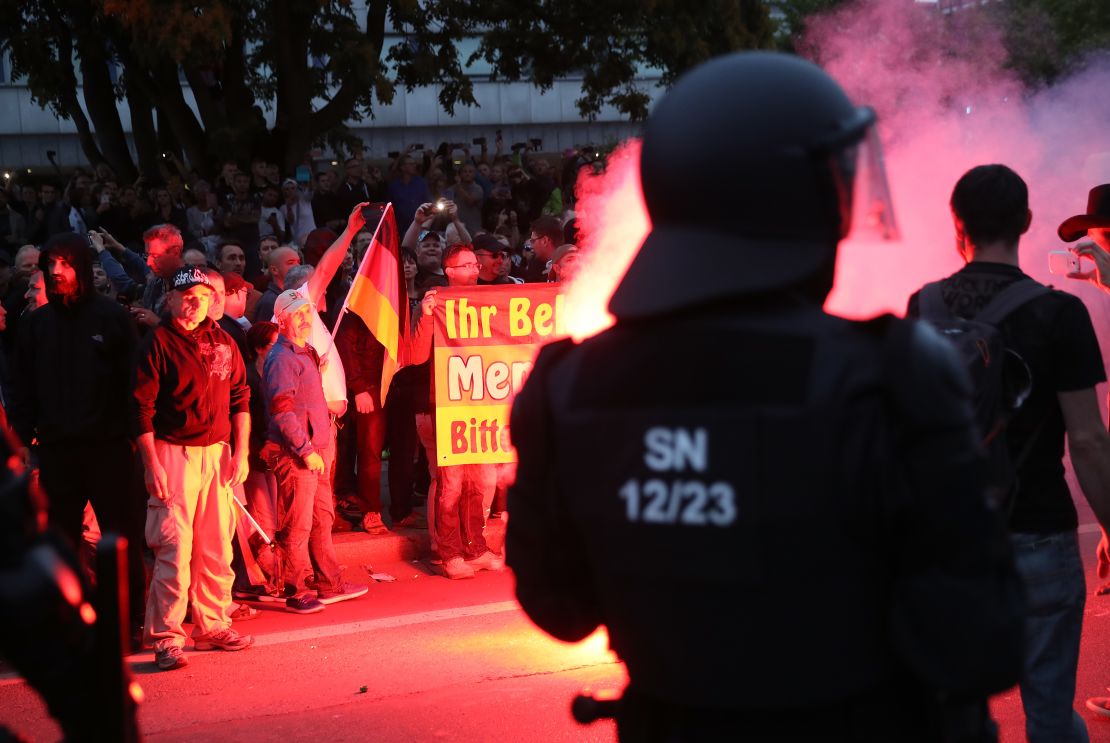 A city divided
All this played into a pre-conceived left-wing narrative: that despite decades of reunification, the former East Germany still lags behind the West, embracing racism instead of a modern multicultural society.
"The bottom line is: there is a wave of concern about migration. Many in Germany, a minority – but a strong minority – really dislikes the transformation of German society into a multicultural society," explains Patzelt. "There was also this feel of Western arrogance after reunification. Everything had to be modeled on the ways of the West. But that had unintended consequences. West Germans were accused of not listening to East Germans."
"The mainstream narrative is that the right wing has conquered East Germany and the problem is: racism, racism, racism," Patzelt explains. "But this ignores the feeling of the people. The result is a growing bitterness … and more votes for right-wing populists."
That has divided the city of Chemnitz itself. On Thursday, about 600 local residents came to attend a town hall with Chemnitz Mayor Barbara Ludwig. She was booed and heckled as she took the stage.  
"It was difficult to decide what to do," she began to explain to the room. One man shot back: "Well, that's your job!"
The mayor continued: "People could have mourned quietly after that fatal stabbing. It was not necessary to march violently through the city." She warned: "If we become a city where nobody wants to come here because they are afraid to go out on the street, that is not a good place for us."  
Teresa Krollinger Walter, a 51-year old Chemnitz resident, came to hear what solutions the mayor was proposing. She wore a T-shirt that read "No place for hate."
"I was utterly shocked. I thought the video was from another city. Not from Chemnitz. The pictures don't reflect what Chemnitz really is," said Walter. "I don't want this hate. I don't want to worry when my kids are on the street. I don't want this fear in the streets." 
Outside, a right-wing demonstration managed to gather about 1,000 people, police said, chanting "Go Away!" to the politicians, and "Lying Press!" to the assembled media.
Michael, a 61-year old from the nearby town of Erfurt didn't want to give his last name but did want to send a message to the media and local politicians: "I'm so angry because things have been so distorted. We're being called Nazis just because we are concerned about migration and our safety.  
"I was there on the Monday protests. We were not violent. We did not commit any crimes. All we did was send a message."  
He insisted: "None of the politicians, who are normally so quick to comment when there is some violation of a foreigner's rights, not one of those politicians came out to speak their condolences for the murdered, Daniel.  What is going wrong with this country?" By Tuesday, Chancellor Merkel issued another statement including her condolences to the victim, as well as condemnation of the protests.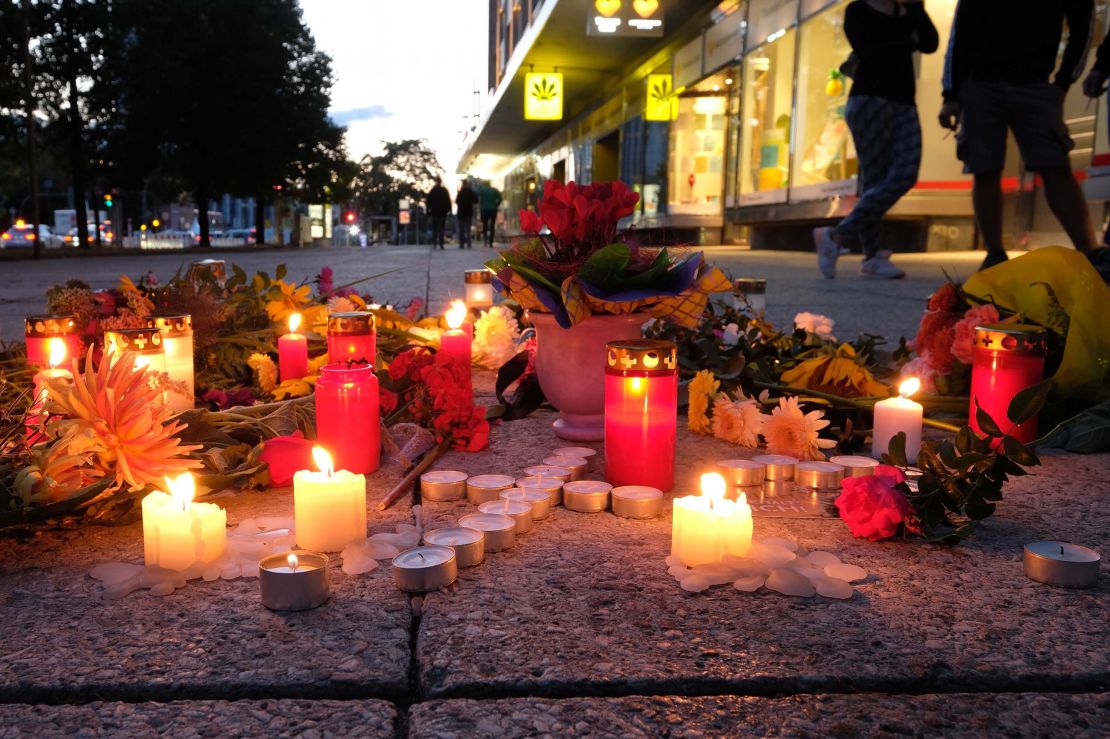 Politics overshadows grief
At the memorial, there is a photo of the victim, identified by police only as Daniel H.   
He was a 35-year old apprentice carpenter of German-Cuban descent. On his Facebook page, he listed his birthplace as "Karl-Marx City," the previous name for Chemnitz under Communist rule. The victim of the crime at the center of all this turmoil was himself something of a migrant, but he was also an East German born and bred. He liked Bob Marley and had a healthy sense of humor.  
Despite the flurry of media coverage that his death triggered, there is not much reporting on who Daniel H was, with only a handful of interviews from people who knew him. This is what seems to upset local residents the most: that their grief has been overshadowed by politics.  
At the memorial, his friends take turns to keep the candles lit. Only one of his friends agreed to speak to CNN and only without cameras or using his name.  
"Daniel was a good friend, a good man. He had no trouble with anyone. But if you took trouble to him…" His voice trails as he struggles to explain: "He was like on the outside of society here. Forgotten. Nobody cared before when he was alive. And nobody cares now when he is dead."