On the Internet, tennis is synonymous with temper tantrums, tirades, and meltdowns. In fact, that's the name of several YouTube clips devoted to scene after scene of a tennis player shouting at an umpire, gesticulating wildly at baselines, or smashing rackets to smithereens.
There's even a racket smash compilation video devoted to Serbian superstar Novak Djokovic on YouTube, in which the newly-crowned men's US Open champion obliterates one racket after another, sometimes getting a warning, sometimes losing a point.
The question of what level of bad behavior merits a point deduction, a game deduction or – in some cases – the loss of an entire match, is once again a point of debate after the women's US Open final Saturday.
Serena Williams received three code violations from umpire Carlos Ramos during her defeat to Naomi Osaka.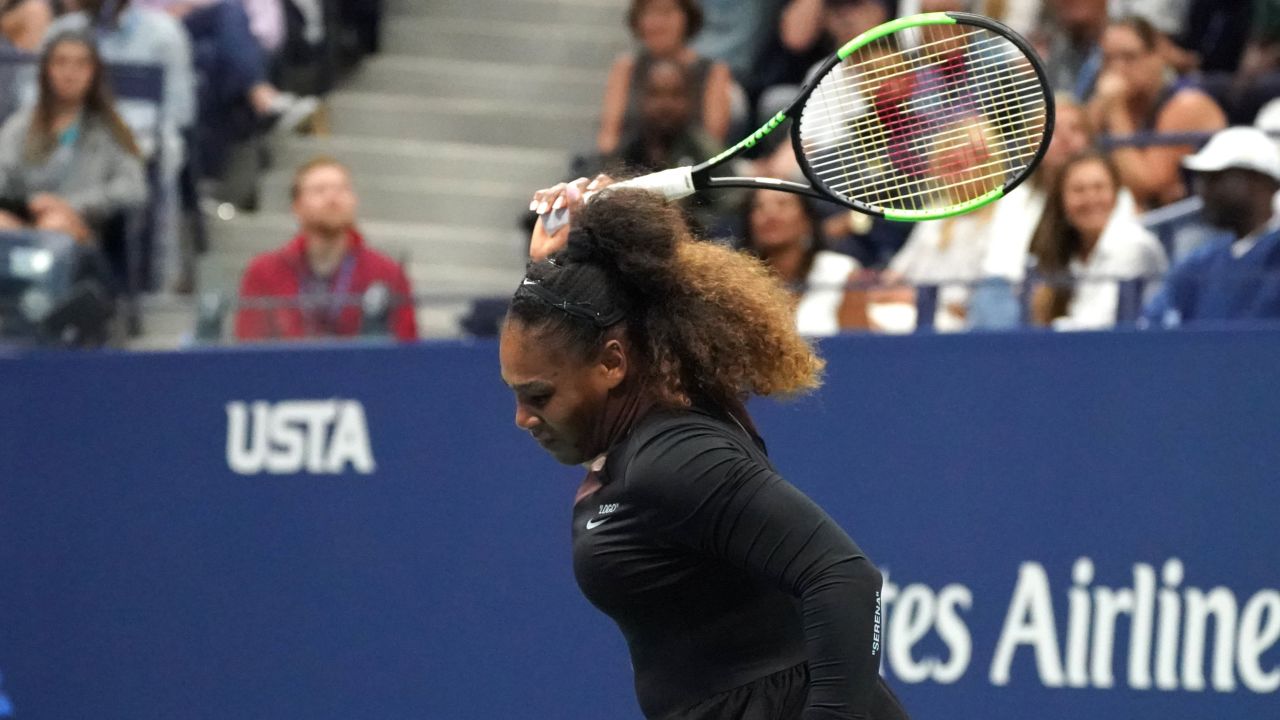 He first issued her a warning after ruling her coach was giving her hand signals from the stands at the Arthur Ashe stadium in New York. She denied the accusation and berated Ramos, demanding an apology. Williams' coach, Patrick Mouratoglou, later admitted he was trying to coach his player, but was unsure if she had seen it.
The umpire then hit Williams with a point penalty after she smashed her racket.
Then, he docked her an entire game after she called him a "thief" for taking that point from her. He said the comment amounted to verbal abuse.
Osaka won the match, clinching her first grand slam title, in straight sets: 6-2 6-4.
The drama wasn't the first time Williams has fallen foul of the officials at the US Open. During her 2009 semifinal against Belgian Kim Clijsters she received a point penalty at match point for unleashing a tirade against a lineswoman. The point penalty came at match point, meaning the match went to Clijsters without another play taking place.
In her complaint to the umpire Saturday and later to tournament organizers and reporters, Williams accused Ramos of sexism, saying "there are men out here who do a lot worse, but because I'm a woman you're going to take this away from me? That is not right."
A viewing of past bad behavior on court shows players – both male and female – losing points, being fined, and losing matches for bursts of temper and foul language.
At last year's French Open, Djokovic was docked a first serve and later given a warning for unsportsmanlike behavior for telling the same umpire "you're losing your mind," after a call Ramos made that infuriated the Serb.
American Jeff Tarango, unable to stop himself from responding to goading from the crowd during his 1995 Wimbledon match with German Alexander Mronz looked over at the stands and said: "Oh, shut up," earning him a code violation for an audible obscenity.
He argued with the umpire that his words couldn't be considered to be obscene, called for a supervisor to intervene, while telling the umpire: "You are the most corrupt official in the game and you can't do that."
After another code violation for verbal abuse, Tarango lost the match and stormed off the court.
During one US Open, Andre Agassi got a warning for an audible obscenity for something he was about to say as he approached the umpire, but thought better of it and started to walk away. After hearing the umpire penalize him, he called him a "son of a bitch." Play went on however, with no further remonstration from the chair.
There are myriad moments of racket abuse. Cypriot Marcos Baghdatis achieved eternal internet fame for an epic racket smash during the 2012 Australian Open. During a break he smashed four rackets in under a minute. He went on to lose the match and pay a $1,250 fine.
The International Tennis Federation sets out in its Code of Conduct what it considers violations. It defines unsportsmanlike behavior as "any misconduct by a player that is clearly abusive or detrimental to the Competition, the ITF or the sport of tennis."
A first offense is usually met with a warning, a second by a point penalty, and a third with the loss of a game. A supervisor is summoned to determine whether any violations after the third warrant a default.
In some cases, the players have gone from zero to default without anything in between.
Argentinian David Nalbandian was disqualified from the final of the Aegon Championship in 2005 after he kicked an advertising board which broke apart and injured the shin of a line judge. Association of Tennis Professionals (ATP) Supervisor Tom Barnes said he had little choice but to "declare an immediate default."
Other players who've defaulted a match through unruly behavior include Bulgarian Grigor Dimitrov, who destroyed three rackets during the final of the Istanbul Open against Argentine Diego Schwartzmann in 2016.
One of the most notable tennis players to ever default a match was John McEnroe. At the 1990 Australian Open he got his first warning for intimidating a lineswoman who called his ball out. He stood in front of her, bouncing a ball on his racket and staring her down.
Later, after losing a point, he hurled his racket to the ground and a loud crack echoed through the court, earning him another code violation. After insisting to the umpire and tournament officials that he would continue to play with the damaged racket McEnroe slung insults over his shoulder as he walked away.
That earned him another violation – this one for verbal abuse – and the entire match went to his opponent, Swede Mikael Pernfors.