Their goal is to revive US sailing, but America's Cup challenger American Magic is entrusting the job to a New Zealander.
The US syndicate will have renowned Kiwi Dean Barker as helmsman for the America's Cup in 2021, plus an international crew of sailors for the New York Yacht Club's first bid for the Auld Mug in 15 years.
With the clock ticking, the newly established team reckon buying in top talent – rather than relying on homegrown sailors at this stage – is the best way to achieve their ambition in New Zealand.
"To impact the sport the way that we want to, we have to win first," American Magic skipper and executive director Terry Hutchinson told CNN Sport in Cowes, birthplace of the first America's Cup in 1851.
READ: Britain's richest man plots $141M America's Cup coup
American Magic is the only US challenger, alongside Italy's Luna Rossa and Britain's Ineos Team UK, bidding to topple defender Emirates Team New Zealand, which beat Larry Ellisson's Oracle Team USA in Bermuda 2017.
Oracle, which itself was made up predominantly of Australian sailors, including skipper Jimmy Spithill, declined to enter the next Cup cycle after the Kiwis announced a move away from the hydro-foiling multihulls of Bermuda to unproven 75-foot foiling monohulls.
Hutchinson believes American Magic – bankrolled by US businessmen Hap Fauth, Doug DeVos and Roger Penske – can help "reengage the US sailing population" and "reinvigorate the marine industry" after criticism in some quarters that the cutting-edge catamarans of the last Cup alienated the grass roots of sailing.
"We need to bring back sailing to a younger generation," said Maryland's Hutchinson, who has been part of four America's Cup outfits.
READ: Why the next America's Cup is going back to basics
America's Cup: How Team NZ won in Bermuda
'Love affair'
At Olympic level, US sailors topped the medal table at the 1984 Olympics in Los Angeles, but have since slipped down the rankings, drawing a bank in 2012. But Hutchinson says there are encouraging signs after US Sailing finished as the most successful team at the recent Youth Worlds, as part of the new US Olympic Development Program (ODP).
Hutchinson said he had a "very clear vision" of his path. As a nine-year-old Laser sailor in 1977 he was inspired when Annapolis local Gary Jobson, now a Hall of Fame sailor and long-time mentor, won the America's Cup in San Diego as part of Ted Turner's crew on Courageous.
Hutchinson then remembers as a 13-year-old watching from Marmaduke's Pub in Annapolis (the owner was a fellow J 24 sailor and let him in) as Dennis Conner's Liberty lost the Cup to Australia II. And he recalls staying up until 3 a.m. at college at Old Dominion University as Conner's Stars and Stripes won back the Cup in Fremantle, Western Australia 1987.
"There was something about [sailing and the America's Cup] that was a love affair you can never get enough of," says Hutchinson.
He adds: "As a sailor you'd love to see more people engaged with the sport, buying sailboats and going on the water. It's a great natural resource so whether it's leisure sailing or you want to be a racer we need to figure out ways to make it more appealing to people.
"If we're fortunate enough to be in a situation where we've won, that's where the opportunity really lies."
READ: Confessions of a superyacht stewardess
Having committed to the next Cup, American Magic's management team identified time as their biggest weakness, in terms of both design and personnel.
"Very quickly we had to have a sailing team that could understand the challenges we'll face," says Hutchinson, who has so far assembled a mixed sailing crew of Americans, Brits, Antipodeans and an Argentine.
Barker – a five-time America's Cup sailor who sailed with SoftBank Team Japan in Bermuda after a fallout with Team New Zealand – was the obvious choice as helmsman.
"There's very few people in the world who possess big-boat monohull experience and also have experience of the 2013 and 2017 programmes," said Hutchinson. "And I can't think of another person who is more due to win the regatta than him so it seems like a safe bet."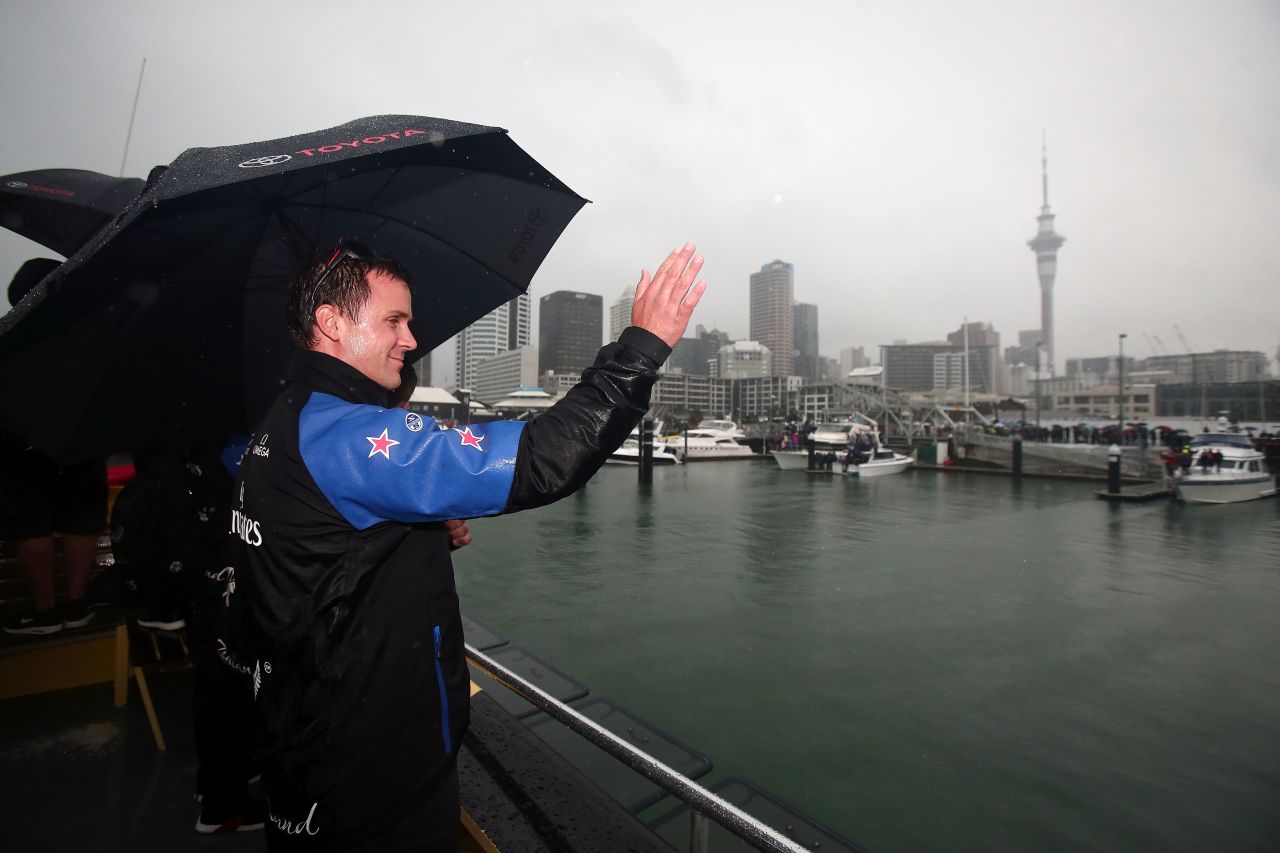 Life after America's Cup glory
'Can't buy time'
The radical and unproven AC75 boats, developed by Emirates Team New Zealand in close conjunction with principle challenger Luna Rossa, will push the designers to their limits as they strive to come up with the fastest hull shapes and foil packages in line with the class rules. Each team can build two, with the first to be launched no sooner than March 31, 2019.
With the America's Cup set to begin on March 6, 2021, and with a number of warm-up regattas and the Prada Cup to determine the sole challenger to take on the Kiwis before that, the clock is ticking.
"You can have as much money as you want but you can't buy time," said Luna Rossa skipper Max Sirena at a news conference in Cowes, England in September.
Ben Ainslie, whose Ineos Team UK has already tested a 28-foot foiling prototype, added: "The design decisions are becoming time critical. The designers are really earning their pay at the moment."
READ: World's best yachting destinations
'It will be massive'
For Team New Zealand there is the parallel challenge of planning the Cup, which will take place in Auckland Harbor and on the nearby Hauraki Gulf.
Team New Zealand boss Grant Dalton says hosting the event for the first time since 2003 – "when we lost to that great seafaring nation of Switzerland" – will be "massive" for the Kiwis, citing Google-topping searches back home for the words "Emirates Team New Zealand," and the nationwide turnout for the trophy tour the team undertook after their Bermuda triumph.
READ: Sailing's glamor tribe and the downsides of paradise
Dalton predicts the fan-friendly race courses positioned close to the shore will attract about 300,000 spectators to watch the racing unfold "without the need for binos."
"I remember growing up as young New Zealander watching us compete in Cup cycles, and just seeing how much the nation got behind it was pretty incredible," says New Zealand's 2017 Cup-winning skipper Peter Burling.
The New Zealand government is also spending "about a quarter of a billion Kiwi dollars" to redevelop the team base areas in Auckland, says Dalton.
But he insists putting on a successful regatta is not the same as winning the America's Cup.
Visit CNN.com/sailing for more news, features and videos
"We have a great event but we lose the Cup – it's like one of those medical ones where the operation is a success and the patient dies, or watching your mother in law going off a cliff in your car," he says.