Nine of the 10 costliest hurricanes to hit the US mainland since 1900 have come since in the last two decades.
Just last year, Hurricane Harvey caused $125 million in damage and Irma caused $50 million, making them two of the five most expensive storms in more than a century.
The trend is clear. Hurricanes are causing more damage in terms of dollars than in the past. But why?
The explanation, experts said, is relatively simple: More and more people are choosing to live near the coast, and housing and building costs in those locations are more expensive than they used to be.
Sign up for Hurricane Florence emails for the latest on the storm
"Continued development along the East and Gulf coasts of the United States is likely to increase hurricane damage simply by increasing the amount of property that is exposed to damage," a 2016 Congressional Budget Office report said.
In addition, those demographic and economic changes are exacerbated by rising sea levels and more powerful hurricanes due to climate change, experts said.
"There will be more dollar value damage (in the future) from hurricanes, even if you don't account for climate change," said Tom Birkland, professor of public policy at North Carolina State University.
Add in the impacts from climate change "and it's going to bend the curve upward even more," he said.
The politics of development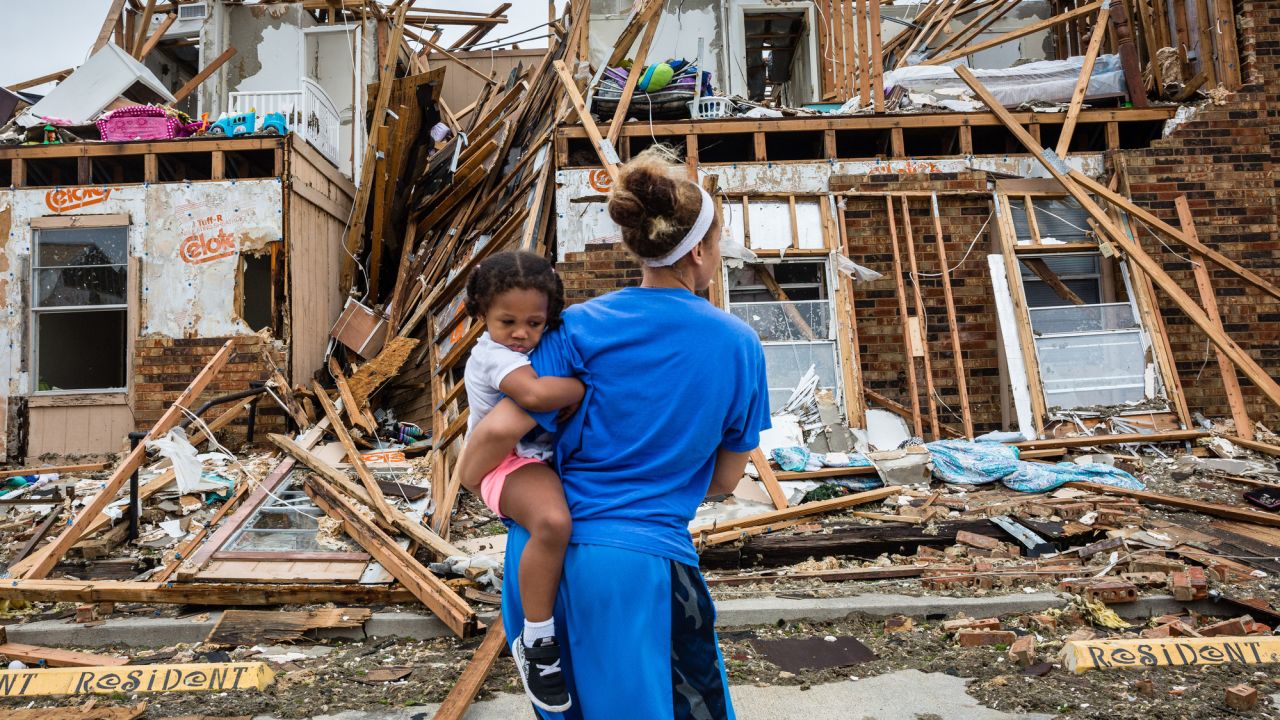 For various reasons, people increasingly are living near the coasts. Counties along the US shoreline make up less than 10% of the total land area but account for 39% of the total population, according to the National Oceanic and Atmospheric Administration. And that population of shore-dwellers is expected to increase by 8% from 2010 to 2020, NOAA said.
That demographic change means the best solution for limiting hurricane damage is the least palatable for those of us who enjoy a nice beach day.
"The most effective way to mitigate hurricane damage in coastal properties would be to not build on coastal land. That would be very effective," Birkland said. "But that's politically unpopular."
Indeed, it's been particularly unpopular in North Carolina, where Birkland said tourism and real estate interests along the coasts hold considerable political power.
In 2010, a state commission report estimated that sea levels could rise by up to 39 inches by the year 2100, the New York Times reports.
But rather than adjust the state's plans for coastal development, the Republican-controlled legislature passed a law in 2012 that banned state and local agencies from using sea-level estimates that "include scenarios of accelerated rates of sea-level rise." The law required predictions to stick to historical trends, despite scientific evidence that sea levels are rising at an accelerated rate due to climate change.
The climate change denialist law became the butt of jokes nationally, including from Stephen Colbert.
"If your science gives you a result that you don't like, pass a law saying the result is illegal. Problem solved," Colbert said.
Birkland said he was not sure if the law changed much, but it did send a signal that North Carolina was not likely to grapple with sea-level rise and its effects.
"It's unlikely that the state will, under the current law, be able to take particularly forceful measures to induce planning for sea-level rise along the coast," he said.
Ways to mitigate damage
Instead, policymakers have focused more on creating tougher building codes so homes built along the coast are sturdier and better able to withstand storms.
"Even though we all know that land use regulation is probably a better way to address this hazard … more stringent land use regulation is probably less likely than more stringent building codes," Birkland said.
Local governments in hurricane-prone areas are also forced to balance the market forces of economic development with the potential for natural hazards like hurricanes.
Roy Wright, the CEO of the Insurance Institute for Business & Home Safety, works with insurance companies to create stronger residential and commercial buildings that can withstand triple-digit wind speeds.
"Knowing that we're going to continue to build, how do we build in a way that is stronger and safer to better preserve human life and reduce the impacts of those disasters?" Wright said.
The idea, Wright explained, is to prevent the kind of extensive flooding and water damage that costs a hundred-thousand dollars and displaces a family for months at a time.
Buildings in these coastal areas might have roofs more strongly connected to the structure, sturdier stilts or stronger hurricane shutters, Birkland said.
But there's only so much this mitigation can do when a major hurricane strikes. In addition, construction and development also affects how water flows over the natural land, which can cause further flooding problems.
In Houston, for example, the flooding from Hurricane Harvey was so extensive partly because flood plains and water-absorbing land had largely been paved over.
"More development means more concrete and more asphalt," Wright said. "When the rain falls on a grassy field, it can absorb much of the water. When rain falls on concrete in a built environment, it just runs off. So any time you see increased development, you are increasing your flood risk."
The end result is that people will increasingly have to balance the risk of hurricane hazards with the benefit of living near the coast. Birkland likely channeled many coastal residents when he said he wasn't sure where he stands on that question.
"I don't really have an answer to that," he said. "I'm probably not the best person to ask only because I like the beach so much."