Editor's Note: Are you affected by Tropical Storm Florence? When it's safe, text, iMessage or WhatsApp your videos, photos and stories to CNN: 347-322-0415
At least five people, including a mother and her infant, have died in North Carolina as Tropical Storm Florence slowly moved from the Tar Heel State into South Carolina, officials said Friday.
After coming ashore in North Carolina as a Category 1 hurricane, Florence was downgraded to a tropical storm Friday afternoon and trudged into South Carolina as night came.
Two people died in Wilmington after a tree fell on their house, the city's police department said.
"WPD can confirm the first two fatalities of Hurricane #Florence in Wilmington. A mother and infant were killed when a tree fell on their house," police tweeted Friday afternoon. "The father was transported to (New Hanover Regional Medical Center) with injuries."
The hospital said it has received three injured patients.
In the town of Hampstead, emergency responders going to a call for cardiac arrest Friday morning found their path blocked by downed trees. When they got to the home, the woman was deceased, Chad McEwen, assistant county manager for Pender County, said.
The fourth person who died was a man in Lenoir County who was hooking up a generator, Gov. Roy Cooper's office said. Another man in the county who was checking on his dogs outside was killed in what his family thought was a wind-related death Friday morning, emergency officials said.
Florence was inching along Friday night, trapping people in flooded homes and promising days of destruction and human suffering.
Storm surges, punishing winds and rain are turning some towns into rushing rivers – and the storm is expected to crawl over parts of the Carolinas into the weekend, pounding some of the same areas over and over.
Billy Sample, a resident stuck in the town of Carolina Beach, North Carolina, said Friday night: "The height of the storm didn't feel as bad as it is now. The house is shaking back and forth much more violently than when the eyewall came through."
Sample said that when he looked outside of his house, which is about 1,000 yards from the beach, he saw the rain pooling up on the street and what looked like storm surge coming up the road.
In the besieged city of New Bern, rescuers had plucked more than 200 people from rising waters by midmorning Friday, but about 150 more had to wait as conditions worsened and a storm surge reached 10 feet, officials said. That number was down to 40 later in the day.
Key developments
• Florence's location: By 11 p.m., Florence's center was moving west-southwest through South Carolina at 5 mph, with maximum sustained winds of 65 mph. The center was about 20 miles north-northeast of Myrtle Beach. Gradual weakening was expected Friday night, the hurricane center said.
• Prolonged, dangerous winds: Tropical storm-force winds extend 175 miles from Florence's center. The storm is expected to lumber into far southeastern North Carolina and eastern South Carolina through Saturday, punishing the area with rain and damaging winds.
• No electricity: There were 788,916 homes and businesses without power Friday night, according to the North Carolina Emergency Management agency.
• Flooding for miles: Up to 40 inches of rain, and storm surges pushing water inland and not allowing rivers to drain, "will produce catastrophic flash flooding and prolonged significant river flooding," the National Hurricane Center says. "You're going to have flooding miles and miles inland," the center's director, Ken Graham, said. Some areas of South Carolina could see rainfall totals of up to 15 inches, forecasters said.
• Record gusts: Wilmington's airport recorded a 105-mph wind gust – the fastest measured since Hurricane Helene hit the city in 1958, the National Hurricane Center said. Later Friday, a wind gust of 68 mph was measured at a station in Wrightsville Beach, near Wilmington.
• Nuclear plant shutdown: A nuclear power plant in Brunswick, North Carolina, shut down operations because of the storm, the US Nuclear Regulatory Commission said on Twitter. "Plant procedures call for the reactors to be shut down before the anticipated onset of hurricane-force winds," agency spokesman Joey Ledford told CNN. Federal officials had said midweek they weren't concerned about that facility or five other nuclear plants in the storm's path, calling them "hardened." Expert scientists, however, had said they were worried about Brunswick because of scant public information about its readiness.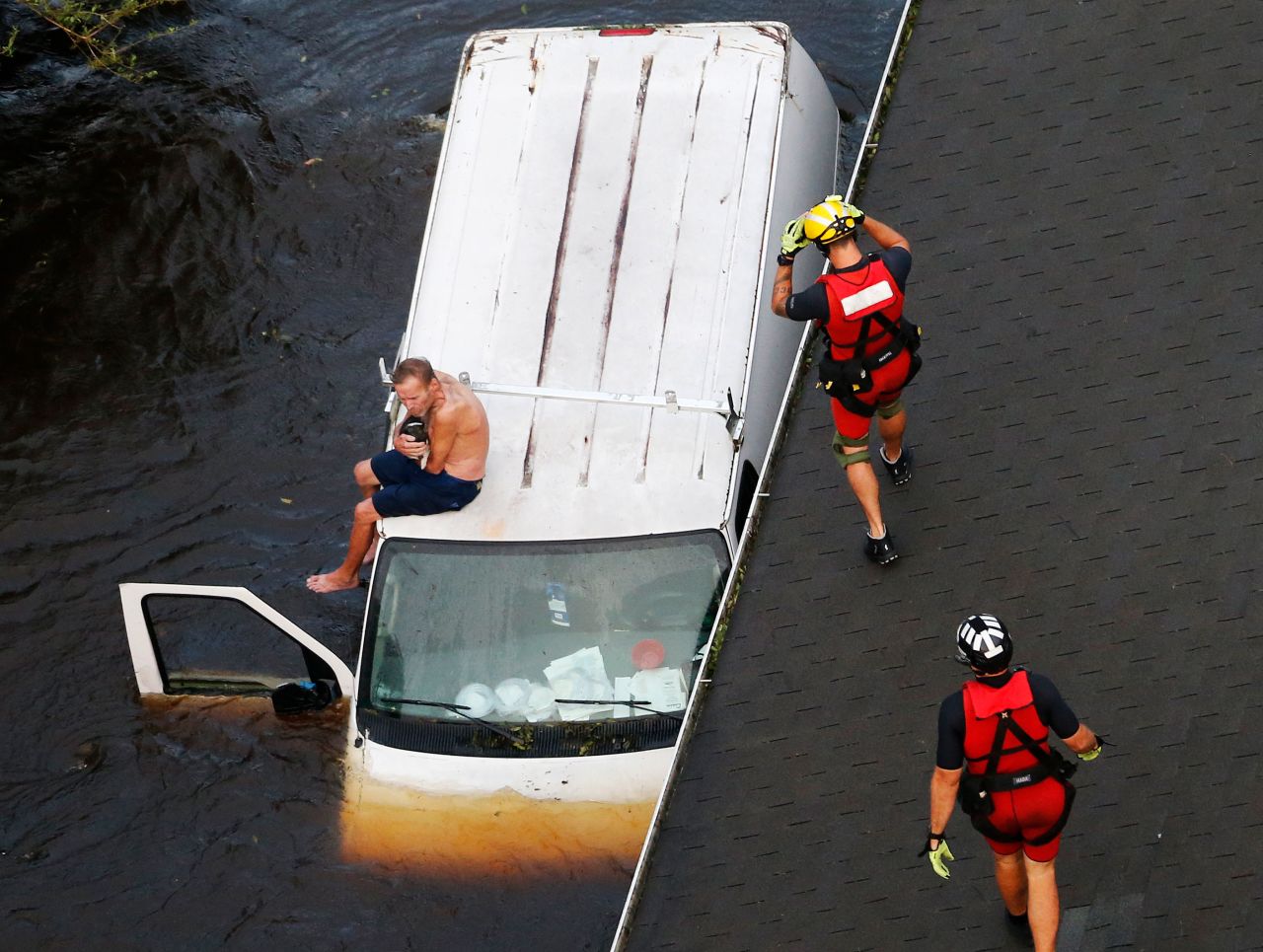 In pictures: Hurricane Florence and its aftermath
Rescues and narrow escapes
Rainfall totals for the storm will be similar to those in hurricanes Dennis and Floyd in 1999, the National Weather Service's Chris Wamsley said
"The only difference is, back then it was within 14 days," he said. With Florence, "we're looking at the same amount of rainfall in three days."
One of the rescuers in New Bern was Jason Weinmann, a retired Marine who has a military troop transport vehicle he bought at a government auction.
He picked up 10 people on one run and took them to a shelter. Jennifer Morales, 20, said there was 3 feet of water in her home.
"It was pretty bad. We didn't know where to go," she said.
Why Florence is extremely dangerous
Another woman who was rescued by another group in New Bern told CNN's "Anderson Cooper 360˚" that she and her family thought they would be safe in their brick home and heard the storm had been downgraded from a Category 4.
"About 11:30, 12 (midnight), the water came into the house. It came in slowly but then it just steady, just kept rising," Annazette Riley-Cromartie said.
She, her husband and three children went up into the attic for a while, but the winds howled and the family descended to an upper floor bedroom.
As they waited for emergency workers, they heard neighbors calling for help.
Her husband went to see if he could assist them but the water was chest high, she said.
"It's the worst feeling in the world to hear people yelling for help and you can't do anything," she said.
Eventually a citizen rescue crew came with a boat.
Swift-water rescue teams from out of state helped local rescuers evacuate people whenever conditions allowed. One team from Maryland helped with about 40 rescues in New Bern starting Thursday, member Mitchell Rusland said.
In Belhaven, the Pungo River roared into town, crashing up against homes at a waist-high level and higher late Thursday and early Friday, video from Amy Johnson showed.
A terrifying night
In Morehead City, Brooke Kittrell rode out the storm Thursday and Friday with her boyfriend aboard their docked boat, hoping it didn't break loose and slam something.
She succeeded – staying awake all night, retying broken dock lines in howling winds. But there were times she thought they wouldn't survive, she told CNN.
"I honestly cried," Kittrell said. "I was born and raised here and been through every storm the last 30 years, but this one seems to be doing more damage than we expected."
By Friday morning, the shore was flooded, and buildings were damaged, in video she put up on Facebook.
In Jacksonville, North Carolina, city officials posted photos of toppled gas pumps and a downed trees early Friday, warning residents to take shelter and avoid roadways.
Officials in several states have declared states of emergency, including in the Carolinas, Georgia, Virginia and Maryland, where coastal areas are still recovering from summer storms.
Florence is one of four named storms in the Atlantic. According to the National Hurricane Center, the storm will travel through upstate South Carolina, be downgraded to a tropical depression, then turn north toward the Ohio Valley.
As it moves near Ohio and West Virginia, it will become a remnant low. Then it will swing to the northeast in the middle of next week on a path to the Atlantic Ocean near Nova Scotia, where it will be an extratropical low with gale-force winds.
CNN's Judson Jones, Tina Burnside, Kaylee Hartung, Chuck Johnston, Brian Todd, Paul P. Murphy, John Berman, Michelle Krupa, Dianne Gallagher, Marnie Hunter, Dakin Andone, Amanda Jackson, Holly Yan and Michael Guy contributed to this report.