Hong Kong residents huddled indoors Sunday and strong winds sent debris flying as Typhoon Mangkhut, the world's strongest storm this year, carved a destructive and deadly path from the Philippines toward mainland China.
The Hong Kong Observatory (HKO) raised the storm signal to T10 – the highest level possible – Sunday morning local time, with the city almost entirely shut down.
Fierce winds have already torn off roofs, smashed windows and downed trees in Hong Kong, as authorities warned of the threat of storm surges and flooding from torrential rain.
Mangkhut was recorded packing sustained winds of 173 kilometers per hour (107 miles per hour) and gusts up to 223 kilometers per hour (138 miles per hour) as the storm's eye passed south of the territory in the early afternoon, according to the HKO.
At 4 p.m. local time, the storm was 110 kilometers (68 miles) west-southwest of Hong Kong, and heading for the surrounding Pearl River Delta, home to 120 million people, the HKO reported later Sunday. Mangkhut was expected to make landfall sometime Sunday evening in southern mainland China.
Along the coast, the gambling enclave of Macau, which was hit hard by Super Typhoon Hato last August, closed all its casinos, and all fishing boats from China's Guangdong province have been called into port.
The storm is expected to be one for Hong Kong's record books. It's only the 15th time in the last 60 years that a storm has been classified as T10; the last was for Super Typhoon Hato last year.

On Saturday, it plowed into the Philippines, flattening homes in small towns and villages on the northern island of Luzon. The presidential spokesperson for Rodrigo Duterte told reporters Sunday that 40 people had died.
Harry Roque said most of the deaths were due to landslides and mainly occurred in the Cordillera Administrative Region.
The official death toll complied by the Philippines disaster agency still stands at zero as it instituted a stringent criteria for associating deaths with storms following Typhoon Haiyan in 2013.
The region braces
Hong Kong's famed Victoria Harbor was hit with a storm surge of more than 3.9 meters (12.8 feet) above chart datum Sunday. Hong Kong's famous skyline, filled with massive buildings jutting up from the hill, was almost completely obscured as squalls roared through, however visibility has since improved.
More than 550 flights have been canceled at airports in Hong Kong, Shenzhen and Guangzhou, and more than 200 have been delayed, according to Flightaware.com. Most of Hong Kong's public transport has been suspended.
Hong Kong authorities have been warning residents about the storm for days. On Saturday, grocery stores were packed with people stocking up on goods. Buildings across the city were either boarded up or had their windows taped in order to mitigate the damage of broken glass.
Other cities around the Pearl River Delta – which includes Hong Kong, Guangzhou, Shenzhen, Zhuhai and Macau – are on high alert.
Guangzhou, the capital and most populous city in Guangdong province, issued its highest typhoon emergency alert, according People's Daily, a state-run media outlet. More than 100,000 people have been evacuated. Airports in Shenzhen, a technology hub across the border from Hong Kong, and on the resort island of Hainan have canceled all flights, according to Chinese state media.
Mangkhut slams into the Philippines
Mangkhut struck the northern Philippines as a super typhoon, causing flooding and landslides on the northern island of Luzon.
It made landfall in the Philippines Saturday at 1:40 a.m. local time, packing winds of up to 270 kph (165 mph), 120 kph (75 mph) stronger than Hurricane Florence that hit North Carolina.
Known locally as Ompong, Mangkhut ripped roofs off buildings, uprooted trees, blocked roads with debris and dumped water on fields of crops.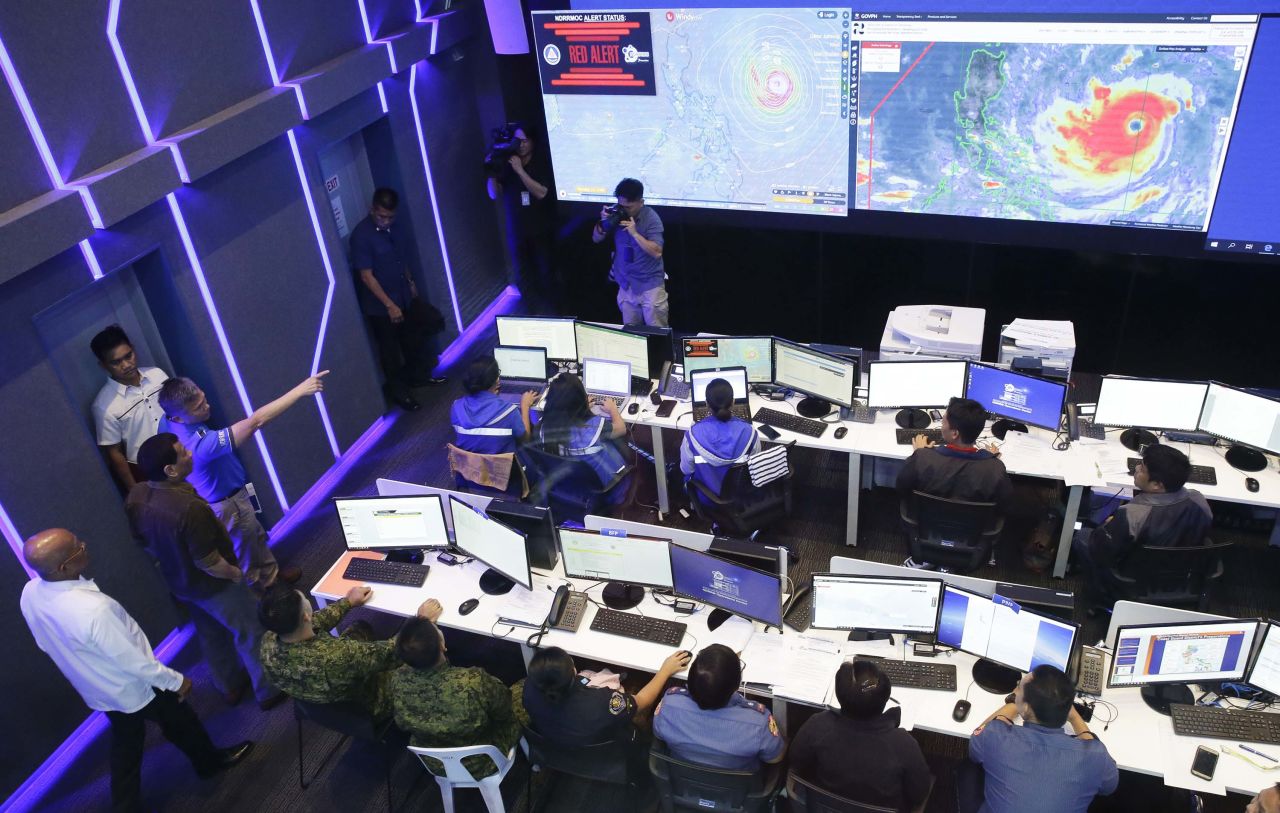 In photos: Typhoon Mangkhut
More than 250,000 people were affected by the storm across the country, with around half of those seeking shelter in evacuation centers in the country's north.
Philippines President Rodrigo Duterte will head to the region Sunday to see the damage and recovery operations, presidential Palace Communications Secretary Martin Andanar told CNN.
The most severe damage came in Luzon's north, a sparsely populated region that's considered the breadbasket of the Philippines, though areas as far away as Manila – more than 340 km (200 miles) from the eye of the storm – were hit with heavy rains that caused flooding in urban areas.
As of Saturday, the storm had caused 51 landslides in the Philippines' north. Search crews are looking for people reported missing in the mountainous Cordillera region, Political Affairs Secretary Francis Tolentino said.
Though the storm system has moved on, extent of the damage has been difficult to assess Sunday as fierce winds were replaced by flood waters, blocking access and aid to affected areas. A vital transportation hub in the region, Tuguegarao airport in northern Luzon, was damaged in the storms, according to the Department of Transportation, forcing the cancellation of more than 100 local and international flights.
Mangkhut is expected to make another landfall late Sunday night, hitting the Chinese province of Guangdong near the cities of Yangjiang and Zhanjiang.
From there the system will continue to move westward and will rain itself out over northern Vietnam, which could lead to some flooding there early next week.
CNN's Hilary Whiteman in Hong Kong and Jo Shelly and Alexandra Field in Santiago, Philippines, contributed to this report