Hurricane Florence has come and gone but the risks from power outages, damaged homes and flooding are still very present for some areas. Recovery efforts are underway in North Carolina and other areas hit by Hurricane Florence.
Tom Fargione, deputy federal coordinating officer for the US Federal Emergency Management Agency, is in North Carolina now, and said relief workers are focusing on stabilizing safety and security, food and water, shelter, health care, energy, communications, transportation and hazardous waste in the state.
Addressing those, he said, "is what's going to quickly result in better care for survivors and everything we can do to immediately reduce suffering."
For those returning after the storm, just the journey home could be challenging.
"I would like to underscore that if people don't need to be on the roads they shouldn't be," the US Department of Transportation's Jim Ray said on Monday. "The routes that are available, particularly in the east, we very much want to be available to our first responders and those that are moving equipment in for the rescue part of the mission."
Here's guidance from government and emergency management agencies about what to look for when returning home after a hurricane.
Road safety after a storm
Only return home when officials have said it's safe to do so.

Don't walk, swim or drive through flood waters. Six inches of fast-moving water can knock a person down, and one foot of moving water can sweep away a vehicle.

Keep out of the water. Flood water can contain debris, downed power lines and germs.

Don't drive around barricades. Follow posted signs and instructions.
Hurricane cleanup at home
Before entering, check for structural hazards that might make it unsafe to go in the house.

If you're able to go inside, open doors and windows to increase ventilation. Use fans to blow air out doors or windows.

Return to your home during daylight hours.

To communicate, text instead of calling to allow phone lines to stay open.

Walk carefully around your home's exterior to check for loose power lines, gas leaks and structural damage.

Don't go inside building if you smell gas, if floodwaters remain or if the building was damaged by fire.

Beware of snakes, insects and other animals that might have moved to different areas due to floodwater.

When returning to your home, be aware that flood water may contain sewage and other hazards. Keep children and pets away from the affected area until cleanup has been completed.

Remove and discard items that cannot be washed and disinfected, including toys.

Clean all hard surfaces such as flooring, concrete, wood and metal furniture, countertops, appliances, sinks and other plumbing fixtures with hot water and laundry or dish detergent.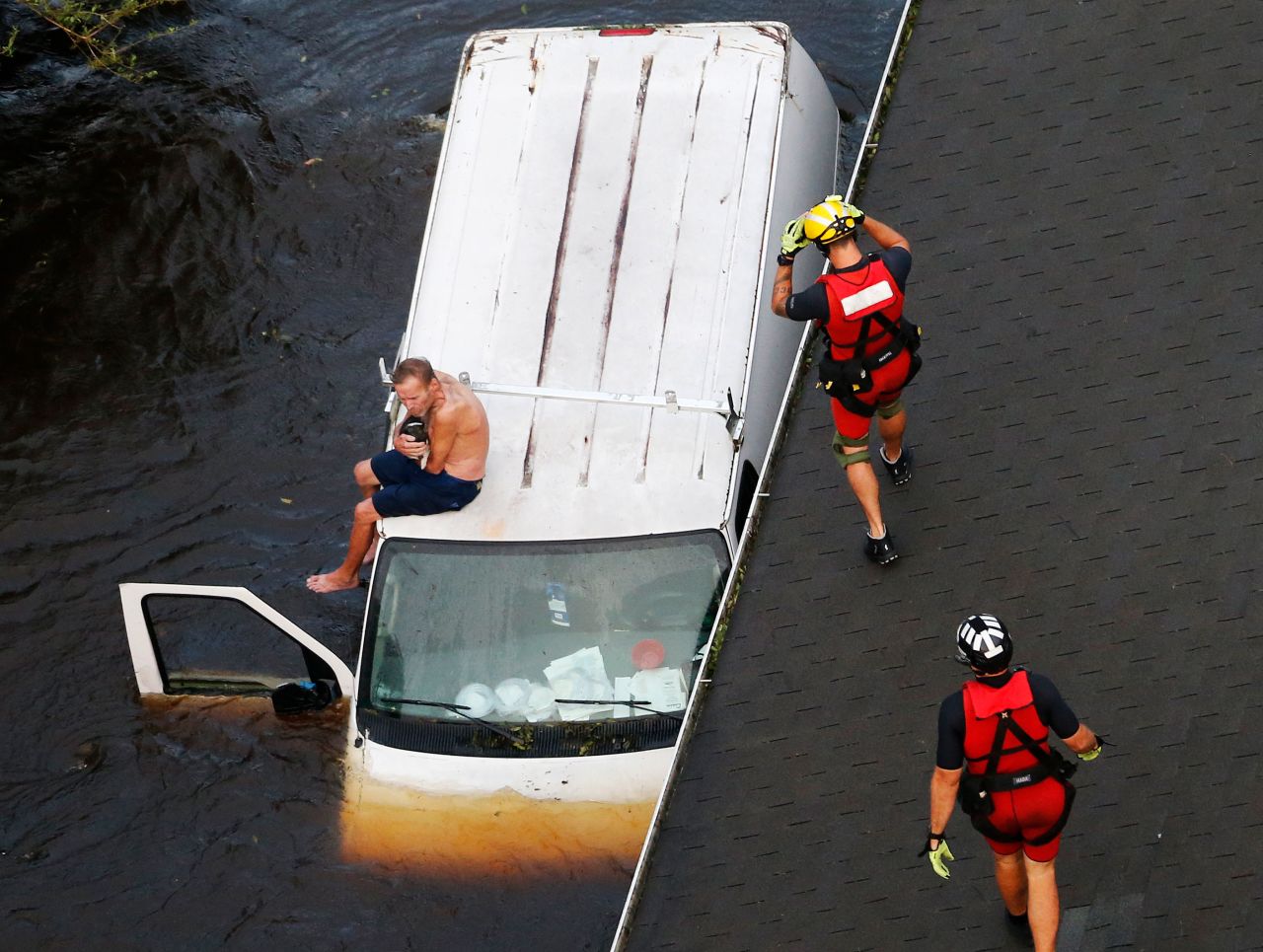 In pictures: Hurricane Florence and its aftermath
Safe power sources
Don't use gas-powered generators or burners inside your home or garage.

Carbon monoxide poisoning is one of the leading causes of death after storms in areas dealing with power outages.

Check for gas leaks. If you smell gas or hear a blowing or hissing noise, open a window and leave immediately. Turn off the gas at the outside main valve if you can. Call your gas company from another location.

Electrical power should be shut off until there is no risk of fire, explosions or electrocution. If you smell something burning when the electricity is turned on, even if there's no visible smoke or fire, mmediately turn off the electricity at the main breaker.

All appliances and other equipment and lighting must be dry before use.
Food and water
Throw away food that may have come in contact with flood or storm water; perishable foods that have not been refrigerated properly due to power outages; and those with an unusual odor, color or texture. When in doubt, throw it out.
Do not use contaminated water to wash dishes, brush your teeth, wash and prepare food, wash your hands, make ice or make baby formula.

In hot weather, stay cool and drink plenty of fluids to prevent heat-related illness.

Do not bathe in water that may be contaminated with sewage or toxic chemicals. This includes rivers, streams or lakes that are contaminated by flood water.
Sources: South Carolina Emergency Management Division, US Centers for Disease Control and Prevention, South Carolina Department of Health and Environmental Control, National Weather Service, Federal Emergency Management Agency, North Carolina Department of Health and Human Services