Editor's Note: Matt Bevington is a public policy researcher at the think tank UK in a Changing Europe. The opinions in this article belong to the author.
Theresa May awoke on Friday with her Brexit plan in tatters. Euroskeptics in her own party despise it. The opposition Labour Party has said it will vote against it. And now the European Union, too, has rejected it outright.
This should not have come as a surprise to the UK Prime Minister, who made an angry statement on Friday afternoon, saying that the EU must respect the British position.
Next weekend marks six months until Brexit day. But a week on Sunday marks another anniversary: six months since the EU set out its guidelines for the future relationship.
These guidelines "recalled and reconfirmed" the core principles set out by the EU since Theresa May triggered Article 50 – the process by which Britain is leaving the bloc – in March 2017.
The four freedoms are indivisible. There can be no cherry-picking. A sector-by-sector approach is not possible. These mantras are now so familiar as to be tedious to repeat. Yet it would be difficult to find three principles that May's proposals more directly undermine.
As a result, it was never if, but when the EU would reject the so-called "Chequers" deal, named after the British Prime Minister's country retreat. What seems to have surprised the UK government is that it was the EU leaders who rejected it, rather than the notoriously high-handed European Commission. It must be clear to them now that the EU's chief Brexit negotiator, Michel Barnier, is not a rogue element, but a reliable representative of member states' views.
The change of position by the EU didn't happen on Thursday. It happened when the British government published its white paper setting out the Chequers proposals. The commission didn't reject them outright at that point, despite its red lines being so obviously compromised. The charade that has taken place since to steer Theresa May toward further compromise is what ended in Salzburg.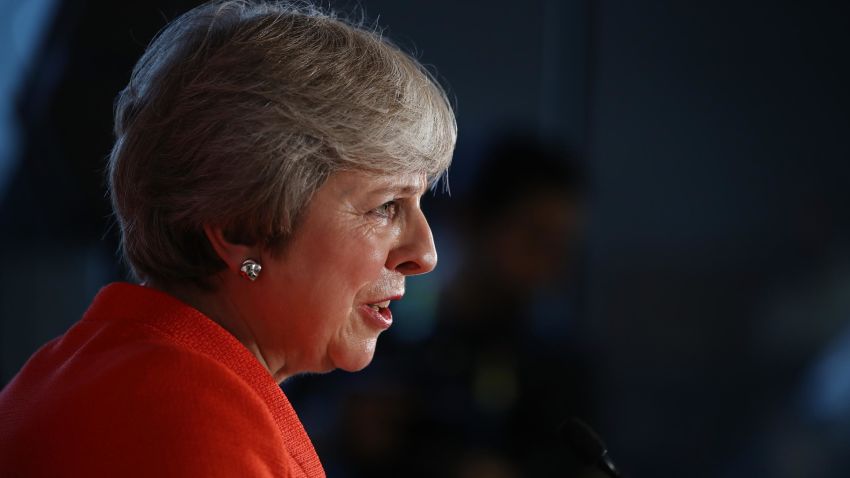 Theresa May: 'We are at an impasse'
It is tempting to read the drama that comes with summits as being more momentous than it actually is. Donald Tusk's provocative Instagramming hasn't helped matters, either. But the immediate calculations that stood before Salzburg still stand now.
The main issue remains the Irish backstop. Where the summit might have importance is in changing the UK's approach. The unspoken purpose of Chequers was to make the European Commission's backstop proposal redundant. Without Chequers, the UK will have to engage more actively in shaping a backstop that both sides can live with.
The future relationship doesn't need to be sorted out properly until the UK has left. All that's required on this front is to get a joint statement on this through Parliament.
Theresa May could take the EU's offer of a Canada-style deal plus an improved Irish backstop. Any further movement toward a softer Brexit deal could risk an immediate leadership challenge and even more Cabinet resignations.
She could even try playing hardball and pursue no deal, but this could spark a no-confidence vote in her government among members of Parliament, for a majority of whom this would be the worst outcome.
A second referendum would be an even bigger wildcard, but that too would have to get through Parliament.
With 10 days to the Conservative Party's annual conference, May must be frantically rewriting her leader's speech. She doesn't have the kind words to shore up Chequers she had hoped for. Will she stick to the delusion principle that nothing has changed or change tack? Her statement on Friday suggested the former.
Salzburg certainly damaged a few egos. However, it didn't change the fundamentals of the talks that both sides want and will continue to work toward a deal. The EU leaders simply restated their position. Theresa May has perhaps now got the message.