Editor's Note: Jane Merrick is a British political journalist and former political editor of the Independent on Sunday newspaper. The opinions expressed in this commentary are hers.
Humiliated in Europe, in deadlock at home, Theresa May appears to be the loneliest leader on the world stage right now. With just weeks to go before the British Prime Minister needs to strike a deal on Brexit, there are few signs of an imminent breakthrough.
Her blueprint for the UK leaving the European Union, known as the Chequers plan, was rejected by EU leaders at a disastrous summit in Salzburg, Austria, last week. As a result, her domestic opponents and their own versions of what Brexit should look like besiege her.
If May were looking for a way out of the political stalemate in Westminster, there is no shortage of alternatives to Chequers. The plan is opposed by both Brexiteer Conservative MPs, who say it allows the EU to keep a powerful grip on the UK, and EU negotiators and leaders, who see it as the UK cherry-picking the benefits of EU membership without paying the costs.
The Prime Minister commands little authority in her Cabinet and no overall majority in Parliament. Chequers was ridiculed in Salzburg last week by, among others, Donald Tusk, President of the European Council, and the French President, Emmanuel Macron.
Yet the Prime Minister's strongest suit is that there is no consensus among her opponents in the Conservative Party or UK parliament or among European leaders. May's intransigence on Chequers frustrates her allies and enemies alike. Yet it looks like she will stick to her guns.
With a deal between the UK and Brussels demanded by early November, events are necessarily moving fast.
On the staunchly pro-Brexit side are Euroskeptic Conservatives, including former Brexit Secretary David Davis and Foreign Secretary Boris Johnson, who both resigned from May's Cabinet over Chequers. The Euroskeptic Conservatives have thrown their weight behind a plan launched Monday for a free trade agreement between the UK and EU that also would allow the UK to trade freely with other countries.
More than half the Cabinet are reportedly in favor of a similar deal that would be modeled closely on the free trade agreement Canada operates with the EU. Under it, all but a small proportion of goods face tariffs.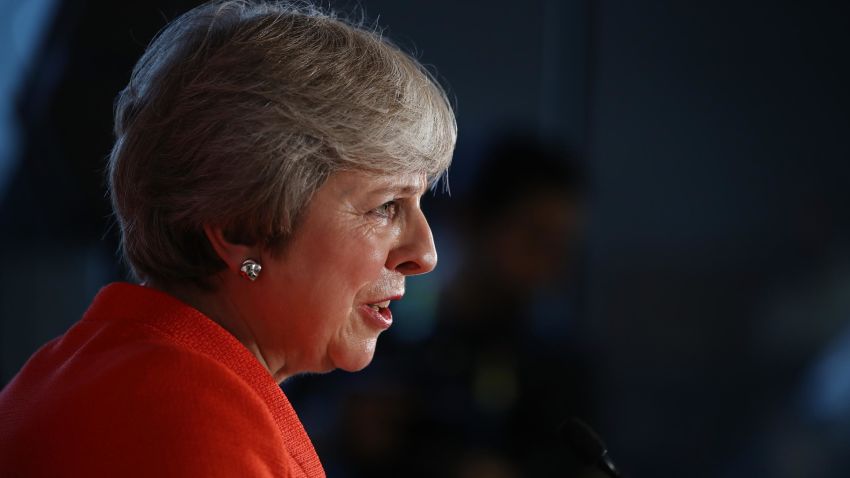 Theresa May: 'We are at an impasse'
These models are favored by Brexiteers because they would end the free movement of people between the EU and the UK – a key demand of politicians who want to control immigration.
By contrast, around half a dozen Cabinet ministers would prefer a Norway-style deal with the EU, according to a reports in British media.
A softer option for Brexit than May's current plan, this would see the UK leaving the EU but remaining in the European Economic Area, with access to the single market – and, crucially, accepting freedom of movement.
The opposition Labour Party, which is holding its annual party conference this week, also wants the UK to keep access to the EU single market.
Labour is also likely to agree to a policy that – as a last resort – backs a second referendum on whatever the final deal with the EU turns out to be. But that is only if Labour's initial demand for another general election is not met, should May be unable to get her Brexit plan through Parliament.
In reality, a second referendum – known as a People's Vote – is more likely than a general election. The difference of opinion across Parliament means a vote on a Brexit deal in November is likely to end in a stalemate.
Yet, even in the event of a second vote, the question remains whether there will even be an option to stay in the EU on the ballot paper.
Another scenario that is becoming increasingly likely is a no deal, which would be the default outcome if Chequers fails and May refuses to countenance an alternative.
A no deal would see the UK crash out of the EU next March and have to trade on World Trade Organization terms with high tariffs. It is the one that sends chills through the city and UK businesses. But it is one for which the UK government is preparing.
On Monday, Downing Street insisted that the Chequers plan had not been killed off and that the Cabinet, despite reports, remains committed to it.
It is, according to May, now up to the EU to propose a compromise after the flat rejection of the UK's position in Salzburg.
The Prime Minister will meet EU negotiator Guy Verhofstadt in London later Monday. But after wedding herself so closely to her plan that her opponents loathe, she is unlikely to back down. And with her enemies all disagreeing on what she should do, it's hard to see why she'd feel that she has to.