The Chinese government has blocked a US Navy ship from docking in Hong Kong amid a growing diplomatic feud between the two countries over strict military sanctions imposed by Washington.
The USS Wasp, an amphibious assault ship comparable to a baby aircraft carrier, with a crew of more than 1,000 sailors, was scheduled to make a port call in Hong Kong next month according to two US officials.
It isn't the first time Beijing has canceled a visit by a US warship in protest. Most recently, China denied the aircraft carrier USS John C. Stennis access to Hong Kong in 2016 after the ship hosted then US Secretary of Defense Ash Carter on a visit to the South China Sea.
"The Chinese side reviews and approves such request in accordance with the principle of sovereignty and in light of specific situation on a case-by-case basis," Foreign Ministry spokesman Geng Shuang said on Tuesday.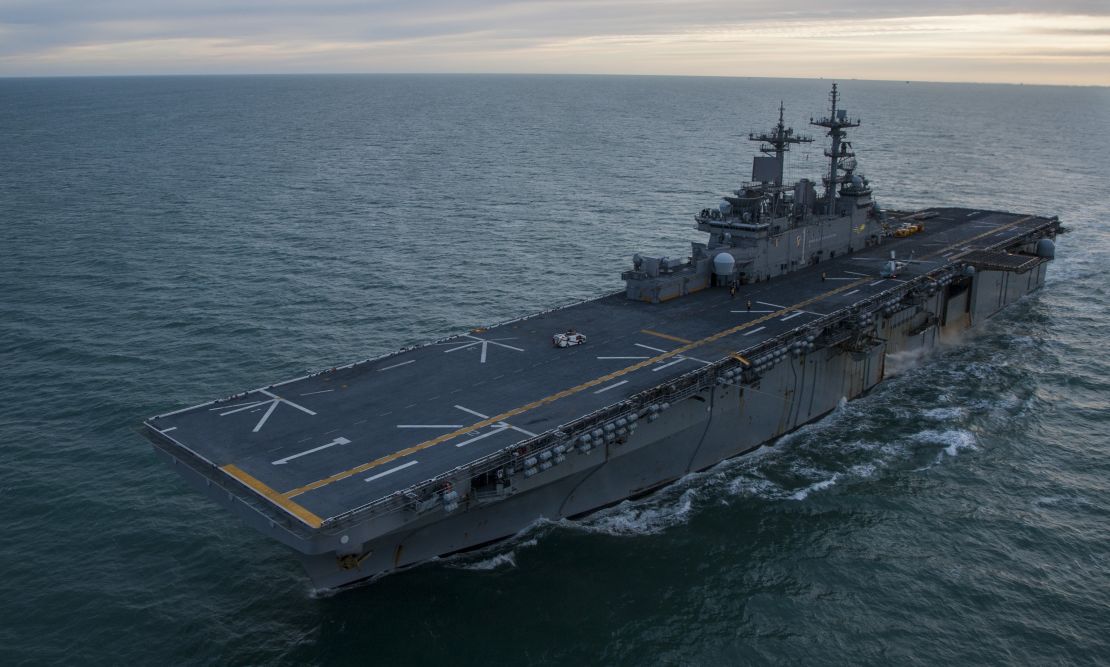 The move is likely to worsen already poor relations between Washington and Beijing, which have steadily deteriorated in the past week following new US sanctions on the Chinese military over their purchases of Russian weaponry.
The US sanctions were imposed on the Chinese military's Equipment Development Department and its director following the department's purchase of Russian combat aircraft and missile systems.
China's response to the new US sanctions has been quick and severe. The decision to cancel the port visit followed Beijing's move to also withdraw from a high-level meeting between the top Chinese and US naval commanders, due to be held this week
'Time bomb'
Adding fuel to the fire, the US moved ahead Tuesday with its approval of $330 million in arms sales to Taiwan, primarily spare parts for the island's air force.
Although the sale was expected, the new arms sales comes at a particularly sensitive point in cross-straits relations, and is likely to further exacerbate strained tensions between China and the US.
Taiwan, which has been self-governed since the end of the Chinese civil war in 1949, is considered by Beijing to be breakaway province. The Chinese government has repeatedly called for its reunification with the mainland.
Relations between China and Taiwan are at their worst point in years, as Beijing fears attitudes on the island have increasingly turned against unification with the mainland and towards full independence.
Ren Guoqiang, China's Ministry of Defense spokesman, said the US sale to Taiwan had "severely violated" Beijing's policy of One China.
"(It) interfered with China's domestic affairs and harmed China's sovereignty and security interests, and seriously damaged China-US ties, relations between the two militaries, as well as peace and stability across the Taiwan Strait," he said in a briefing Tuesday.
Ties between the US and Taiwan have strengthened under the Trump administration, with Washington approving further arms sales and opening a new unofficial embassy in Taipei.
Chinese military expert Song Zhongping was quoted in Beijing-based state media tabloid Global Times saying the arms sale was a "time bomb" in China-US relations, "and the fuse is in the hands of the US."
"If the US continues its provocations or even directly supports 'Taiwan independence,' it could create potential for military conflict between the two countries," Song told state media.
A knife to the neck
Amid the military tensions, there is still no end in sight to the trade war between the United States and China, with the Trump administration threatening to impose an additional tariffs on $267 billion of Chinese goods.
China's deputy trade negotiator Wang Shouwen said on Tuesday there was little prospect of reopening negotiations with the United States, adding it was hard to negotiate "with someone when he puts a knife on your neck."
Beijing released a government policy paper on bilateral trade relations on Tuesday, portraying itself as a victim of US protectionism and bullying.
It followed the Trump administration imposing 10% tariffs on $200 billion of Chinese goods on Monday, a move which led to Beijing slapping tariffs on $60 billion worth of American products.
Speaking on Tuesday, China's top trade negotiator Fu Ziying said fighting a trade war wasn't productive to "the direction of peace and development for mankind."
"Someone has to pay the price for a trade war. Who? It will be the ordinary people," he said.
But during his speech to the United Nations General Assembly on Tuesday, US President Donald Trump gave no indication he would be backing down on his strict trade actions against China.
"I have great respect and affection for my friend, President Xi, but I have made clear our trade imbalance is just not acceptable. China's market distortions and the way they deal cannot be tolerated," he said.