US President Donald Trump told supporters Tuesday that Saudi Arabia and its King would not last "two weeks" in power without American military support and appeared to call on the country to pay more for its own defense.
"And how about our military deals where we protect rich nations that we don't get reimbursed. How about that stuff? That's changing too folks," Trump told a campaign rally in Southaven, Mississippi, on Tuesday.
"We protect Saudi Arabia. Would you say they're rich? And I love the King … King Salman but I said 'King, we're protecting you. You might not be there for two weeks without us. You have to pay for your military,'" Trump said.
Trump has previously called on a number of other allies – including NATO nations, Japan and South Korea – to shoulder more of the costs of defense.
Trump's first official overseas trip as President was to Saudi Arabia, where he gave a landmark speech to scores of Muslim leaders.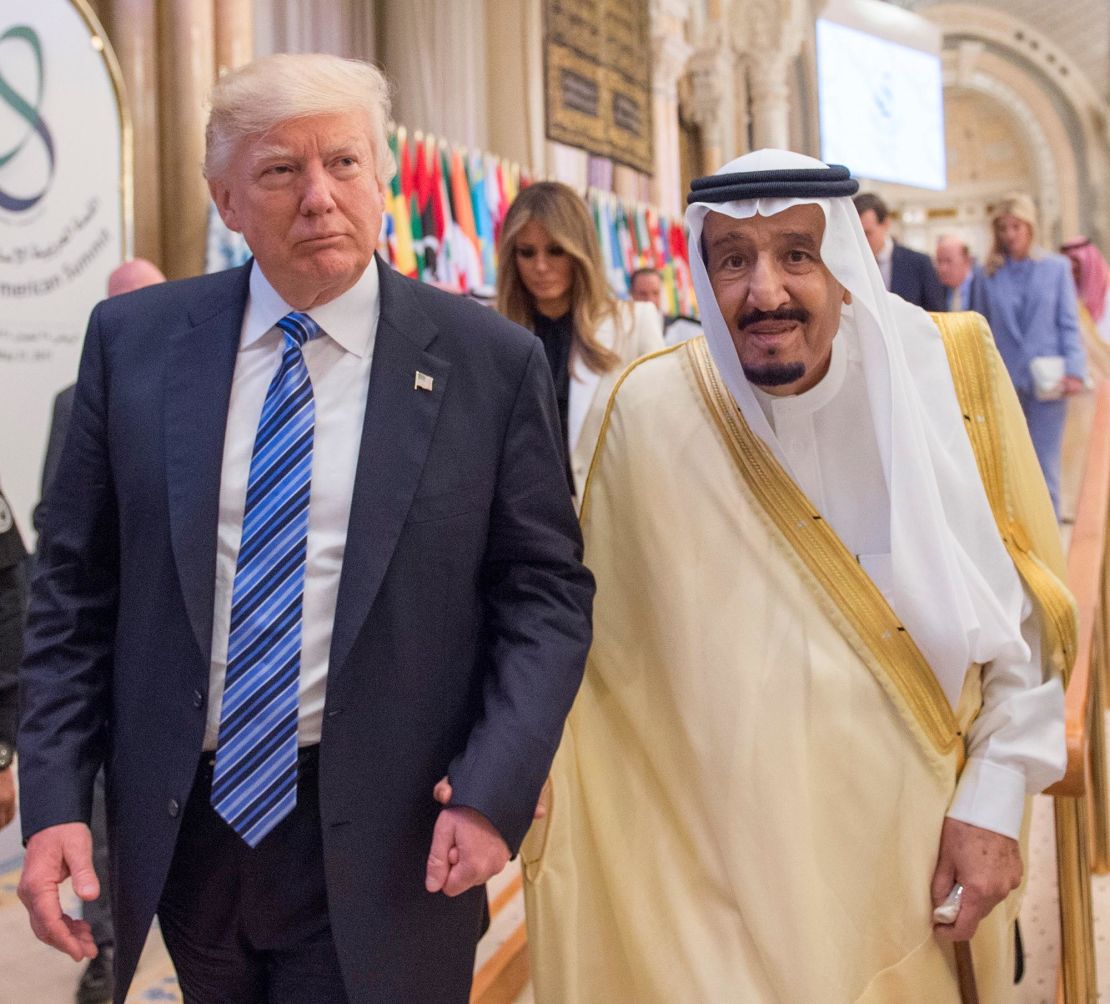 The visit marked a strengthening of ties between the two allies – relations between the kingdom and the Obama administration began to sour over Barack Obama's landmark 2015 nuclear deal with Iran. Just over a year into Trump's presidency, the US withdrew from the agreement, reinstating economic sanctions and drawing praise from Saudi Arabia and other Gulf allies.
During that trip, Trump signed a nearly $110 billion defense deal with King Salman bin Abdulaziz Al Saud, which signaled a renewed US commitment to its alliance with Saudi Arabia. Then-Secretary of State Rex Tillerson said the deal was part of a $350 billion package of economic and defense investments between the two countries over the next 10 years.
The Trump administration has also defended Saudi Arabia's involvement in the war in Yemen, despite repeated criticism from the United Nations and international rights groups.
Last month, US Secretary of State Mike Pompeo certified to Congress that Saudi Arabia and the United Arab Emirates were working to reduce civilian casualties in Yemen, despite multiple reports of a spike in the number of civilian deaths this summer.
King Salman's nearly three-year rule has seen a freezing of diplomatic relations with Iran, the Saudi intervention into Yemen's war, an arrest sweep of high-profile Saudi businessmen and princes, as well as a series of social and economic reforms.
His son, the young Crown Prince Mohammed bin Salman, is widely seen as the main driver behind those moves.
CNN's Nicole Gaouette contributed to this report