Maria and Oscar Hernandez Miranda had been preparing for the marriage interview portion of Oscar's immigration application for a year and a half. As they sat in a Miami immigration office for the interview last week, the couple, who married in September 2015, was suddenly interrupted by the interviewer.
"He (told) me that he needed to speak to my husband alone, and he asked me to go out to the lobby," Maria told CNN. "Twenty minutes after, he came back and asked to talk to me and told me my husband was taken by ICE."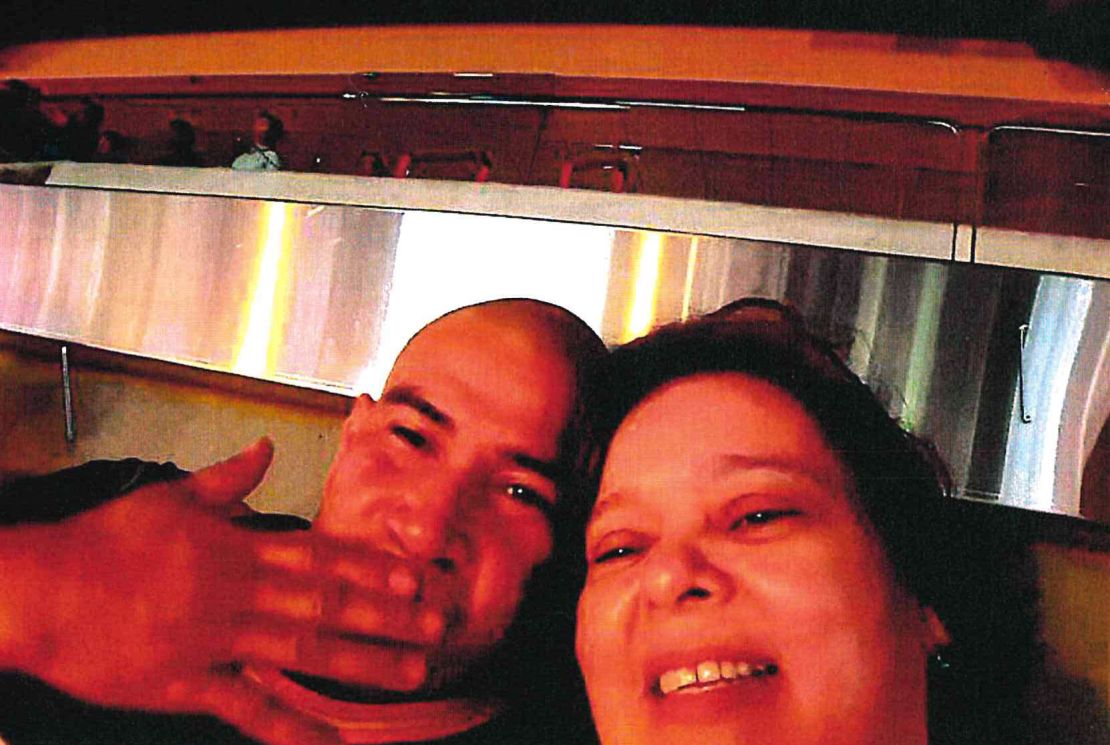 Lisa Lehner, a senior litigation attorney with Americans for Immigrant Justice, said she knows of at least four of these arrests, including Oscar's, happening in the Miami area, in the last month alone. Each one of the people arrested was an immigrant with deportation orders, married to a US citizen and applying for a "provisional waiver" application, to become a lawful permanent resident, according to Lehner. Oscar's arrest was first reported by the Miami Herald.
Since his September 25 arrest, Oscar, a Nicaraguan immigrant, has remained in detention away from his wife, who suffers from multiple sclerosis. Maria said she thought she and her husband were doing the right thing.
Couples like the Mirandas, with one citizen spouse and one immigrant spouse, can choose to apply for an I-130, which allows a citizen to petition for their direct family member to gain citizenship. If that family member is a spouse, the couple must sit for a marriage interview to prove to authorities that their marriage is real.
"We were very confident because we (were) going through the path we need to take to have him get his papers," Maria said. "We were doing what we were supposed to do."
A few days after Oscar's arrest, his application for a provisional waiver was approved to move forward. There are still many steps ahead for Oscar to be able to become a legal permanent resident, and his attorney, Jessica Shulruff Schneider, who is also with AIJ, said she is working to get him released.
"This is not just any ordinary case. This is a situation of a wife that has a debilitating disorder, multiple sclerosis, and a son that has the same condition, and both of them require specialized care and support from their family," Schneider said. "Mr. Hernandez as her family was that support system."
Nestor Yglesias, a spokesman for Miami's ICE office, confirmed that ICE arrested Oscar. He had been originally arrested by US Border Patrol in February 2005, was issued a notice to appear in immigration court and did not show up for the court date. The spokesman said an immigration judge issued him a final order of removal in June 2005, and Oscar remained an ICE fugitive until he was arrested last week.
Oscar's attorney says he has no criminal history other than his illegal entry arrest in 2005.
Happening around the country
These types of arrests have been at the center of a federal lawsuit involving five couples in Massachusetts. ICE arrested and detained spouses from each couple who were in the process of applying to become lawful permanent residents. Two spouses were arrested during their marriage interviews in the New England area.
Court filings in that case show what appear to be efforts between US Citizenship and Immigration Services (USCIS) employees and Immigration and Customs Enforcement employees to coordinate the interview appointments and arrests.
US District Judge Mark Wolf ruled in August that ICE "may not order the removal of an alien pursuing a provisional waiver solely on the basis that he or she is subject to a final order of removal" and that ICE must consider whether a person is applying for a provisional waiver and the facts of their case before ordering their removal.
But that case is being decided in Boston federal court and may have no bearing on what's happening in Florida.
The plaintiffs in that case are waiting to see if Wolf will "certify a class," allowing others in similar situations to become part of the suit without having to be named. But, as it stands now, that class certification may only extend to the New England area if approved by the judge.
When asked if USCIS feels the judge's ruling in the New England case impacts what happened to Oscar in Florida, a USCIS spokesman told CNN, "As a matter of policy, we are unable to comment on matters involving pending litigation," and referred back to comments USCIS made on the Massachusetts case. Oscar is not currently part of that case.
Matt Segal, an ACLU attorney who is part of the legal team fighting the Massachusetts case, said he believes that these arrests in Florida are illegal.
"This practice is illegal throughout the country, for the reasons we have articulated on behalf of our clients, and for the reasons stated in Judge Wolf's recent order denying the government's motion to dismiss," Segal said in a statement to CNN. "Although that order does not directly bear on people in Florida, ICE has pledged to comply with it here in Massachusetts."
An ICE official points out that Wolf's ruling simply says ICE must "consider" whether a person is eligible for a provisional waiver when deciding whether or not to take them into custody, and that "ICE did not agree to not arrest such aliens," but did agree "locally" to consider their backgrounds before making an arrest. The official points out that no court order has been issued that prohibits the arrest of people like Oscar, and that the ruling in the case only applies to the New England area.