As a child, Jacques Torres was certain he'd become a carpenter, just like his father.
"I knew that I would work with my hands, that I would be a craftsman one day," he recalls. "I loved to make things."
Torres was right: He did end up working with his hands. He did end up making things. But he didn't quite follow in his father's footsteps.
One of the most renowned chocolatiers and pastry chefs in the world, Torres operates seven retail stores that sell nearly $10 million a year in chocolates and other confections, all of which are made in his 40,000 square-foot factory in Brooklyn and wrapped in his signature orange and brown packaging.
Torres is also a fixture on foodie TV. In 1998, he launched a 52-episode public television show called "Dessert Circus with Jacques Torres." He later hosted a show called "Chocolate" on the Food Network. And now he's back, hosting a reality baking show called "Nailed It" on Netflix.
"I'm not sure what gave me such drive in life," says Torres, now 59.
He suspects it comes from being born two months early. "My friend says when you fight for your life early, it gives you that drive to keep going. But I have also been very lucky in life."
'This would define the rest of my life'
Torres and his family fled the war in Algeria and escaped to the South of France when he was just three years old.
The family settled in the small town of Bandol, on the edge of the Mediterranean Sea. It was a completely different world and the stunning beauty of Provence's beaches charmed Torres, even as a young child.
"My parents tell me when we were driving in a car along the beach after arriving in Bandol, I made them stop the car so I could run into the water. I was just crazy about the water," says Torres.
His mother split her time between raising her three sons and looking for jobs cleaning homes. His father took on work as a carpenter.
Torres was captivated by his father's craft. "I certainly don't have the skills of my father, but I'm not afraid of carpentry either," he says.
Years later, Torres would make the counter, shelving and furniture for his first chocolate store in Brooklyn – all by hand.
"Making things is just in my blood," he says.
So is the love of good food.
When he would get home from school as a child, Torres would watch his mother as she prepared family meals. "The produce in the South of France has wonderful flavor. Even as a kid, I appreciated the fresh fruits, vegetables and bread," he recalls.
"I was watching her and thought to myself, 'What if I become a chef?"
Part of his high school curriculum was to take a two-year apprenticeship. There wasn't a good restaurant in Bandol where he could apprentice, but there was a good pastry shop. So he spoke with the owner, who agreed to take on the 15-year-old Torres.
"I knew this would be a big deal and would define the rest of my life," says Torres.
On days off from school, he would arrive at the shop at 5 a.m. to clean the floors and prepare for the morning rush. "I fell in love with the stickiness on the floor, the smells, the ambiance. It gave me respect for hard work," he says.
Torres learned on the job and devoured books on pastry-making techniques. Three years later, when he was just 18, he became a pastry cook and found work in a neighboring town.
The Making of Mr. Chocolate
Torres' big break came a few years later when he decided to move to Nice.
Young and audacious, he went to the the front desk of the Hotel Negresco looking for a job at its renowned Le Chantecler restaurant, which boasted two Michelin stars and was run by famed chef Jacques Maximin.
"I had never seen a kitchen like that. Everyone wore white hats," Torres recalls.
Maximin loved the young Torres' arrogance and told him he would keep him around as long as he performed well. A few months later, the pastry chef at the restaurant quit and Torres was named executive pastry chef.
"I was 21 and in charge of all the pastry in this hotel," he says.
His creations caught people's attention. Several years into his stint at the hotel, Torres was awarded the prestigious national Meilleur Ouvrier de France medal for pastry making, an award considered by many as the highest recognition in the field.
Torres was the youngest recipient to ever receive the award and people told him he had reached the pinnacle of his craft. It was humbling, yet unsettling.
"At 26, I was the crème de la crème of my profession. I was scared," he says. "It was a heavy weight to carry, but I had to honor it."
Torres worked for Hotel Negresco for eight years before he was ready for a new challenge. In 1988, he left to become the corporate pastry chef for the Ritz Carlton Hotels at their headquarters in Atlanta.
But that job lasted only one year. Torres had caught the eye of legendary restauranteur Sirio Maccioni, who invited him to join New York's famed Le Cirque restaurant as executive pastry chef.
"I couldn't say no to Sirio," says Torres. "He gave me a very good salary and I told him I would create the best desserts in the world."
And by many people's assessments, Torres did.
"I was there for 12 years and gave it all that I had," says Torres. But eventually "I was exhausted from working at the restaurant. In NYC you are never off. I was working long hours. I decided I needed a change in my life."
It left him stumped about what to do next: "Would I make wedding cakes? Ice cream? Chocolates? I realized no one was making good chocolate in New York back then," says Torres.
So in 2000, Torres quit Le Cirque and invested $120,000 of his retirement savings into a 10-year lease for an empty commercial space in an industrial neighborhood in Brooklyn called DUMBO.
"My friends and I cleaned the place, fixed the floor, the ceiling, installed electricity and plumbing. We wanted it ready for production in three months, by Christmas," recalls Torres.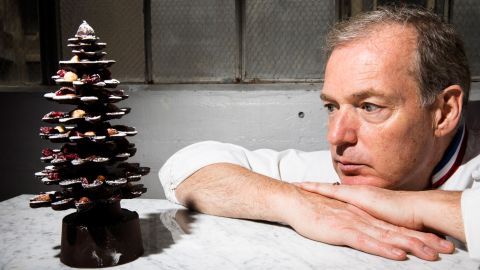 Torres' initial plan was to only make wholesale gourmet chocolates to be sold in restaurants and hotels. But at the last minute, he scrapped the plan and decided to open a retail store instead. He called the business Jacques Torres Chocolate.
His first store opened in December 2000 offering an assortment of chocolate bonbons. New York Times food critic Florence Fabricant wrote an article about the opening. It was the marketing Torres needed to get the word out about the store.
The bet paid off. "Every Saturday, we'd have a line outside the store," he says. Four years later, he opened a second store.
His company now has about 40 employees. Torres has since expanded his offerings to cookies and ice cream and is thinking about opening stores in other cities like Chicago, Boston and Washington, DC.
"It's good to be open to other ideas and not put all your eggs in one basket," he says.
Torres' name has become so synonymous with his artisanal confections that he has been dubbed "Mr. Chocolate."
Torres says he thinks a lot about giving back and mentoring young chefs.
"I'm 59 and a few years away from retiring. But there's a lot of big talent out there," says Torres, who is dean of Pastry Arts at the International Culinary Center, which has campuses in New York and California.
"I tell students, do this if you really love it. How many chefs have a great career? Maybe 1% or 2% of them," says Torres. "I was lucky, but I also worked very hard. So don't ever settle for mediocrity."
As a father, he thinks about what he'd tell his two-year-old son should he grow up and want to get into the business. Torres' wife Hasty Torres is also a chocolatier.
"I don't know if I would recommend this profession, but if this is really what you want to do, then be prepared for the ride of your life," he said.