It has been over four decades since a woman last competed in Formula One, but a new all-female racing series has been launched to provide women drivers with a better pathway into the sport.
The "W Series," which will launch in 2019, will pit up to 20 competitors in identical Formula 3 cars around some of Europe's most famous race tracks.
The series, supported by long-time F1 driver David Coulthard, will be free to enter and participation will be awarded solely on merit and performances during a "vigorous" selection and testing process.
"At the heart of W Series' DNA is the firm belief that women can compete equally with men in motorsport," a statement said.
"However, an all-female series is essential in order to force greater female participation.
"W Series is therefore a mission-driven competition, the aim of which is not only to provide exciting racing for spectators and viewers on a global scale, but also to equip its drivers with the experience and expertise with which they may progress their careers, racing and honing their skills in W Series before eventually graduating to existing high-level mainstream racing series."
READ: Tatiana Calderon – Men 'always expect a bit less from a girl'
READ: How Formula One is striving to give women 'equal representation'
Women in Formula One: A Circuit special
A total prize fund of $1.5 million will be up for grabs, with the winner earning $500,000 and drivers all the way down the scale earning prize money.
The series is planning to expand in future seasons to feature races in America, Asia and Australia.
READ: How paralysis fueled a love of motorsport
READ: Aseel Al-Hamad wants to blaze a trail for Saudi Women in motorsport
But the proposal has not been welcomed by all. Charlie Martin – who is hoping to become the first transgender competitor in the 24 hours of Le Mans – claims the series is "founded on segregation."
"While it may create opportunities for some female drivers, it sends a clear message that segregation is acceptable," she told CNN.
"We no longer discriminate in sport based on race, so it is particularly jarring that we feel it is acceptable to do so based on gender in 2018.
"As racers, we want to compete against the best drivers – regardless of age, race, sexual orientation or gender – and prove we are the best at what we do."
Tatiana Calderon: Future Formula One driver?
Formula One, however, is supportive of the new series, telling CNN it "welcomes all initiatives aimed at supporting women in motorsport and the efforts to develop the necessary skill required to compete at the highest levels."
"In the realm of single-seaters, we are focused on a clear path of development, so that all aspiring junior drivers, whatever their gender, have the opportunity to acquire the know-how required for the higher echelons of the sport in a nurturing as well as a truly competitive environment."
'You don't have to be a man'
But Formula One hasn't featured a female driver since Lella Lombardi raced in 1976 but 13-time grand prix winner Coulthard hopes it will provide a platform for women to take that step.
"In order to be a successful racing driver, you have to be skilled, determined, competitive, brave and physically fit," he said. "But you don't have to possess the kind of super-powerful strength levels that some sports require.
"You also don't have to be a man. That's why we at W Series firmly believe that female and male racing drivers can compete with one another on equal terms given the same opportunity.
"At the moment, however, women racing drivers tend to reach a 'glass ceiling' at around the GP3/Formula 3 level on their learning curve, often as a result of a lack of funding rather than a lack of talent."
The six-round championship has also received the backing of Red Bull design chief Adrian Newey, while sports lawyer and corporate financier Catherine Bond Muir will be CEO.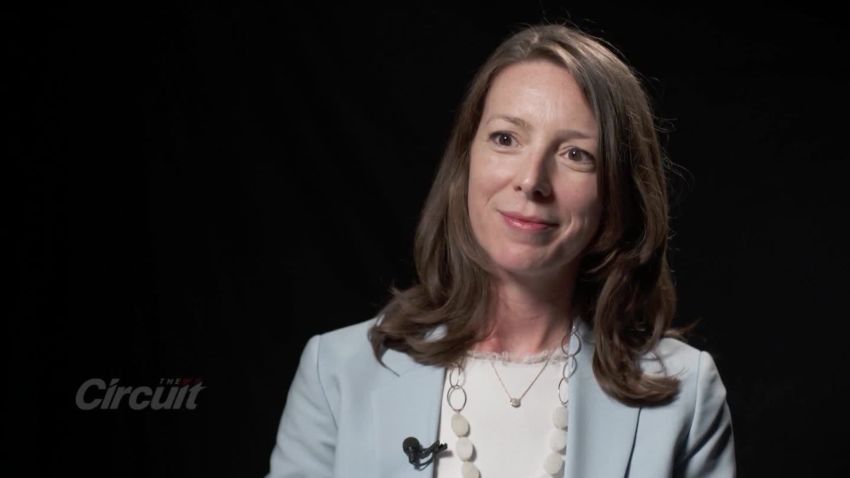 The woman leading the global promotion of F1
"There are just too few women competing in single-seater series at the moment," Muir said. "W Series will increase that number very significantly in 2019, thereby powerfully unleashing the potential of many more female racing drivers.
"W Series drivers will become global superstars – inspirational role models for women everywhere – and every organization, every company, every sponsor and indeed every single person who helps W Series' winners and champions achieve those ground-breaking successes will be able to celebrate their part in it, publicly, to lasting worldwide acclaim."
Lombardi is the only female F1 driver to earn points in a grand prix, finishing sixth and earning a point at the Spanish Grand Prix in 1975. But the race was halted after 29 laps because of a major crash and drivers awarded half points.
In 1958, Italian driver Maria Teresa de Filippis became the first woman to compete in an F1 race, finishing 10th at the Belgian Grand Prix.