Tom Brady and wonderkid Patrick Mahomes go toe-to-toe … New Zealand rugby star plays on with "smashed testicle" … English rugby player Freddie Burns gives a lesson in how not to celebrate … Manchester City Women thump opponents. Here's your Monday sporting recap.
1. Patriots end Chiefs' undefeated run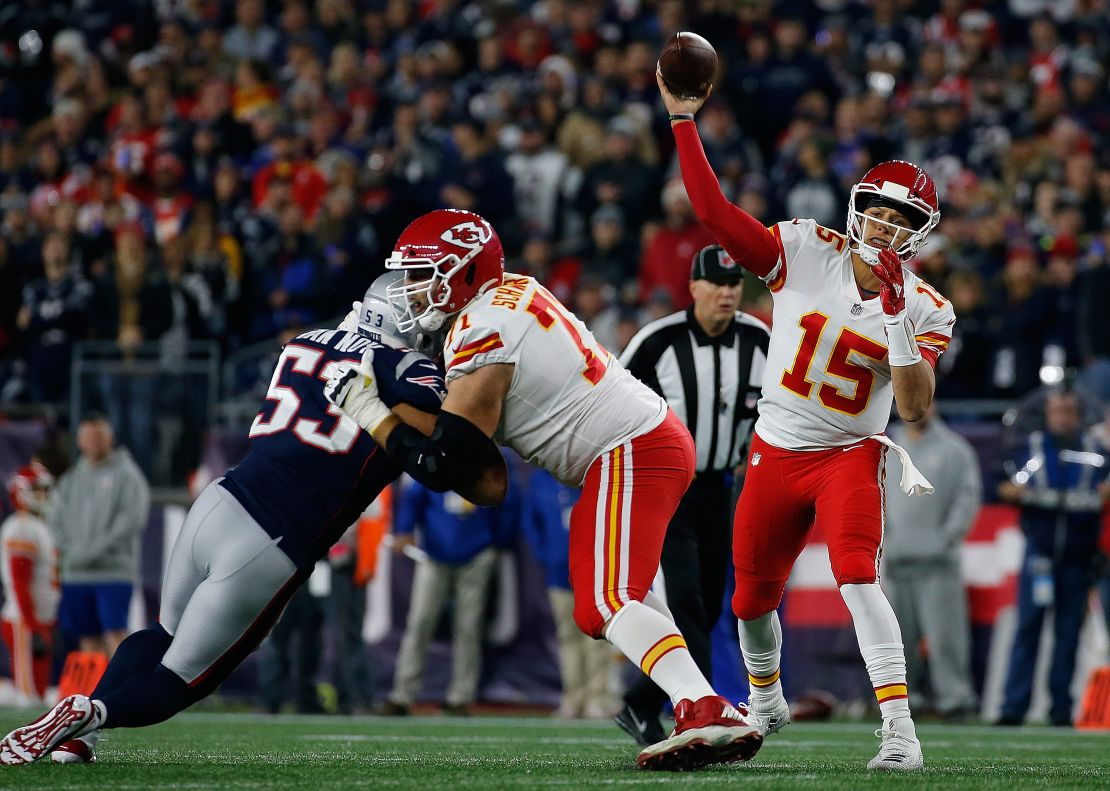 It was dubbed the game of the NFL season so far – and it did not disappoint.
Patrick Mahomes, one of the game's hot young talents, versus Tom Brady, one of the greatest in history; New England Patriots, the Super Bowl veterans, versus Kansas City, undefeated so far in the season.
The epic tie ended with a Patriots win, with Brady becoming the first quarterback in NFL history to notch 200 career victories.
With Kansas trailing 24-9 at halftime, there were fears that the contest was turning into a damp squib – but 23-year-old quarterback Mahomes lit up the third and fourth quarters.
Mahomes dragged his team back into contention, finding Tyreek Hill for a 75-yard touchdown which tied the game with three minutes remaining. But up stepped Brady, leading a drive that ended in a Stephen Gostkowski game-winning field goal as the Patriots triumphed 43-40.
Brady finished with 340 passing yards, including one touchdown pass, and a rushing touchdown of his own, while Mahomes had 352 passing yards and four touchdowns in the loss. What a dual.
How good could Mahomes be? Have your say on our Facebook page.
2. A brutal helmet-to-helmet hit
London witnessed a brutal and contentious hit Sunday – a helmet-to-helmet blow which left Oakland's Amari Cooper knocked out on the floor.
The wide receiver held onto a pass from quarterback Derek Carr, but took a hit from Seattle's Bradley McDougald, which reportedly left him concussed.
Alarmed by rising concussion rates, the league has vowed to eliminate helmet-to-helmet hits. But McDougald was not penalized and, on Twitter, NFL vice president of officiating Dean Blandino said a flag should have been shown.
"Cooper was defenseless, appeared to be forcible contact to the head and neck area. In our opinion a foul should have been called." The debate rages on.
READ: Seahawks right ship on overseas trip to London
3. Playing on with a 'smashed testicle'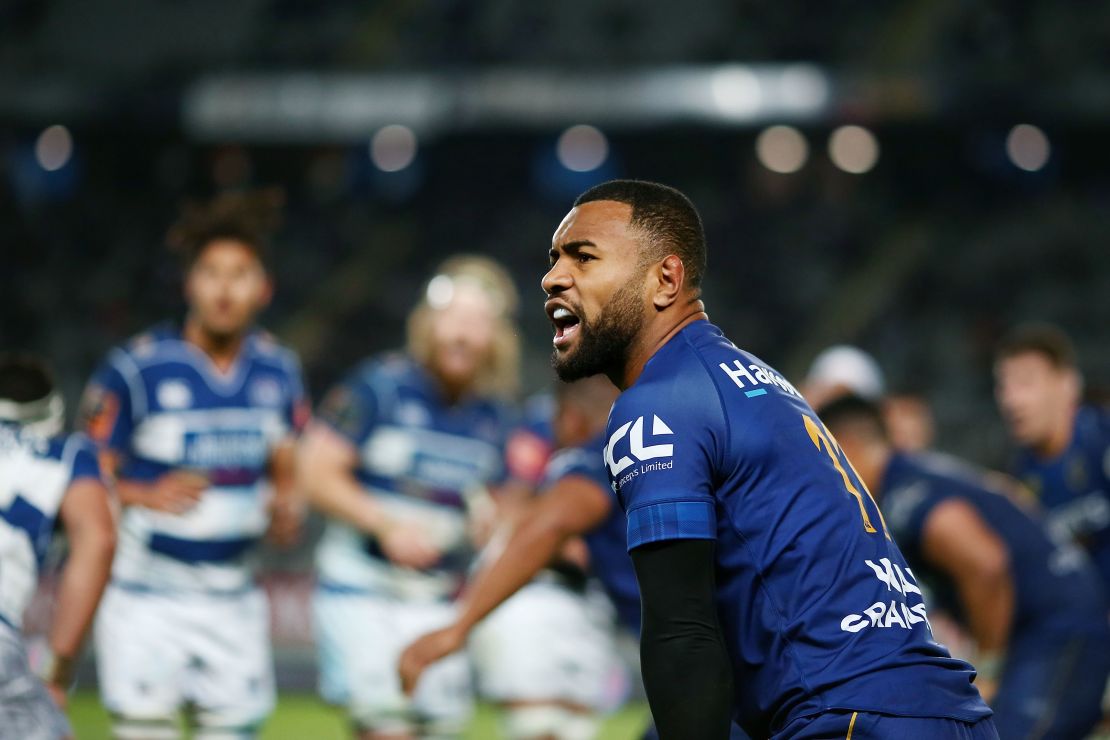 Another sport, another eye-watering hit. This time in New Zealand.
Otago wing Jona Nareki hobbled off the pitch in the 59th minute of his team's Mitre 10 Cup rugby union clash with Waikato, with his coach Ben Herring later telling RadioLIVE that the player had suffered a "smashed testicle."
Nareki, 20, was, as you would expect, replaced – but in the last two minutes of the game he had to make an unexpected re-appearance after teammate Mitchell Scott went off injured.
Otago held on for a 23-19 win and Herring said: "It was just a direct blow on the bulls-eye … He came off, but when there were injuries in the game, he had to come back on with his smashed testicle, which was operated on this morning [Monday].
"If you know Jona, he's a particularly buoyant fella, but the comment was, 'don't worry mate, it's just a small operation.'"
4. How not to celebrate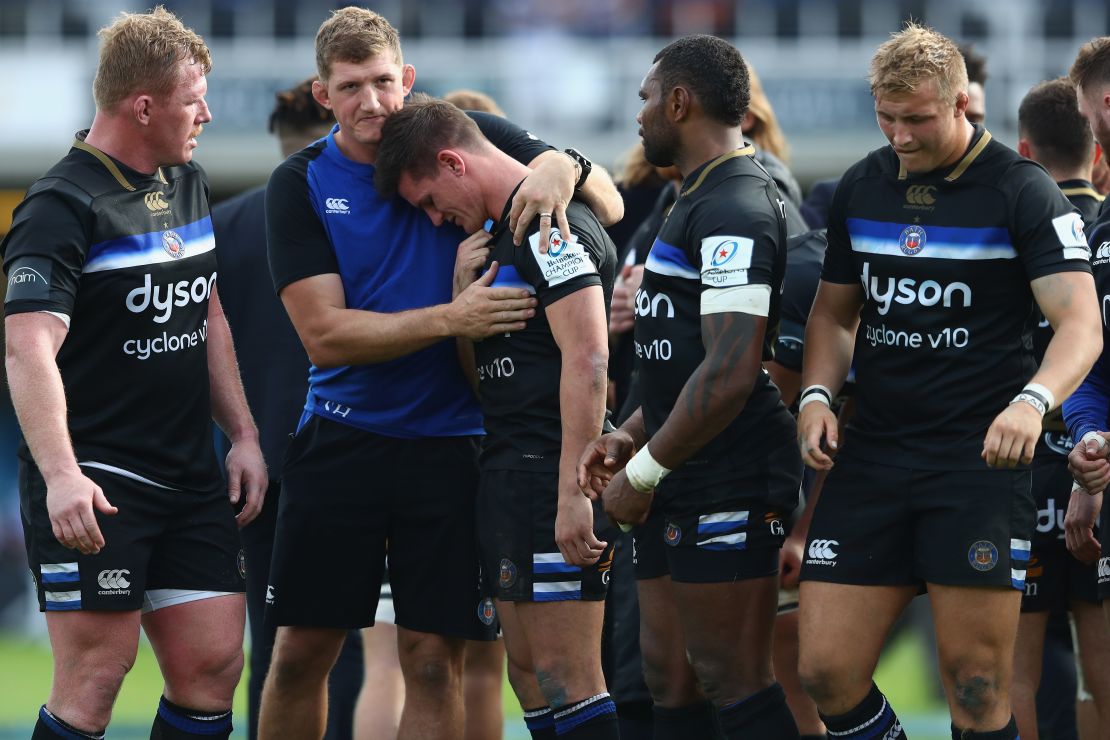 Over the weekend, Englishman Freddie Burns gave a perfect example of how not to celebrate.
The rugby star, who plays fullback for English Premiership side Bath, looked set to score the match-winning try against French side Toulouse in the final minutes of the Champions Cup game. He had crossed the try line – all he had to do was touch down the ball.
But he celebrated before completing the straightforward task and was caught unaware by Maxime Medard, who dislodged the ball from his hand.
Toulouse secured a 22-20 win, leaving Bath with a mountain to climb to progress from its pool. Afterwards, Burns took to Twitter to apologize for his costly error. He had already missed a penalty in front of the posts in the 74th minute.
"Today was an ultimate low and a mistake I'll learn from," he tweeted, but on BBC Radio 5 live former England and Bath center Jeremy Guscott said the mistake was "unforgivable."
Better luck next time, Freddie.
Visit cnn.com/sport for more news and videos
5. Manchester City Women hit seven
The English Premier League may be on pause for the international break, but there were still goals galore in Manchester Sunday.
Manchester City Women thumped West Ham United Women 7-1 in the women's Super League, scoring four goals in the final 20 minutes.
City, third in the league, went into the game without seven players because of injuries and international calls but were still too good for United.