Programming note: Learn more about the Aaron Hernandez case on HLN TV's "How It Really Happened with Hill Harper" Sunday, October 28 at 8 p.m. ET/PT.
Former NFL star and convicted murderer Aaron Hernandez was often beaten by his father, told people close to him that he was sexually molested as a boy, and had a sexual relationship with his high school quarterback, according to an explosive report from the Boston Globe's acclaimed Spotlight team.
Those are among the new details in the in-depth investigative series, which also reports that Hernandez struggled with his sexual identity until his suicide in April 2017 at age 27.
The reporting is based on scores of interviews, thousands of court and government records, and recordings of nearly 300 jailhouse phone calls between Hernandez and others, the Globe writes.
The Spotlight series consists of 6 stories which have run each day since October 14. The first story examined Hernandez's troubled childhood, while the second put a lens up to his time at the University of Florida. Other parts focused on his time with the New England Patriots, his role in three murder cases, his time in prison, and his brain damage from repeated hits to the head.
The ultimate goal of the series is to try to explain the lasting, and perhaps unanswerable, question about Hernandez: Why?
Why did a talented football star with a $40 million contract kill Odin Lloyd in June 2013? Why did he kill himself in prison just days after he had been acquitted in a separate double murder trial?
The first two parts put forward several details that may have played a role in shaping his early life.
His father beat him
In interviews with people who knew the Hernandez family in their hometown of Bristol, Connecticut, Hernandez's father, Dennis Hernandez, has long been held up as the well-respected anchor of the family. He was a high school sports star in the town and closely raised Aaron and his older brother Jonathan to follow in his footsteps.
"His father was pretty strict," Sheriff Thomas Hodgson of Bristol County told CNN in 2015. "I mean, he told me his father used to make him – to shoot 500 shots before he went, sometimes to play with his friends. His dad clearly kept them anchored."
Dennis Hernandez died in 2006 of an infection contracted during hernia surgery, a tragic loss for Hernandez that has sometimes been cited as a key moment in his eventual downfall. Author James Patterson, who wrote a best-selling book on Hernandez, told CNN that if Hernandez's father hadn't died, he would have kept his son away from some troubled people in Bristol.
However, the Globe reports that Dennis Hernandez was an abusive father who often severely beat his children, according to Jonathan Hernandez, whose upcoming memoir, "The Truth About Aaron," comes out this month.
Jonathan Hernandez said that he once threatened to call the police about the abuse, but didn't follow through.
"I picked up the phone once to call, to seek help," he told the Globe. "And his response was, 'Call them.' And he handed me the phone, and he said, 'I'm going to beat you even harder, you and your brother, and they're going to have to pull me off of you when they knock down the door.'"
Rachel Elinsky of HarperCollins, the company publishing his memoir, said Jonathan Hernandez is not doing interviews until the book's publication date of October 30. CNN was not able to reach Terri Hernandez, Aaron's mother.
Jeff Morgan, a former assistant football coach at Bristol Central, Hernandez's high school, told the Globe that he wondered if his father went too far after Hernandez got in trouble for drinking before a school dance.
"Then, the next time we saw him, he looked like I guess his father did discipline him some," he told the Globe. "He had a black eye. I'm assuming that's where that came from."
Morgan declined to comment for this story.
Hernandez was sexually molested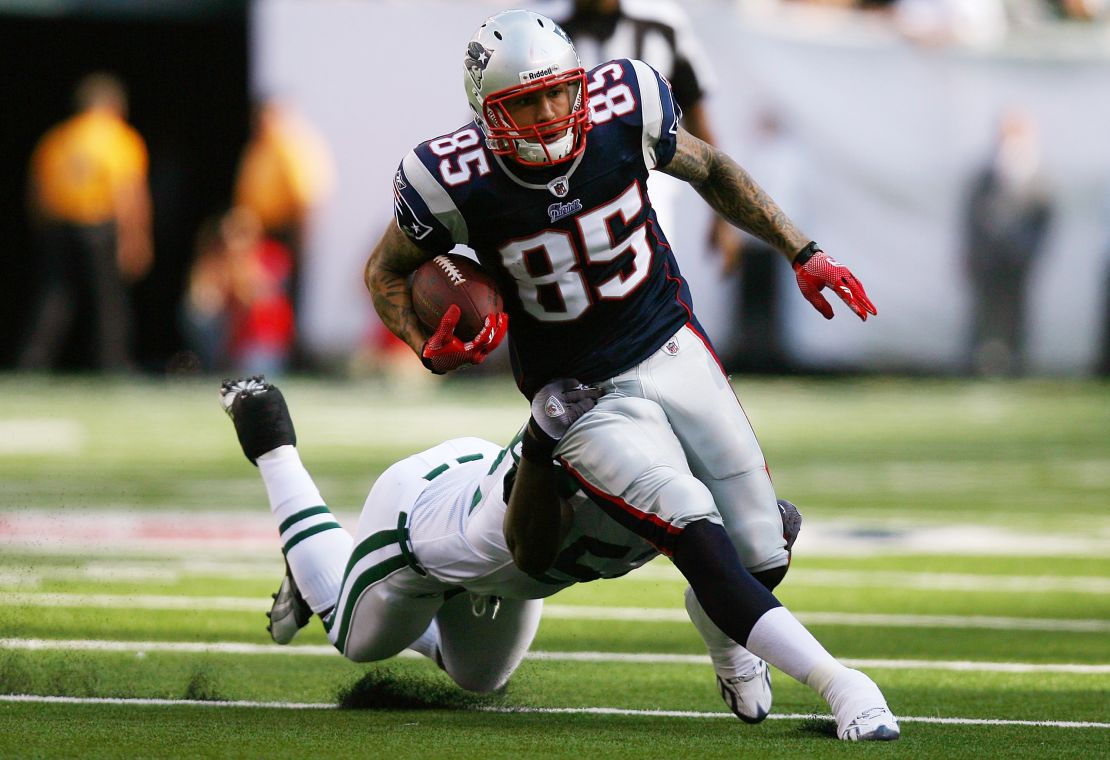 Though the details are few, Aaron Hernandez disclosed as an adult that he had been sexually molested as a young boy, Jonathan Hernandez told the Globe. He declined to say more about it or identify the person responsible.
George Leontire, one of Hernandez's attorneys, also said Hernandez had spoken to him of sexual abuse as a child, the Globe reports.
"He had been molested fairly intensely as a very young kid," Leontire told the Globe. Leontire also recalled that Hernandez seemed to think the abuse had made him gay, the Globe wrote.
In a short interview with CNN, Leontire said he did not take issue with anything in the Globe's reporting.
"There was nothing I was surprised about," he said. "There was nothing I disagree with."
Hernandez struggled with his sexuality
The Spotlight team also reported that Hernandez had a sexual relationship with a man, an oft-rumored theory that has been tabloid fodder for years.
Hernandez's high school quarterback, Dennis SanSoucie, told the Globe that they had an intermittent sexual relationship that began in middle school and continued through high school. It was the first time SanSoucie had spoken to a media outlet about their relationship.
"Me and him were very much into trying to hide what we were doing. We didn't want people to know," SanSoucie said.
SanSoucie said he came out after Hernandez's suicide and believes his former teammate would be proud of him for acknowledging their past.
"I really truly feel in my heart I got the thumbs-up from him," he told the Globe.
Jonathan Hernandez said that his father was not accepting of any behavior he viewed as unmanly, including when Aaron was young.
"I remember (Aaron) wanted to be a cheerleader. My cousins were cheerleaders and amazing," Jonathan told the Globe. "And I remember coming home and like my dad put an end to that really quick. And it was not OK. My dad made it clear that … he had his definition of a man."
CNN's Madeleine Thompson contributed to this report.