As floodwaters started receding in central Texas, authorities discovered the body of a second victim in this week's deluge.
The woman's body was found in Llano County, one of the areas inundated by the swollen Llano River, county officials said Wednesday. The woman's name has not been publicly released.
On Tuesday, another body was found in the Colorado River in neighboring Burnet County, sheriff's office Capt. Tom Dillard said. Near-record flood levels swamped homes and caused a bridge to collapse.
But there's a sliver of good news: While flood warnings are still in effect due to ongoing rain Wednesday, the Llano River's depth has dropped significantly.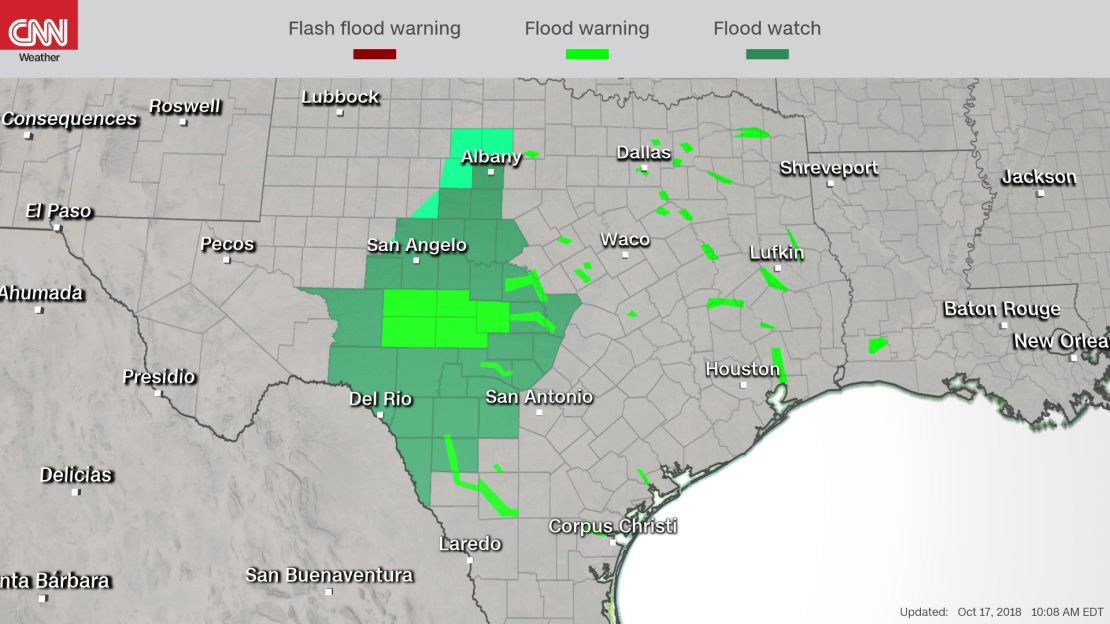 "Right now, the Llano River is at about 12 ½ feet, down from just shy of 40 feet yesterday," Llano County Emergency Management Coordinator Ron Anderson said Wednesday.
"And that has been outstanding news for us. It's going to allow us to begin to get a lot of the recovery work initiated that's going to be ongoing in weeks and couple of months that are ahead of us."
The Llano River meets the Colorado River in Kingsland. There, swollen river water rushed against the top of the 2900 bridge for hours, eventually causing it to collapse, video from CNN affiliate KEYE showed. No one appeared to be on the bridge, and no injuries were immediately reported.
Video from Darlene Walthall also showed the river washing over the span before the collapse.
The Llano County Office of Emergency Management ordered people living within a quarter mile of the river to evacuate Tuesday.
On Wednesday, Anderson warned residents not to return too quickly.
Just because the Llano River is going down "does not mean that it is not hazardous out there," he said.
"There are roadways that are impassable. Some have been washed out. There is debris. Homes that have been evacuated are going to have to be evaluated before we can say that they're safe to re-enter."
Near the Colorado River, houses were flooded, resident Terri Kleen said. Video that she posted to Instagram showed water rising to the top of boat dock structures.
Law enforcement officers were helping people from flooded areas, she said.
Gov. Greg Abbot on Tuesday issued a state disaster declaration for 18 counties affected by the flooding, including Llano County.
"Texas is taking immediate action to respond to the threat of recent severe weather and flooding across the state," the governor said in a statement.
In nearby Marble Falls, Dale Heath recorded video of a car stuck in rushing water from a swollen Backbone Creek, a Colorado River tributary.
The flooded communities are about a 90-minute drive northwest of Austin.
The Llano River's crest of 39.91 feet in Llano was just below the record high of 41.5 feet there in June 1935.
CNN's Brandon Miller, David Williams, Gianluca Mezzofiore and Holly Yan contributed to this report.