More than 4 million people cast their ballots in Afghanistan's parliamentary election amid spates of violence and logistical issues, Afghanistan's Independent Election Commission announced.
The election had to be extended by one day due to security threats by the Taliban and logistical issues that left hundreds of thousands of people unable to vote on Saturday. On Sunday, up to one million Afghans returned to 76 voting centers across 22 of the nation's provinces. The four million voters represent half of the eligible voter base in the country.
This election, the first parliamentary polls in eight years, came after three years of delays due to security issues and political infighting over electoral reform measures.
This weekend's polls, which marked the introduction of biometric devices at voting centers, is also the first election since the 2014 presidential election, which was plagued by accusations of widespread fraud and dragged on for several months.
At least 28 people have been killed in violent incidents across Afghanistan as people voted Saturday, officials said.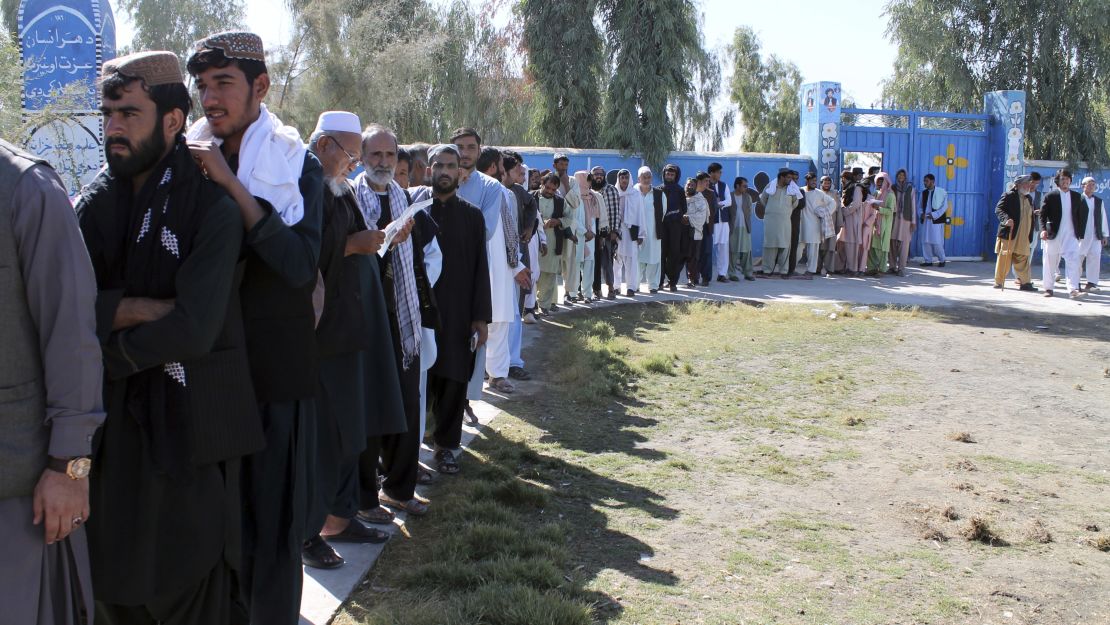 In the last 48 hours, voters in 32 of the nation's 34 provinces cast ballots. The southern province of Kandahar is likely to go to the polls next week after a Taliban-claimed attack took the life of their powerful police chief, General Abdul Raziq, two days before the election.
The eastern province of Ghazni has also seen their polls delayed due to security and logistical issues. No timeframe has been announced for the rescheduling of the ballot in Ghazni.
This election also saw an unprecedented number of young people vying for the 250 seats in the lower house of the parliament, known as the Wolesi Jirga.
In an address to the nation shortly after the polls closed on Sunday, President Ashraf Ghani thanked the Afghan people for such a large turnout despite security risks that saw reports of dozens of deaths and injuries throughout the nation.
"By casting your votes, you sent a clear message to the world that you do not want violence, you demonstrated your determination through democracy. You proved to the Taliban that this nation will not surrender to anyone," he said.
The president also made a note to address the female voters of the country, who came out in large numbers.
"I thank these women and their families. Their participation is a historic success for Afghanistan's democracy and it is a great beginning for our new generation. I hope that you participate in the presidential elections in such a large scale."
Election violence
Seventeen civilians, 10 police officers and one army officer were killed, Afghan Interior Minister Wais Ahmad Barmak said, adding that at least 192 incidents had also left dozens of people injured.
One deadly attack was carried out by a suicide bomber who targeted a polling station in Kabul, the capital, said Basir Mojahid, a spokesman for the city's police chief. The attacker was identified and detonated his bomb before reaching the station, he said. The death toll wasn't immediately known.
An explosion in Kabul killed a child as voting was underway, Italian-run nongovernmental organization EMERGENCY said, adding that its staff had received 36 patients needing treatment.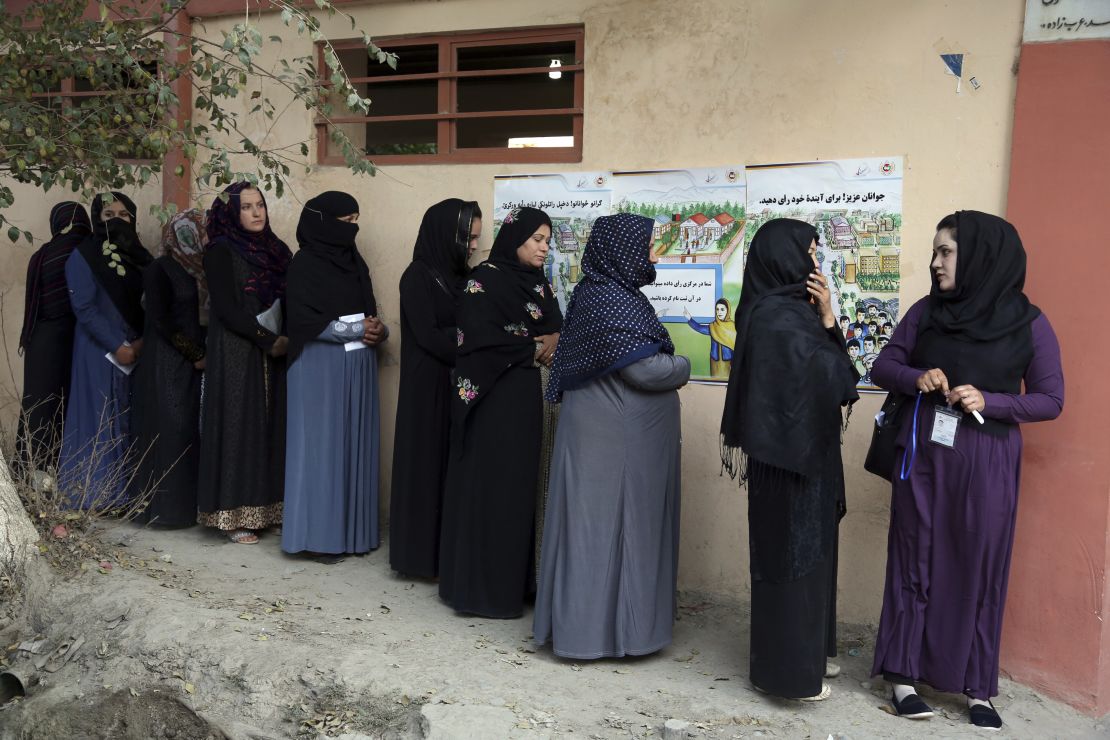 Much rests on the vote: Hundreds of women and young people are among candidates standing for election, riding a wave of hope that the notoriously corrupt and inefficient political system in Afghanistan can be overhauled.
After casting his ballot Saturday, Ghani thanked law enforcement, election officials and citizens who made the election possible, "despite the risks involved."
"Today we proved together that we uphold democracy. With casting our ballots without fear we honor the sacrifices of the fallen," he tweeted.
The Taliban had warned Afghans ahead of the vote not to participate in what they called "an American project from start to finish."
It's not yet clear how logistical problems at many polling stations will affect turnout figures, but the IEC said 401 polling stations would open on Sunday – including 45 stations in Kabul – due to Saturday's technical and staffing issues.
Voter enthusiasm may already have been chilled by the killing of Gen. Abdul Raziq Achakzai, Kandahar's police chief, the latest in a long line of violent attacks in the country. Two Americans also were wounded in the shooting attack.
Voting in Kandahar was delayed for a week after Raziq's death.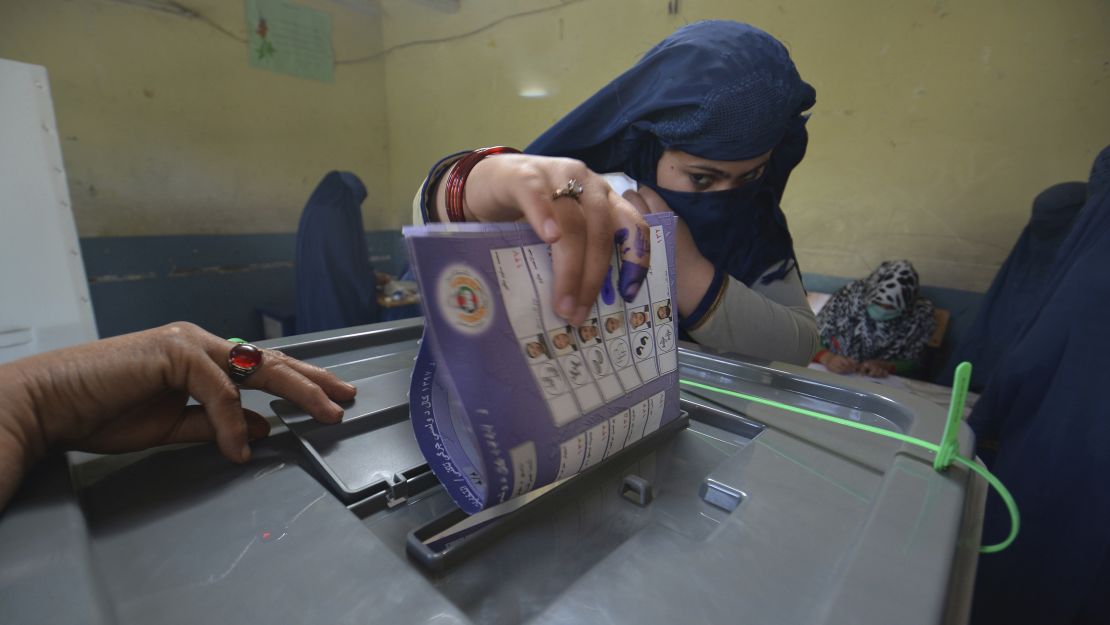 'This is a failed process'
Efforts were being made to resolve delays in the opening of some of the voting sites and centers due to technical issues, Shaima Alam Soroush, a deputy spokeswoman for the IEC, told reporters in Kabul.
A campaign manager, Israr Karimzai, told CNN that he had "20 reports of different centers across the country where people are being denied their right to vote" because "no ballot papers or no biometric devices or IEC staff have shown up" at the polling stations.
A candidate in Kabul told CNN she had been waiting for more than an hour to vote.
"This is a failed process," Mariam Solaimankhil said.
Idrees Stanikzai, also in Kabul, told CNN that voters were complaining about still waiting for their polling station to open more than two hours after their arrival.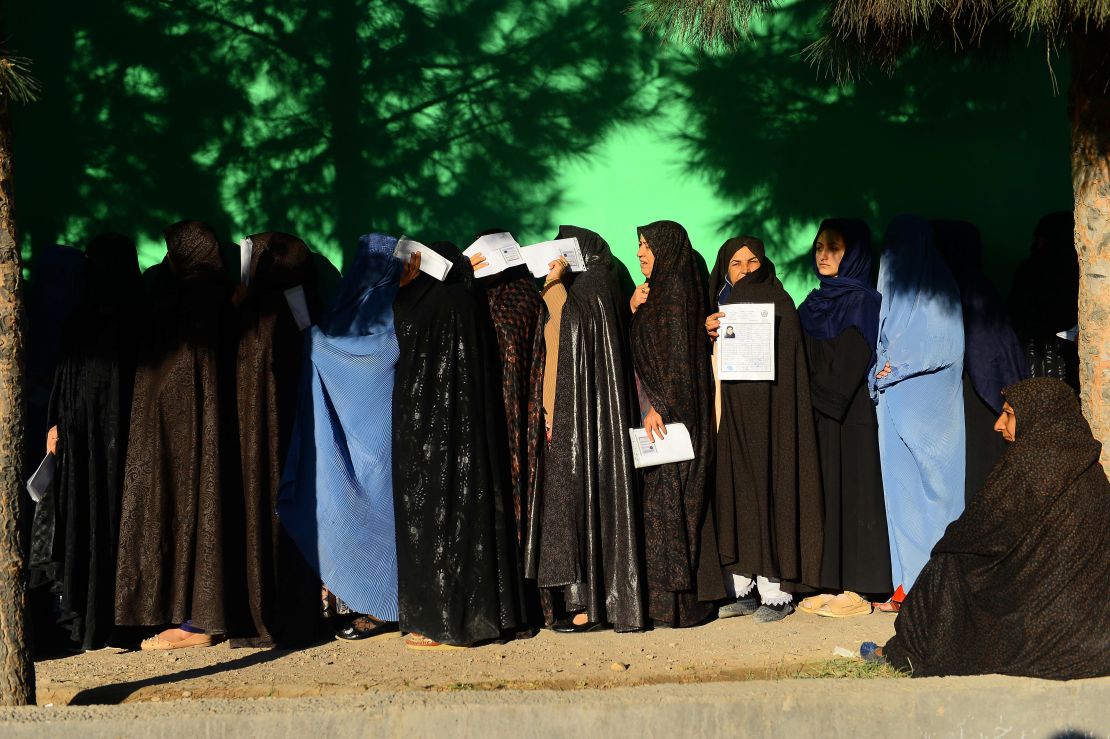 The head of the provincial council in Maidan Wardak province, Sharifullah Hotak, told local Afghan TV station Shamshad that the biometric system in voting centers was not working in the whole of the province.
And in Herat, hundreds of people were standing in line as polling stations there also experienced technical issues.
More than 20,000 polling stations were open across the country, with the exception of Kandahar and Ghazni provinces, where voting will take place at a later date, Afghan Interior Ministry spokesman Najib Danesh said earlier.
Some 70,000 members of the Afghan forces have been deployed to ensure the security of the elections, he said.
Women and young people stand for election
The risks have not deterred more than 2,500 candidates nationwide, including more than 400 women, to run for 250 seats in the Wolesi Jirga, the lower house of the Afghan parliament.
Maryam Samaa, a 26-year-old former journalist and news presenter on the nation's largest private broadcaster, TOLO TV, felt a duty to stand, she told CNN. She is running for one of Kabul's 33 parliamentary seats.
"It's a responsibility every human being must take on," she said. "Everyone has to question the society around them: Why is there so much inequity, and what is my role in reforming that society?"
Like many other young candidates, Samaa said she decided to run because there are few "actual representatives of the people" in the current parliament. Rather than the house of the people, Samaa said, the parliament has become a home for competing "mafia networks."
Only 9.6% of respondents were satisfied with the work of the current parliament, a survey conducted this year by the Afghan Institute for Strategic Studies, an independent research institute based in Kabul, found.
CNN's Ehsan Popalzai and journalist Ali M. Latifi reported from Kabul, and Laura Smith-Spark wrote from London.