British Prime Minister Theresa May told lawmakers Monday that while the vast majority of a Brexit deal has been reached, there remains a "considerable" sticking point with how to deal with the border between Northern Ireland and the Republic of Ireland.
However, May says she remains hopeful the issues can be resolved before the end of the transition period.
"I see any extension… as being undesirable. By far, the best outcome for the UK, for Ireland, and for the EU, is that our future relationship is agreed and in place by the first of Jan 2021," the Prime Minister told the House of Commons.
"I have every confidence that it will be."
However, she added: "There are some limited circumstances in which it could be argued that an extension to the implementation period might be preferable if we were certain it was only for a short time.
"We cannot let this become the barrier to reaching the future partnership we all want to see. We have to explore every possible option to break the impasse and that is what I am doing."
'Hold our nerve'
Her address to Parliament comes after massive protests in London Saturday demanding a second Brexit referendum.
However, May has ruled out any chances of that.
"Serving our national interest will demand we hold our nerve through these last stages of negotiations – the hardest part of all," she said.
"It will mean not giving in to those who want to stop Brexit with a 'politicians' vote' – politicians telling people they got it wrong the first time and should try again."
She is also under pressure from the pro-Brexit wing in her party, who think she is conceding too much to EU negotiators. The weekend press in the UK was filled with anonymous briefings against May from some of her own party, much of it using violent imagery.
One lawmaker was quoted anonymously as saying the Prime Minister should "bring her own noose" to a party meeting on Wednesday.
"I don't intend to dignify those specific anonymous comments with a response," a spokesman for the Prime Minister said at a briefing to journalists, according to Reuters. "What I would say is that the Prime Minister has always been very clear that we must set a tone in public discourse which is neither dehumanizing nor derogatory. "
The biggest outstanding problem in Brexit talks remains the issue of how to avoid the need for border posts in Northern Ireland. European leaders want a "backstop" agreement, whereby Northern Ireland would remain aligned with European regulations on goods and services, including customs arrangements, thereby avoiding the need for border infrastructure.
May opposes this because, she argues, it amounts to splitting the UK into different customs zones.
"The commitment to avoiding a hard border is one that this House emphatically endorsed and enshrined in law in the Withdrawal Act earlier this year," May will say on Monday.
"As I set out last week, the original backstop proposal from the EU was one we could not accept, as it would mean creating a customs border down the Irish Sea and breaking up the integrity of the UK."
Last week, the EU dropped plans for a November summit on Brexit because of a lack of progress in negotiations and began preparations for a disastrous "no-deal" scenario when the clock runs out in March 2019.
European Council President Donald Tusk said Thursday that the bloc was ready to extend the length of the transition period designed to smooth the UK's exit from the 28-nation bloc next year, though he was more optimistic than previously about an imminent deal.
The original plan is for a 21-month period starting March 30, 2019, as soon as the UK has left.
"If the UK decided an extension of the transition period would be helpful to reach a deal, I am sure the leaders would be ready to consider it positively," Tusk said.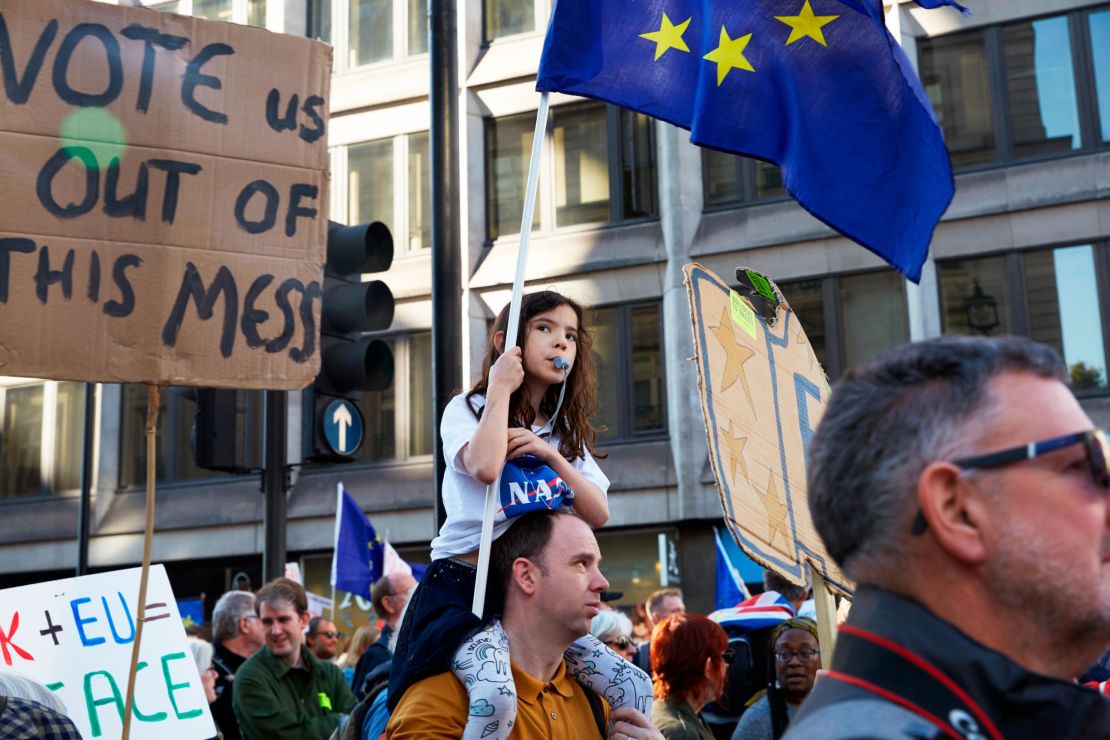 Around half a million people took to the streets of London on Saturday, according to organizers of the People's Vote March for the Future. CNN could not independently verify the number of marchers.
"This government is leading us towards either a bad Brexit deal or, even worse, no deal at all," London Mayor Sadiq Khan said at a rally in Trafalgar Square. "These options are a million miles away from what was promised. The government doesn't have a mandate to gamble with our future."
Organizers handed out postcards for people to write to their local lawmakers demanding a final say on the Brexit deal, rather than relying on Parliament to approve it.
CNN's Erin McLaughlin and James Frater contributed reporting.