At the grand old age of 88, French painter Andre Brasilier maintains a zest for "spiritual adventure."
On a perennial "quest for beauty", he recently traveled with his wife from Paris to London for the opening of his latest exhibition at the city's Opera Gallery.
And he's as animated in conversation as he is with a paint brush.
The majority of the paintings in the exhibition are expressionist images of horses. Born in 1929, Brasilier grew up in Saumur in western France where he was surrounded by natural beauty and those early memories of horses have stayed with him throughout his life.
"Horses were my first models as I lived in the countryside at a Manor House with my parents," Brasilier, who was a winner of the coveted Grand Prix de Rome at the age of 23, told CNN.
"So my first models were horses plowing the fields," he adds, "and I was attracted to the beauty of the horse from a very young age."
The value of Brasilier's art has grown by 557% over the last five years, a spike mirrored by the number of his pieces sold at auction.
Although creativity is very much in the Brasilier DNA – both of his parents were artists – he was the only one of five children to pursue an artistic career.
"I was born in a family dedicated to art," he said, adding that he knew he wanted to paint from the age of 10.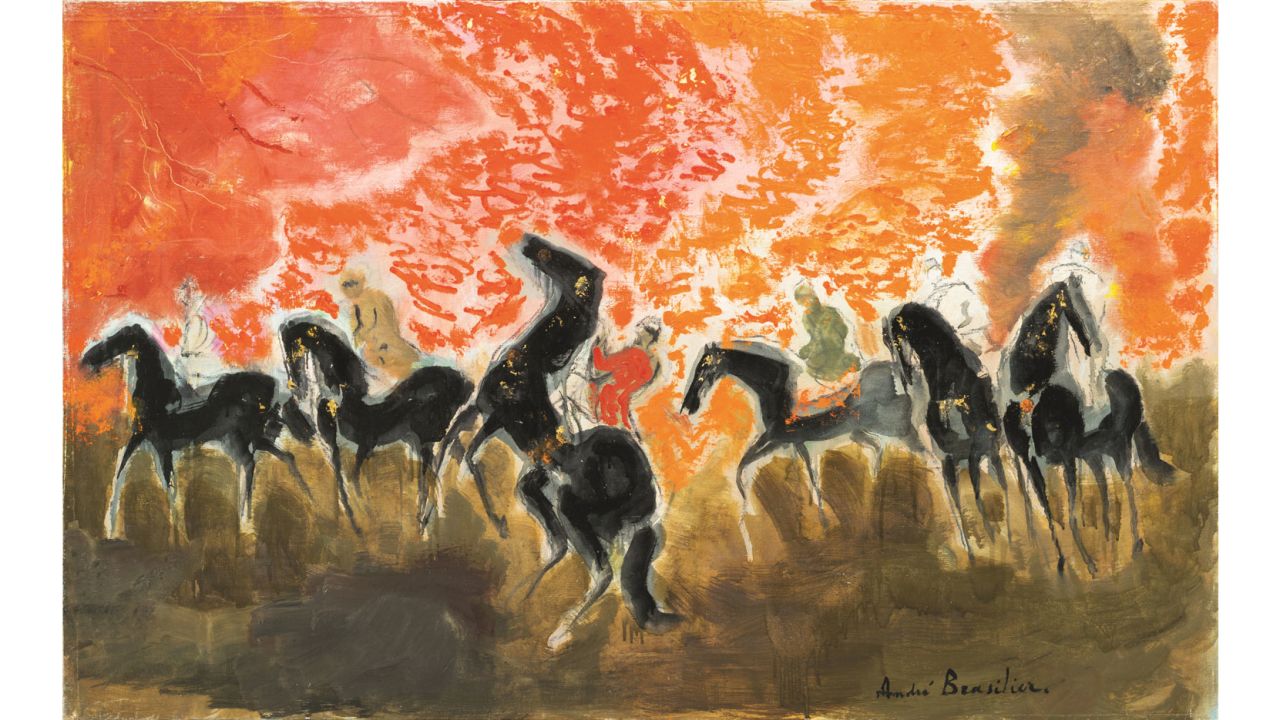 'They're charged with symbolism'
As well as being an artist, Brasilier says his father was also devoutly religious.
"I was born in a spiritual setting as my father was dedicated to religious art to the point where he never signed his works," said Brasilier, who as an expressionist is fascinated by what horses represent spiritually, not just their physical beauty.
"Horses are a superb creation. They're charged with symbolism, strength, dynamism, beauty. They're a source of inspiration.
"Horses are always found in a beautiful environment, at the heart of nature, they're indistinguishable from nature. What I'm interested in is the quest for beauty."
Horse racing on the beach for 150 years
'A symbol of divinity'
Brasilier smiles when he speaks about his own horse "Foufou," which he keeps at his countryside home in France.
He credits the animal with refreshing his outlook on life, which combines a playful attitude with a sense of humor and a sharp wit.
"Whenever I see a horse I'm inspired. The horse gives me an energy," said Brasilier, whose artwork has also been exhibited at the prestigious State Hermitage Museum in St. Petersburg, Russia.
He says he's continually inspired by the way horses have evolved alongside mankind.
"There is life and movement in the horse. I love horses in every way that they have evolved with us. From the dawn of art with the cave paintings, horses have always been a great love for mankind, a symbol of divinity."
Visit cnn.com/sport for more news and videos
His enthusiasm for equine subjects is only trumped by the passion he holds for his wife – Chantal has featured in many of Brasilier's works and remains a constant source on inspiration.
The pair laugh together as Brasilier explains what happens when his wife becomes his muse.
"I'm not a realist artist, I'm interested in art which transforms," he said. "When I paint my wife, it's not realism, I want to go beyond reality."