In the heart of a Ugandan slum, there exists a world of zombies, cannibals, and kung fu.
It's a place where a slum cat called "Famous" lounges in the sun while laundry dries on the skeleton of a helicopter painted with the bold letters "Wakaliwood."
This world belongs to a man named Isaac Nabwana. Isaac is the founder and director of Ramon Pictures, an action genre film studio home grown in the Wakaliga slum known these days as "Wakaliwood."
Welcome to the action packed world of 'Wakaliwood'
An echo of Nigeria's "Nollywood", India's "Bollywood", and of course "Hollywood", Isaac says that he chose the name because it was the place where he grew up and the place where the first action movie in Uganda was made.
Read: Dambe: Forgotten Nigerian martial art is growing online
Isaac grew up with a love for action film stars that he learned from his brother Robert. In the 1980's, Robert would sneak out to the newly opened cinema halls to watch movies, coming back later to reenact every action-packed moment.
Isaac says looking back, "Why I wanted to start action movies is because when I was growing up, all film stars I knew were all action stars… I knew of Rambo, Schwarzenegger, Jet Li, there's Bruce Lee, Wang Yu. My favorite is Chuck Norris."
This love for action and nostalgia for its early stars features heavily in Isaac's films, one of his most successful is titled "Bruce U", about a Ugandan man who perfects the art of kung fu.
Behind the scenes at Wakaliwood
Though Isaac had decided very early on that he wanted to make movies, his family was not convinced. His grandmother who raised him, his sisters and brothers expressed doubt that it was possible.
Isaac remembers telling his brother Robert of his dreams. "I told him that one day I'll make a movie, he said, "No, you cannot make it. Because movies, you made [need] millions of dollars to make movies."
Yet defying all odds, Isaac has made over forty movies, with three more in the works. Robert, his brother, plays multiple roles in every Ramon production, as well as Isaac's wife, Harriet, and his children.
The Wakaliwood community has grown from Isaac's immediate family to a large and diverse group.
People come from all over the country, and the world to see what Isaac has created and to take part in projects. One fan came all the way from New York City and never left Wakaliwood.
New York film buff Alan Hofmanis appeared on Isaac's doorstep six years ago after seeing a YouTube trailer for "Who Killed Captain Alex?", Isaac's first successful action film which was made for under $200.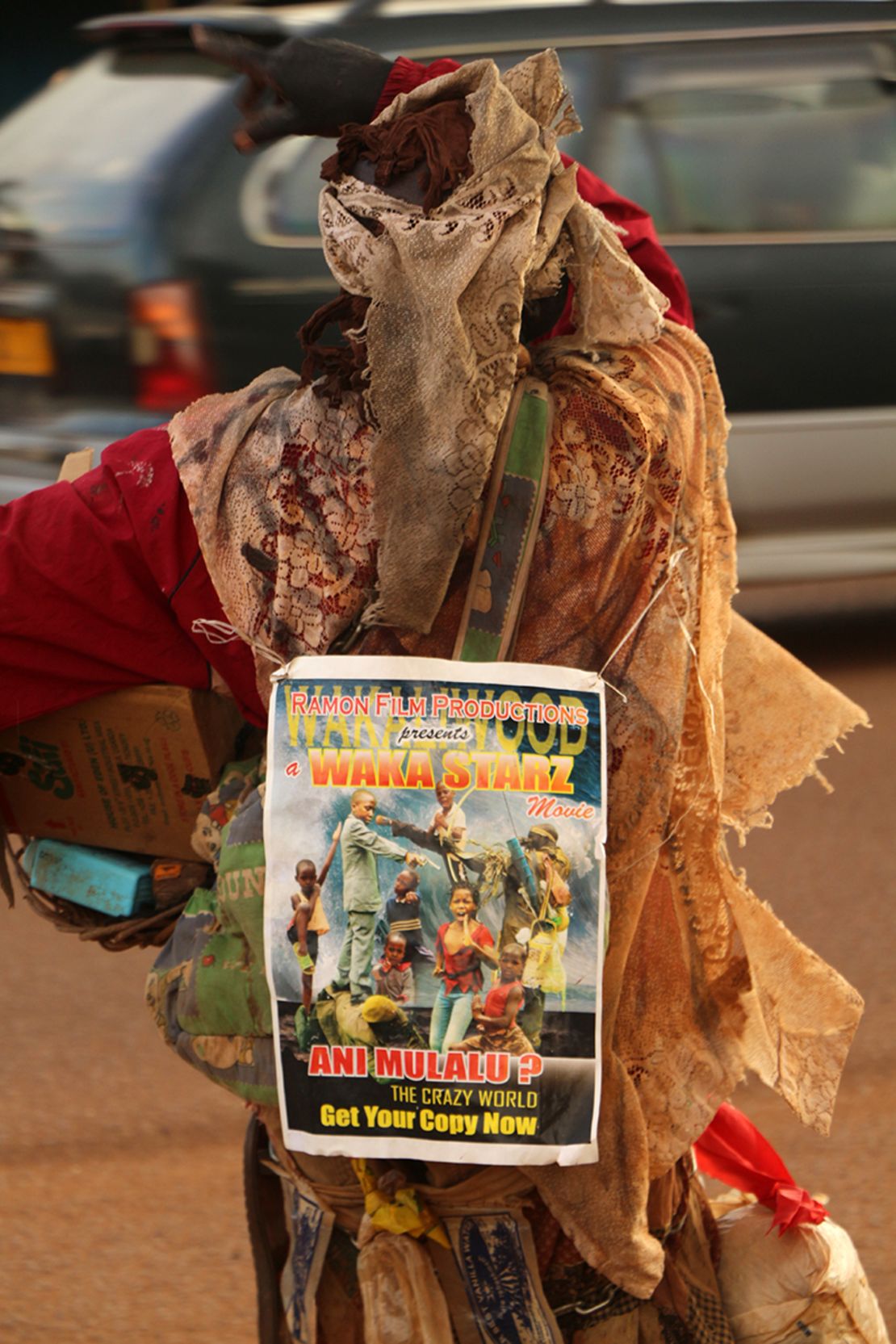 Alan recalled watching the trailer with some friends in a crowded East Village bar and having a distinctly different response from those around him. He remembers, "everyone's laughing and I wasn't laughing. Like yea it's funny, yea I think it's great, but who are these people? To me it just looked like genius."
Read: Martin Scorsese leads effort to save lost African cinema
That instinct led Alan straight to Wakaliwood, and he's never looked back. "I saw the thing, I bought the ticket, I went there, and I said hello, my name is Alan, I'm a fan from New York City and I'm here to talk, and that was it and we spoke for about six hours," he says, "And that's how it started."
Today, Alan lives in a room attached to Isaac's house in Wakaliga. He is an integral part of the team. He wears many hats as co-producer, distributor, and even an actor. Alan plays three characters in Isaac's upcoming movie "Eaten Alive," a zombie thriller that is one of several movies that Isaac is at work on.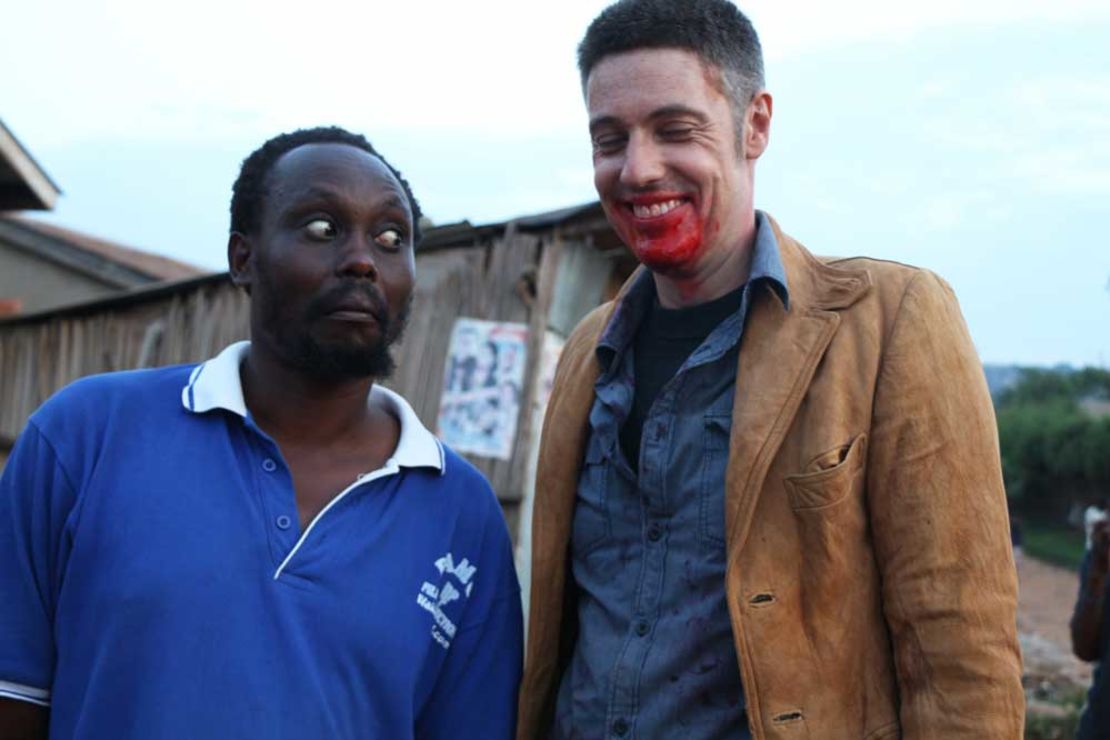 In it, Alan, thinner with longer hair, has a likeness to Chuck Norris. In these scenes, Alan is hunted and eaten by cannibals because Isaac has decided, "Chuck Norris is probably delicious".
In scenes being filmed, Alan portrays Norris' brother who is seeking to avenge Chuck Norris.
Isaac says his ideas spring from the real-life stories and scenes around him. For "Eaten Alive", Isaac based the film on a news story about an alleged cannibal killing that took place in a central Uganda region called Rakai.
His imagination is brought to life by a multi-talented man named Dauda. Dauda transforms Isaac's backyard into a new scene every night.
Dauda is the props master, set designer, electrician, mechanic, and sometimes even an actor. He has crafted every single one of the props on their sets, and is solely responsible for translating into reality Isaac's creative vision.
Isaac's wife Harriet is a self-taught makeup artist, having learned a variety of techniques from watching YouTube videos. Harriet uses a multitude of household items to get the effect she desires, including toilet paper, office glue, and latex, if she can find some. Harriet prefers zombie makeup to beauty makeup.
"Everything is fun doing makeup.", she says, "Everybody is fun, because everyday I find new things while doing makeup and it adds on my profession."
Read: Bringing an ancient African savings system into the digital age
A hallmark of the Wakaliwood lifestyle is inclusion. Nabwana has made it a goal to welcome everyone from interested fans, the curious, and anyone interested in film, no matter where they're from.
"One thing we don't do is we don't discriminate against tribe or what. Whoever comes, what tribe, whatever tribe you are from, I give you … Whatever region, I give you a chance.
Because for me I believe art is art and it's a God-given thing. The reason why you came to me, maybe it is because God sent you to me and I will lift your talent. It's an effort. For me, I believe, I don't chase anyone.
That's why you see we have people from Northern Uganda, we have people from Western Uganda, from Eastern Uganda, Central. So we bring together everyone."
Some of the most passionate about movie making are the children living in Wakaliwood. These include Isaac's children, both biological and adopted. The children are called "Waka Stars" and participate in all activities that the adults are involved in. They are musicians, they do martial arts, and they act in movies.
According to Isaac, the children are treated like adults so that they learn to act like adults. He says, "when we are shooting, they know, they can even control themselves. We don't chase them because we feel like these children one day will be directors, will be actors."
These children are the true mark of Isaac's legacy and will carry on the future of the brand. In Alan's words, "I don't know what the legacy of this will be, because even if it stops, it can't stop. If he dies, there's a whole back catalog. It's not over. There's all the village and the kids."
As for Isaac, he believes the youth are essential to confirming a future for everything he has built. "If we now try to involve the youth they will grow up… knowing that Uganda can make movies," he says, "and then the industry will stay. So the youth are very vital in this."
But whatever lies ahead, it is certain that Isaac has taken his boyhood fantasies of making action movies and made them a reality.
That reality is Wakaliwood.