Story highlights
Sheikh Mohammed had been trying to win race for 30 years
Melbourne Cup winner Cross Counter was his 26,157th runner overall in 26 years
Dubai ruler has invested heavily in the sport
It has taken 30 years and millions of dollars, but Sheikh Mohammed bin Rashid Al Maktoum can now finally call himself a Melbourne Cup winner.
His Cross Counter, a three-year-old bay gelding ridden by Kerrin McEvoy, came from the outside to beat Marmelo by a length to bring home the $2.8 million Melbourne Cup following years of disappointment for the billionaire Dubai ruler.
Cross Counter's historic victory was described by his British trainer, Charlie Appleby, as "everybody's dream."
"This is all down to Sheikh Mohammed, he's the one that's given us all the encouragement to take the chances in what we do internationally," Appleby told the website of Godolphin, the Maktoum family's global horse-racing stable founded by the Dubai ruler in 1992.
READ: Cross Counter wins rain-soaked Melbourne Cup
Cup drought
The win by Cross Counter, the first English horse to triumph in the Melbourne Cup, came 30 years after Sheikh Mohammed fielded his first horse, Authaal, in the "race that stops a nation." It was also 20 years after Faithful Son became the first runner for the Godolphin operation in Melbourne.
Since its foundation in 1992, Godolphin, which was named after Godolphin Arabian, a stallion imported to England three centuries ago, has fielded 4,664 horses in more than 26,000 runs. In the past 26 years, Godolphin horses have won 5,190 races, including 288 Group 1 wins.
That's a strike rate of 20% for the group – the racing arm of Sheikh Mohammed's Darley breeding operation – which has outposts in Britain, the United Arab Emirates, Japan, Ireland, France, the US and Australia.
Still, until this week, Godolphin had only three second places and two third places to show for in the Melbourne Cup, despite investing as much as A$1.1 billion ($800 million) in the sport Down Under, according to a 2016 report by the Australian Financial Review citing Godolphin Australia's financial results filed with the country's corporate regulator the year before.
"Learning curve"
In 2016, Godolphin sent five horses to Australia to compete in the race, only to walk away empty-handed once again.
This year, Sheikh Mohammed had three runners in the Melbourne Cup, spread across his three training operations headed by Appleby and Saeed Bin Suroor in the UK and UAE and James Cummings in Australia.
Bin Suroor's Best Solution and Cummings' Avilius finished eighth and 22nd respectively, but Appleby struck gold.
"We've been competitive, but we've learnt more on each trip about what will make us more competitive," said Appleby, who was saddling his third Melbourne Cup entry after stepping up from assistant trainer in 2013 following the eight-year ban handed to then Godolphin trainer Mahmood Al Zarooni for illegally administering steroids to some of his horses.
"That's what it's all about, the learning curve. I'm just in a fortunate position to have the horses to make the call on which are the right ones to bring down here."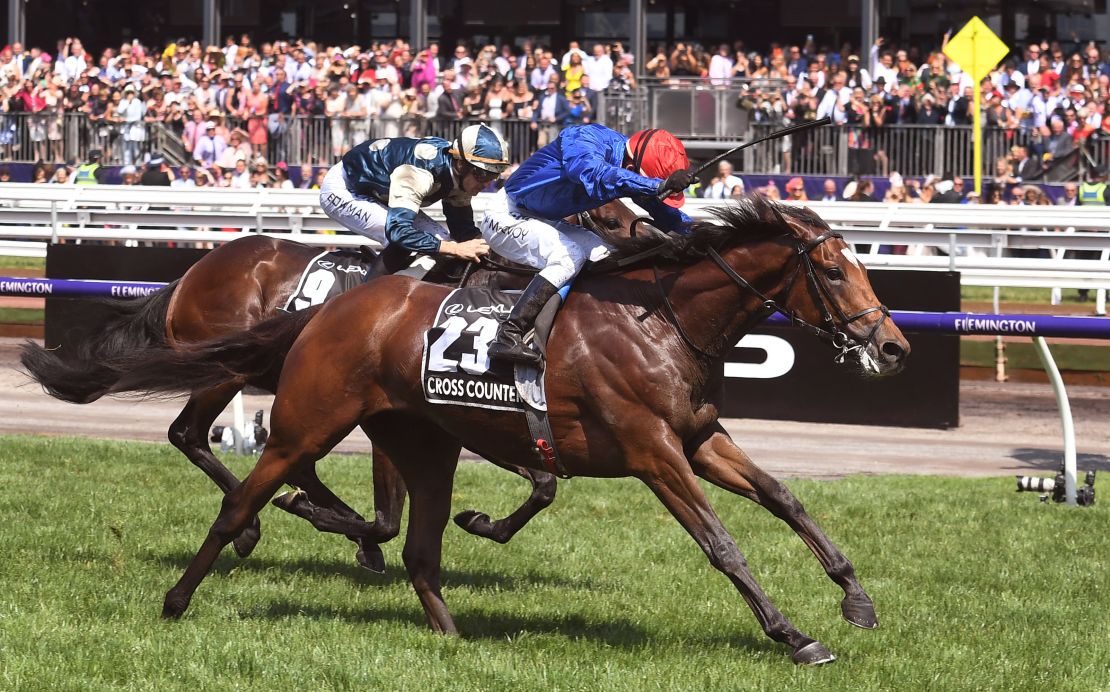 The Newmarket-based Appleby, who gave Godolphin its first Epsom Derby winner, Masar, in June, added: "This is huge for everybody. For me, of course this is the biggest thing along with the Derby. This year has just been one of those amazing years."
READ: The equine superstuds giving Federer and Messi a run for their money
Stellar 2018
After some fallow years, this season has proved to be stellar one for Godolphin, which ended the British Flat racing season as the leading owner, claiming 113 wins, including its first Epsom Derby, and winning £4.5 million in prize money, according to the website of the British Horseracing Authority.
Bin Suroor's Thunder Snow also won the $10 million Dubai World Cup in Meydan in March.
But horse racing is a costly business and often prize money doesn't cover the costs unless the horse is used for breeding.
During the 2018 Flat season, Goldophin fielded 242 horses in Britain. With the cost of training a thoroughbred averaging around £20,000 ($26,000) a year, that means it may have spent as much as £4.8 million on getting the animals race ready.
Trying to win races in Australia is even more expensive, with flights from Europe costing as much as $68,000 per animal.
Victoria Racing Club chairwoman Amanda Elliot paid tribute to the persistence of Sheikh Mohammed, who is also the Prime Minister of the United Arab Emirates.
"There is no one who has put more horses into this race and this is his wonderful first win," Elliott told the New Zealand Herald. "I hope he's watching. We send him our best. And many, many congratulations."