If you think Kevin Anderson's six-and-a-half hour win over John Isner at Wimbledon this year created a bond between the pair, you would be wrong.
Roger Federer brushed aside Dominic Thiem at the World Tour Finals to avoid elimination – and batted away claims he receives preferential treatment when it comes to scheduling at tournaments.
Far from Isner hoping for revenge against the South African at this week's ATP World Tour Finals or Anderson keen on pulling another one over the American, they're chuffed to be making history together in London 11 years after facing off in college.
Not since 1989 through John McEnroe and Brad Gilbert have two former university players lined up at the men's year-end championships.
READ: Enduring Bromance of Isner and Mahut
And besides playing college tennis, countless other similarities between the pair exist.
Two of the tallest players at 6-foot-10 and 6-foot-8 – Isner holds the slender height advantage – the South African and American are still two of the top servers in tennis.
Isner and Anderson both won two titles this campaign and for each it marks their debut at the elite eight-player World Tour Finals.
Three days following their titanic semifinal at Wimbledon in July – the second longest grand slam match ever behind Isner's 11-hour win over Nicolas Mahut at the same venue in 2010 – they achieved career-high rankings inside the top 10.
The Late Rise of Kevin Anderson
And both are longstanding members of the ATP's Player Council.
"It is really great that John and I, two former NCAA tennis players, are both in this year's finals," Anderson, who beat Dominic Thiem 6-3 7-6 (10) Sunday to begin the Lleyton Hewitt group at the indoor O2 Arena, told CNN Sport.
"I think that is a testament to how much your game can develop by playing college tennis. Qualifying for this tournament has been one of my biggest goals for a few years now, so obviously I'm very proud to achieve that for myself and I'm very happy for John to achieve that milestone as well.
"John is a really great guy who I've gotten to know over the years," added Anderson, who recollected that he once shared a hotel room with Isner during a tournament in tennis' minor leagues.
"So my respect for him grew very naturally. We both love dogs and sports, our wives are friends, we know each others' coaches well, we've met each others' families."
The marathon men: An unlikely bromance
Memorable college match
Isner won their two singles matches in the NCAA ranks, including 6-1 7-6 (1) during the national championships in 2007 when he helped his University of Georgia claim the team title over Anderson's University of Illinois at home.
"Our Wimbledon match I'm never going to forget," Isner told CNN Sport. "But I'm never going to forget that one, either. We had 6,000 fans. It was a huge match. At that time it was the most pressure filled match I'd ever played."
Anderson called it a "really difficult" loss but fondly remembers his college days as a whole.
"To this day we still give each other banter about our university rivalries," said Anderson.
The University of Illinois was where he met his wife Kelsey, who was part of the golf team and describes herself as the "support team chairperson" for her husband. They live in Florida.
In the pro ranks, Isner became the first of the duo to win an ATP title and crack the top 50, 20 and 10 in the rankings, which served as motivation for Anderson. Overall Isner owns 14 titles to Anderson's five, the biggest of which coming at the Miami Masters in March after a dismal 1-6 tournament start to his season.
READ: Wozniacki's arthritis diagnosis
But Anderson, 32, has also motivated Isner, 33.
"To see him continue to do so well in his 30s gives me a lot of energy to keep working hard and to try to match him and how hard he works and what he does on and off the court," Isner said.
"I actually saw how hard he worked when we were at college tournaments. You could tell his focus was to be a professional and a very good professional, and he's certainly accomplished that."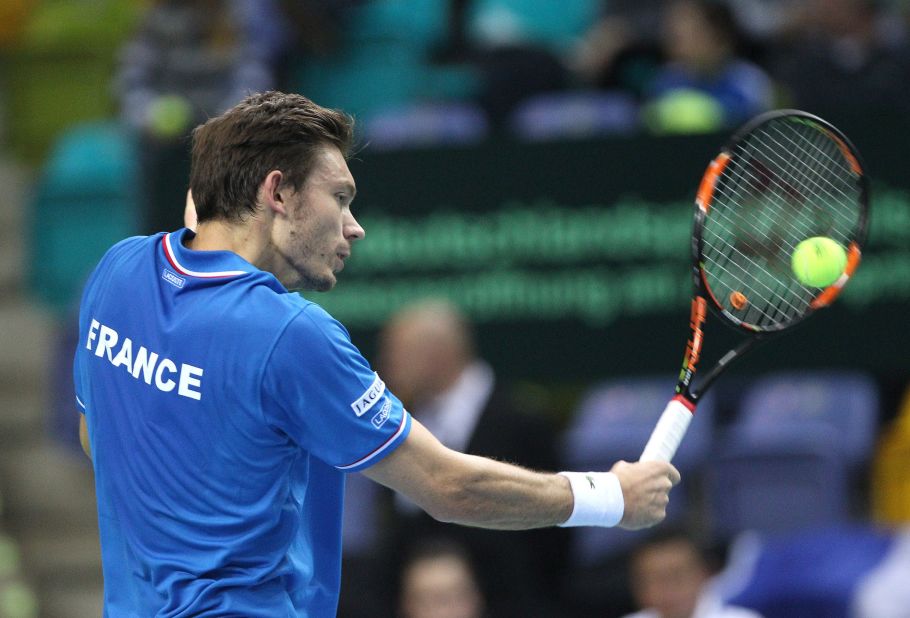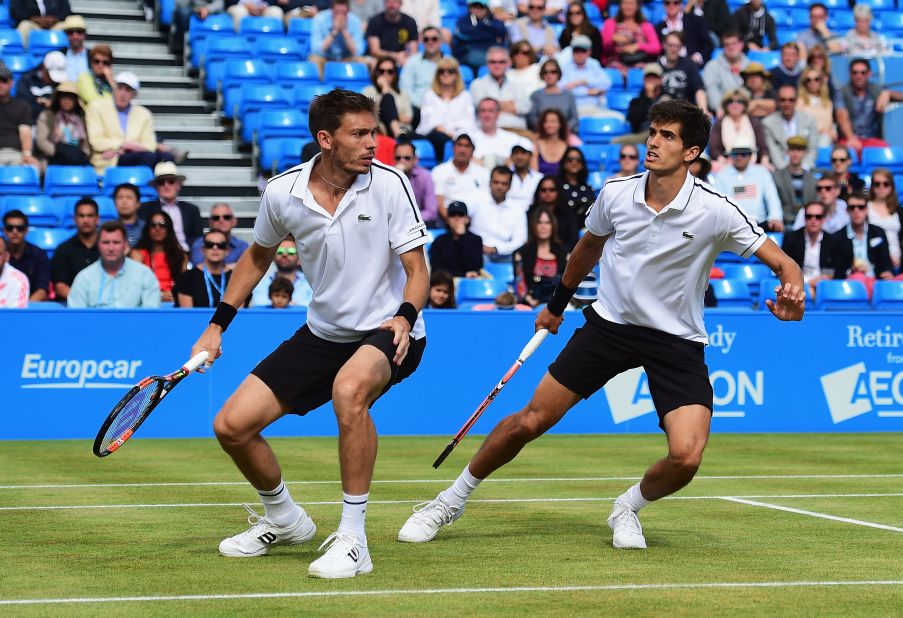 Wimbledon 2015: How Nicolas Mahut rebounded from epic defeat
Anderson's grand slam finals
Indeed Anderson has usurped Isner's results of late by prevailing in their highest-profile head-to-head at Wimbledon and making two grand slam finals.
He was the first to qualify for London, with new dad Isner booking his spot when 17-time grand slam winner Rafael Nadal became the second player to withdraw due to injury.
Isner meets new world No. 1 Novak Djokovic in Monday's night session in the Guga Kuerten group.
Anderson received plaudits for his humility after downing Isner 26-24 in the fifth set at Wimbledon, not overly celebrating and complimenting his beaten foe.
Two months later, they were on the same team at the Laver Cup in Chicago.
"Having always been on opposite sides of the net, John was now on the sidelines cheering me on. It was really memorable," said Anderson.
His success hasn't come as a surprise to one of his former coaches at Illinois, Craig Tiley, now the longtime tournament director of the Australian Open.
READ: Tennis prodigy, 14, signs multi-year sponsorship contract
Tiley mirrored Isner when discussing Anderson's work ethic.
"Kevin has always been one of the hardest working players I've had the pleasure to work with, and I'd say he's well and truly among the hardest workers on the tour," Tiley told CNN Sport.
"It's tough to dedicate yourself to tennis week in and week out, and the pathway is rarely quick and straightforward.
"Kevin has never shied away from his goals and has also managed to overcome injuries and other setbacks. He has always surrounded himself with great people. Kelsey has a great understanding of the commitment needed to be a champion."
Whether more university players emulate Isner and Anderson's achievements in the upper echelon of tennis remains to be seen. Of the seven former university tennis players in the men's top 100, Anderson and Isner are the lone two in the top 30.
Isner eyes future grand slam
Tiley has long "advocated" that US college tennis is a "great opportunity" for players, with Gilbert urging juniors to seriously consider the college route.
READ: Serena's coach calls for on-court coaching
"If someone pays you a lot of money when you are 17, a lot of money, you're a great junior, you are getting a huge contract and it looks like you have a great chance to be a pro, I understand that," Gilbert, the former coach of Andre Agassi, Andy Roddick and Andy Murray, told CNN Sport.
"But I do think a lot of kids make the mistake around the world of turning pro too soon and they're not mentally ready for it."
"So many guys are playing into their 30s now so you don't have to rush into it if you are not ready. And college is a great vehicle for that."
6-hour tennis match sets Wimbledon record
Visit our tennis page for more news and videos
College proved to be the right choice for Wimbledon's towering marathon men.