An additional 13 sets of human remains were discovered Monday in Northern California, bringing the death toll from the Camp Fire to 42, making it the deadliest wildfire in the state's history, the sheriff of Butte County said.
The increased death toll comes as first responders battle blazes on both ends of the state, and brings the statewide death toll to 44.
Fierce winds continue to threaten lives and homes in Southern California's Woolsey Fire, which has killed two people so far. The strongest Santa Ana winds in the south may bring gusts near hurricane force on Tuesday, CNN meteorologist Dave Hennen said.
Dangerous gusts fuel one California wildfire as another inferno leaves 42 people dead
Meanwhile, firefighters made progress Monday in containing the Camp Fire, which razed the town of Paradise, where most of the dead have been found. Harrowing stories of escapes and close calls are trickling out of the region.
Resident Nichole Jolly said she thought her life was over as flames surrounded her car, filling it with smoke. Then, she called her husband, who urged her to run, she said.
"If you're going to die, die fighting," she said, tearfully recalling his words.
Outside the vehicle, ash and hot embers stung her eyes and obscured her vision, she said. She felt around until she reached a fire engine that was hot to the touch. Firefighters pulled her inside, but they, too, were trapped, she said – until a bulldozer came through and cleared a path to safety.
Cell phone videos show drivers fleeing fire
In some areas of the state, rescue efforts have turned into cleanup and recovery as residents return to what's left of their gutted homes in neighborhoods littered with charred remains of cars, trees and buildings. President Trump on Monday approved a request for a Major Disaster Declaration that will provide the state with federal resources.
A Malibu resident who has lived through many wildfires said she has never seen one touch so many parts of the city at once.
"Every community neighborhood has been devastated," the woman told CNN affiliate KCAL/KCBS.
Latest developments by the numbers
• Camp Fire: More than 52,000 have been evacuated and 1,385 are in shelters due to the Camp Fire. It has scorched more than 117,000 acres of Northern California, and destroyed more than 7,000 structures, including 6,453 single-family residences.
As of Monday night, it was about 30% contained.
• Woolsey Fire: In Southern California, 57,000 structures are threatened by the Woolsey Fire. It has burned more than 93,000 acres, killed two people and destroyed at least 435 structures. As of Monday, it was about 30% contained.
• The Hill Fire covered 4,531 acres and was 85% contained by Monday night.
Causes of fires still being investigated
The death toll is rising as California state regulators investigate two utility companies that reported incidents close in time and location to the start of the Camp and Woolsey fires.
Preliminary incident reports submitted last week to the Safety and Enforcement Division of the California Public Utilities Commission provide a glimpse of conditions near the origins of the deadly blazes. Both utilities say they are cooperating with state investigators.
Almost 15 minutes before the Camp Fire began near Pulga, PG&E's said it experienced a transmission line outage about 1 mile northeast of the town.
In Southern California, where the Woolsey Fire began Thursday afternoon in unincorporated Ventura County, SoCal Edison reported that a circuit relayed out of the Chatsworth Substation about two minutes before the blaze broke out. The incident location in the report appears to be the same as CalFire's location for the fire's origin. But it's not clear how close they actually are to each other.
SoCal Edison's report says, "at this point we have no indication from fire agency personnel that SCE utility facilities may have been involved in the start of the fire."
A CPUC spokesperson said the agency will incorporate the incident reports into its staff investigations to assess the compliance of electric facilities with applicable rules and regulations in areas affected by the fires.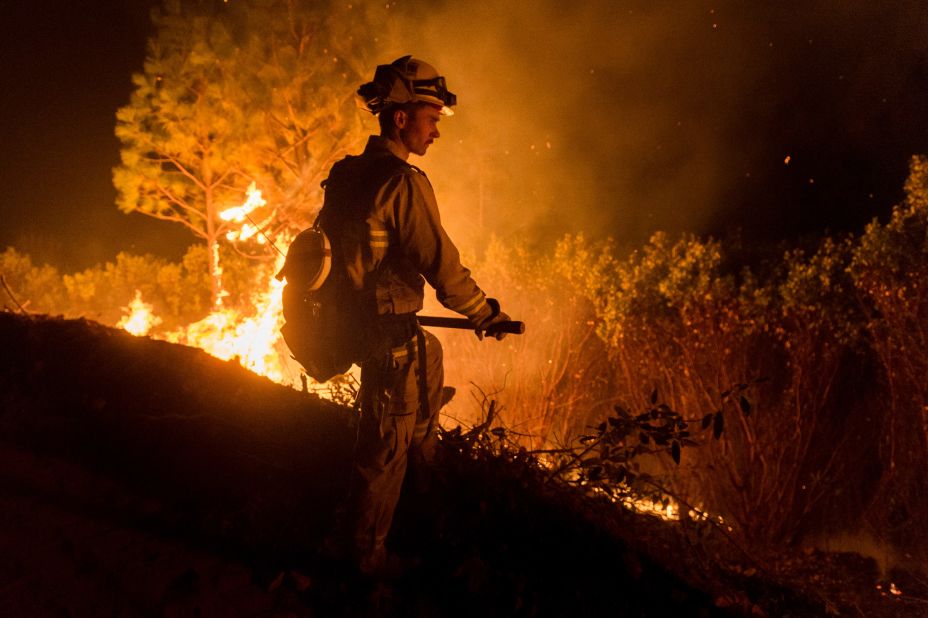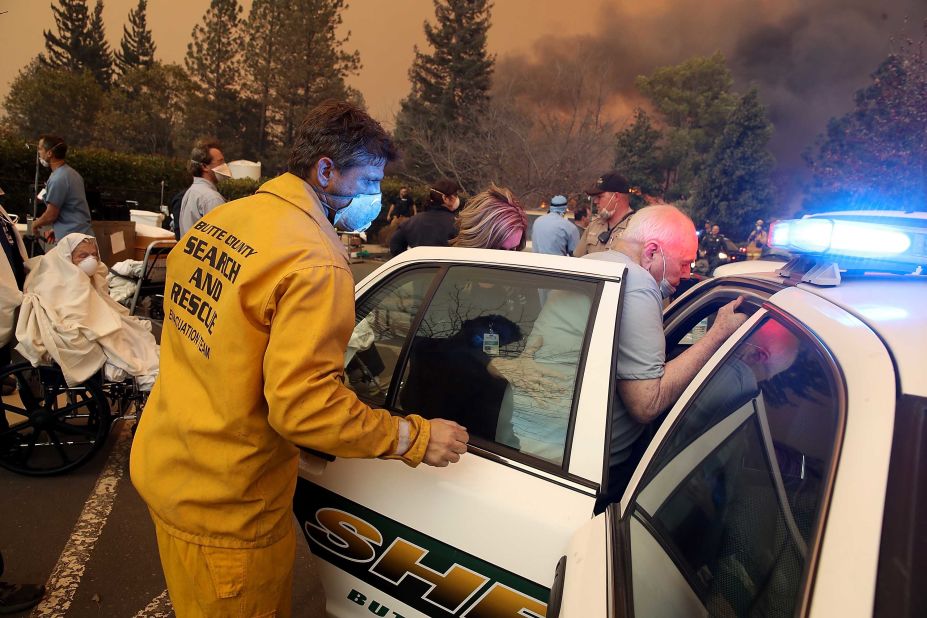 In pictures: Wildfires tear across California
Residents displaced with no end in sight
More than 300,000 people have been forced from their homes statewide. The majority of those residents are in Los Angeles County, where 170,000 were evacuated.
The evacuees included celebrities who lost their homes in Malibu as well as first responders who are setting aside their grief to save others. While much of Malibu lies in ruins, the city's mayor pro tem, Jefferson 'Zuma Jay' Wagner, is recovering in a hospital after trying to save his home.
Adding to the chaos, two wildfires started Monday in Southern California's Ventura County area. The Rocky Peak Fire has burned about 20 acres, officials said. The nearby Lynn Fire has scorched about 15 acres. While structures are threatened, firefighters expect to contain that blaze soon, Ventura County Fire Chief Mark Lorenzen said.
Search for missing people continues
About 100 people are still unaccounted for statewide, authorities said Monday. Officials are hoping those people are safe elsewhere, but with wildfires still burning, the death toll is expected to rise.
So far, 42 bodies have been recovered from homes and vehicles in or near Paradise. The Butte County Sheriff's Office identified three of the victims as Ernest Foss, 65, from Paradise; Jesus Fernandez, 48, from Concow; and Carl Wiley, 77, from Magalia.
In Southern California, officials said two deaths in Malibu were related to the Woolsey Fire, bringing the statewide death toll to 44.
Butte County Sheriff and Coroner Kory L. Honea said his office is bringing in additional resources to expedite the identification and processing of human remains, including 13 coroner search recovery teams, 150 search and rescue personnel, cadaver dogs, two portable temporary morgue units, and a rapid DNA system.
California Highway Patrol Chief Brent Newman asked for the public's patience as teams clear affected areas. As part of those efforts, CHP teams removed 60 abandoned cars and set up barriers around dangerous areas. He urged people trying to cross them so they can reach their homes to be patient.
"It is not a safe environment whatsoever," he said.
Paradise Mayor Jody Jones said many residents are anxious to return to their homes or property to take stock of what's left – herself included.
She is living in a motor home after losing her house to the Camp Fire. She has a roof and a bed but it won't work for much longer, she said. "We're thinking about where to go next."
She, too, recalled fleeing her home in her car surrounded by flames so intense that at times she could feel the heat in her car. Trees and telephone poles were up in flames.
While the blaze no longer appears to pose a direct threat to Paradise, Jones is concerned about marshaling resources for cleanup and recovery so people can return to what's left of their homes.
"My biggest concern is do we have the resources to clean up debris and get safety hazards out of the way so people can get to their property ASAP."
CNN's Dan Simon in Paradise and CNN's Amanda Watts, Mark Oliver, Stella Chan, Hollie Silverman and Jamiel Lynch contributed to this report.