Korean boy band BTS have been criticized by a Jewish human rights group for posing in headgear featuring a Nazi-style symbol.
In a statement posted on its website, the Simon Wiesenthal Center alleged that the popular K-pop group had posed in hats displaying the Death's-Head symbol of the SS – the organization that oversaw the Nazi concentration camps.
Noting that the group were dropped last week from a planned Japanese TV appearance after one of its members wore a T-shirt that appeared to celebrate the atomic bombing of the Japanese city of Nagasaki, the center's associate dean and director of global social action, Rabbi Abraham Cooper, said that the group owed both the "people of Japan and the victims of the Nazism an apology."
The statement also alleged that band members had waved large flags on stage at a concert that were "eerily similar" to Nazi swastikas.
The fashion choices made by the group – and by extension "young generations in Korea and around the world" – were helping to "erase the lessons of history" said the statement.
Rabbi Cooper requested that both the performers and the group's management publicly apologize.
In a lengthy and detailed statement Wednesday, BTS' management, Big Hit Entertainment, offered its "sincere apologies" for "inadvertently inflicting pain and distress to anyone affected" by the group's choice of clothing.
"Big Hit bears all responsibilities for not providing the necessary and careful support to our artist that may have prevented these issues, and we would like to make clear that our artists, especially due to their extensive schedules and the complexities of on-site conditions, are in no way responsible."
The record label said it had contacted both the Simon Wiesenthal Center as well as associations in Japan and Korea representing those affected by the atomic bombings, "in order to offer explanations and apologies to anyone who may have been distressed or in any way affected."
K-pop group BTS breaks Taylor Swift's record
Biggest K-pop group in the world
The Simon Wiesenthal Center statement links to a Reddit page which shows one of the band members, RM, wearing a camouflage hat with the infamous symbol apparently sewn onto its peak.
Huffington Post Korea reports that the image of RM wearing the hat is from a photoshoot with the now-defunct Ceci magazine from October 2014. The credit for the photo says the hat is "from a stylist's collection."
Though BTS has for years been one of the biggest bands in South Korea and East Asia, their international profile has skyrocketed in 2018.
This year, the BTS became the first K-pop band to win a Billboard Music Award; the first K-pop act to sell out a US arena; and broke the record for biggest music video debut, a distinction previously held by Taylor Swift.
Some of the group's fans have leaped to their defense online, claiming that at least some images of the hat have been photoshopped to include the controversial symbol. CNN cannot independently verify if the images have been doctored.
Last Friday, the Japanese network canceled an appearance by BTS after images surfaced on social media showing band member Jimin wearing a shirt emblazoned with the phrase "PATRIOTISM OUR HISTORY LIBERATION KOREA" repeated several times, alongside what appeared to be an image of a mushroom cloud over the Japanese city of Nagasaki.
It was not clear when the photo of Jimin allegedly wearing the shirt was taken, but local news outlets reported the image was from 2013.
Japan remains the only nation to have experienced a nuclear attack when the US dropped atomic bombs on Hiroshima and Nagaski killing an estimated 200,000-plus people at the end of WWII.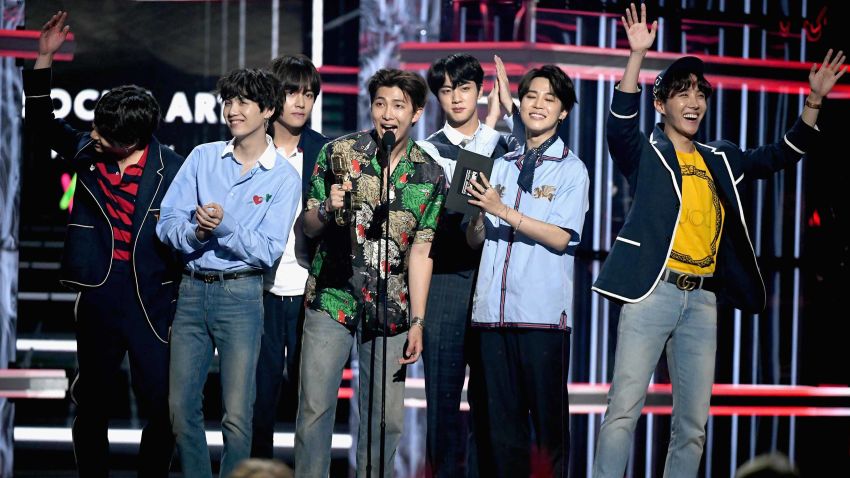 K-pop group BTS scores worldwide success
Insensitive fashion
Several Asian nations, including Thailand, South Korea and Indonesia have made headlines in recent years for similar controversies linked to fascist iconography.
Institute for Security and Development Policy Non-Resident Research Fellow Elliot Brennan told CNN that, for many Asian countries, Nazi Germany doesn't have the same historical meaning as for Westerners.
Referencing an incident in Taiwan in 2016, he told CNN that as the scourge of Nazism was eclipsed by Japanese imperial brutality in Asia, the symbolism resonated less than in the West.
"The outcry over the Nazi costumes in Taiwan, while obviously offensive to those educated on this terrible period in history, should remind us of the dangers of cultural relativism," he said.
"For East Asian countries, World War II was not about the Nazis or Hitler but rather the Imperial Japanese forces. Comparatively little time is spent in Asian countries studying World War II Germany than in Europe or North America."
Brennan said Nazi outfits and regalia often have a more punk or anti-establishment meaning in Asia, rather than a political or historical one.
"'Nazi chic,' as it has become known, is an expression of subversion and its wearers in Asia are largely ignorant of its historical underpinnings," he said.
In 2016 Sony Music had to apologize after Japanese girl band Keyakizaka46 wore black capes and hats similar to the SS uniform during a stage performance.
Two years before that, South Korean pop group Pritz said they never intended to look like Nazis when they dressed in black shirts with red armbands in a music video.
CNN's Jake Kwon contributed to this report.