Editor's Note: Jane Merrick is a British political journalist and former political editor of the Independent on Sunday newspaper. The opinions expressed in this commentary are hers.
From the moment she took over as Prime Minister more than two years ago, Theresa May must have known this day would come.
May has presented her party with a plan for Brexit agreed on by both the UK and Brussels – and, one by one, her ministers and members of Parliament are rejecting it. The future of both the Prime Minister and the country depends on what happens in the next 24 hours.
British politics is now no longer only divided between people who want to remain in the EU and those who want to leave. There is now a battle between those who want the draft deal to go ahead in the national interest, led by the Prime Minister, and those who want Britain to leave the EU at any cost. Whoever wins that battle will decide the outcome of Brexit.
On Wednesday evening, May had seemed confident enough to walk out of the door of 10 Downing Street to declare that her Cabinet had collectively accepted the draft withdrawal agreement for Brexit, negotiated over thousands of painstaking hours between UK and Brussels officials. By 10:30 the next morning, two Cabinet ministers and three junior members of her government had resigned and many more were expected to go.
Their resignation letters were highly critical of the PM's deal. Esther McVey, who quit as Work and Pensions Secretary, said the agreement "does not honor the result of the referendum" and warned "we have gone from no deal is better than a bad deal to any deal is better than no deal." May's Brexit Secretary, Dominic Raab, who had been personally involved in the final negotiations of the draft settlement, resigned with a warning that the arrangement for an indefinite backstop to avoid a hard border between Ireland and Northern Ireland posed a "very real threat to the integrity of the United Kingdom."
All but one of the resigning ministers were Brexiteers. They are dismayed that the draft agreement surrenders too much control to the EU, including the prospect of staying in a customs union indefinitely. To them, the prize of Brexit is too great to be compromised away by the reality of negotiation with one of the world's largest trading blocs. They would rather have Brexit at any cost – even a no-deal Brexit, with the high tariffs and potential stockpiling of food and medicine that that might entail – than this negotiated settlement.
On the other side, the Prime Minister leads a group of ministers and MPs, whose number is increasingly unclear given the scale of resignations, who want to deliver Brexit in the national interest. The UK was not in a strong enough position to "have its cake and eat it," as one official notoriously said, but could only end up with a deal after compromising with Brussels.
May delivered a defiant statement to the Commons on Thursday morning, insisting that this was a "Brexit in the national interest." After nearly two years of presenting her party and Parliament with an ultimatum "no deal is better than a bad deal," she has a new three-way formulation: "We can choose to leave with no deal, we can risk no Brexit at all, or we can choose to unite and support the best deal that can be negotiated." This third option – of no Brexit at all, and therefore remaining in the EU – is significant. It will force Brexiteer MPs to choose to resign or stay loyal, and, as a byproduct, give hope to those campaigning to remain in the EU, by having another referendum or People's Vote.
Summing up the heart of the dilemma facing the UK government, the Prime Minister told the Commons: "There is no deal which delivers the Brexit the British people voted for which does not involve this insurance policy. Not Canada plus plus plus, not Norway for now, not our own white paper. The EU will not negotiate our future partnership without it." Brutally, she has tried to get a good deal from the EU but Brussels negotiators will not move on the insurance policy.
It now remains to be seen whether May can hold together a government of ministers who agree with her, and those who want Brexit at any cost. She has already survived the resignations of high-profile Cabinet ministers earlier this year – including Boris Johnson as Foreign Secretary.
What matters now are the numbers of ministers resigning – because each one counts as another possible vote against her deal when the House of Commons decides the matter next month.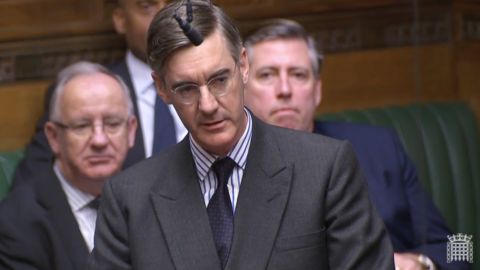 What may be more urgent is whether Conservative MPs are ready to get rid of her more quickly than that – through a vote of no confidence in her leadership. Her opponents need 48 letters from Tory MPs to trigger that confidence vote. This could come as early as today: Jacob Rees-Mogg, the backbench Conservative MP and leading Brexiteer, effectively called for that confidence motion by asking whether he should submit his own letter. The battle may be won by those who want Brexit at any cost, and the Prime Minister may just have hours left in Downing Street.