"Fit Nation: Around the World in 8 Races" special will air at 2:30 p.m. ET on Saturday, November 17.
Battle Mountain, Nevada
CNN
—
Route 305 is a seemingly nondescript stretch of road in the middle of a very empty state, connecting two small towns.
But in the middle of this desolate valley of brown-yellow scrub brush, amid cows and wooden telephone poles and with views of dirt-brown hills, there's a windy 5-mile stretch of flat highway where world records are broken every year.
Since 2000, the World Human Powered Speed Challenge (originally called the World's Fastest Bicycle Competition) has gathered university teams and enterprising individuals who have engineered various bikes to be the fastest any human has traveled without the aid of an engine.
The bicycle is arguably one of the greatest inventions of mankind. An average bike is five times more efficient than walking when you compare the energy consumed to cross a mile. And although the design hasn't changed much over the past 100 years – because it hasn't needed to – the exception to that lies among a small, international clan getting close to breaking a 90-mile per hour speed barrier.
"Aerodynamic drag is 80% of what holds you back when you ride a 10-speed," explained Alan Krause, co-director of the challenge, along with his wife, Alice.
Therefore, for teams and individuals designing bicycles to be the fastest in the world, most of the battle is focused on reducing wind resistance. They build custom aerodynamic shells around the bikes and require riders to get as low and recumbent as possible without losing too much stability.
Competing against nature
The way the challenge works is that over seven days, the attempts are made individually rather than racing side by side. The cyclists are competing for records in various categories, which means they compete with one another, with their own personal records, the limits of innovation and against the natural elements. "They are competing against the forces of nature, against air," Krause said.
In addition to men and women's standard "open class" speed categories, there's a category for bikes with more than two wheels, "multitrack"; the tandem category has two or more cyclists; and there's a category for bikes that use hand cranks instead of traditional pedals. Each category has its own world record holders for males and females, and nearly every year, at least one world record is broken.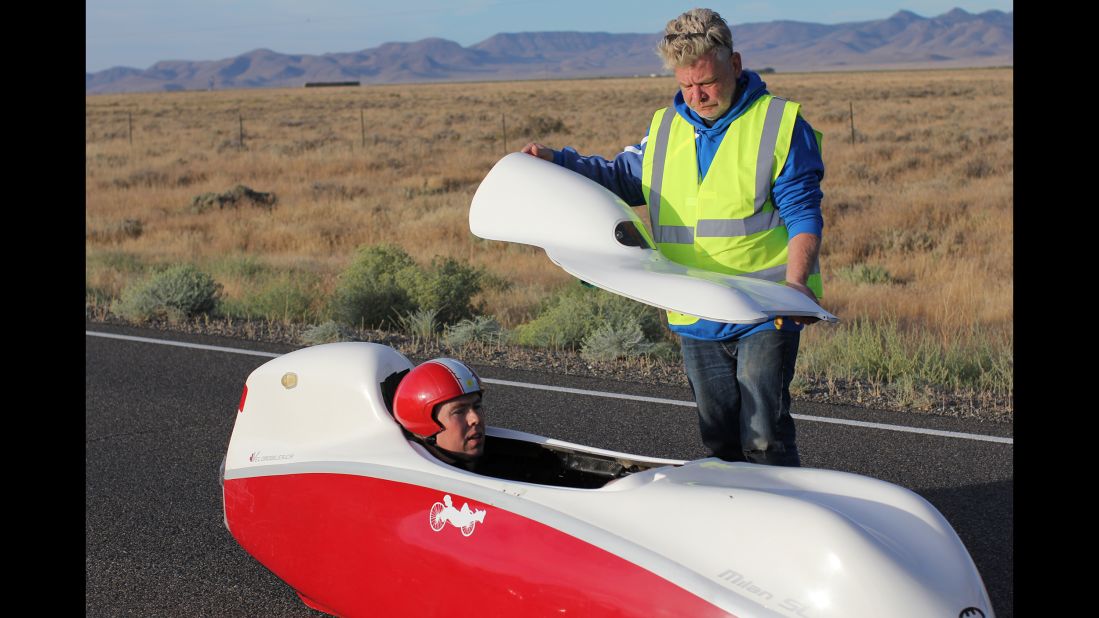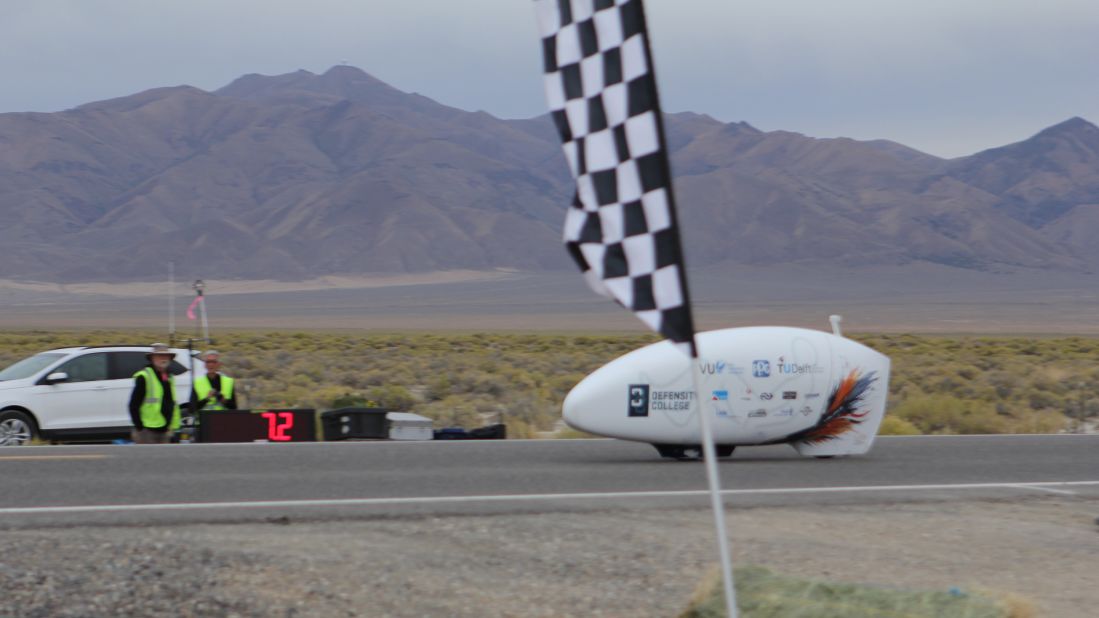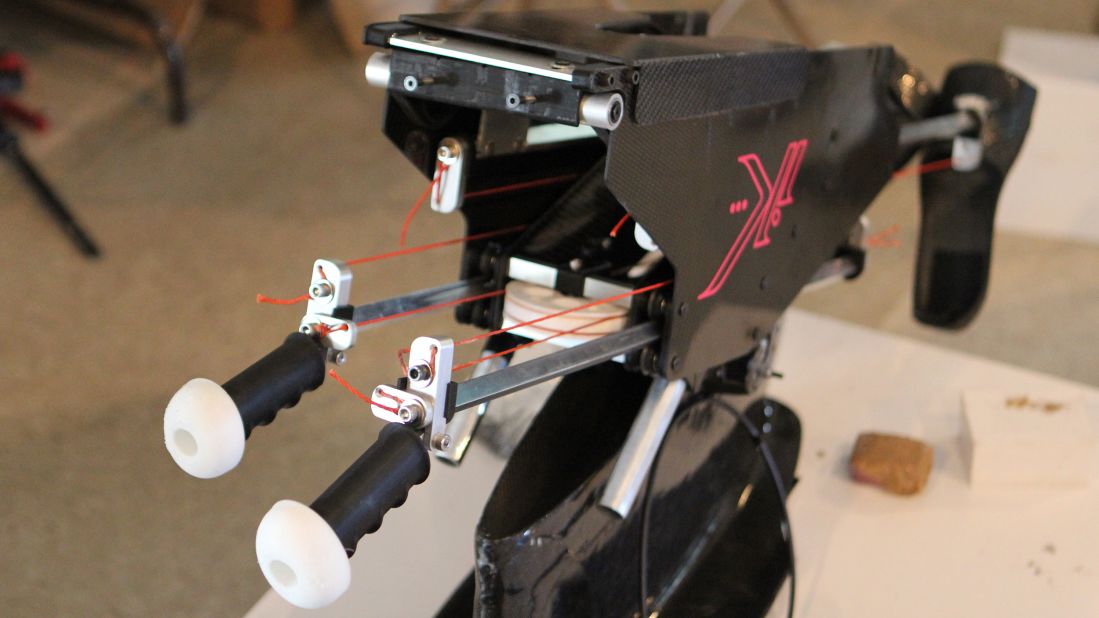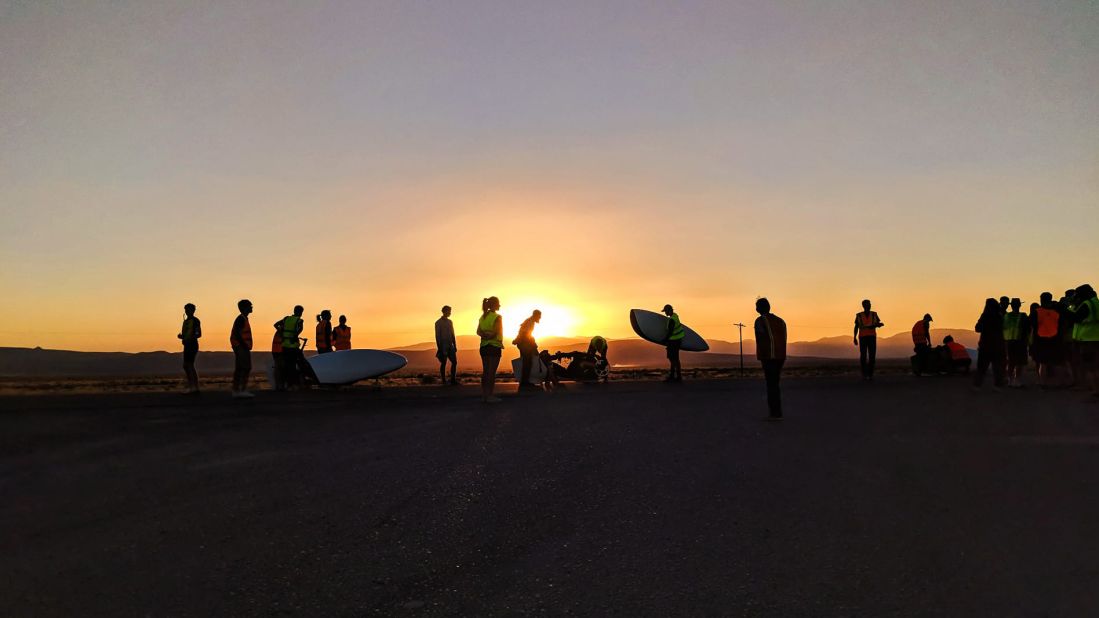 The 2018 World Human Powered Speed Challenge
Race organizers close Route 305 for up to 20 minutes at a time and try to get four bikes in each of these heats. There are only about 16 attempts available in the morning and evening, which are the best times to race. Mornings are better for low wind, but it's also colder, which makes the air more dense. Racers tend to go a bit faster in the evening heats.
The bikes look like elongated eggs or upside-down canoes, but they have human passenger/engines inside. Team members either help the rider squeeze in or lift the top of the shell over them and tape down the seams.
The bikes are a bit tipsy when they start, requiring crews to run-push them off (for no more than 15 meters). They have 5 miles to build up velocity, and then a trap captures their official speed in the last 200 meters (just under the length of two football fields). If the wind is over 6 kilometers per hour in any direction, the whole run is disqualified.
"The aerodynamics of the bikes allow you to stay at a constant speed fairly easily, so you want to slowly build up speed all the way down until you're only 1 mile left, and then you want to start sprinting. That way you don't wear yourself out," said competitor Ishtey Amminger of Memphis, Tennessee, and team Gee Bee.
Accidents are common, mostly at the start. Because a minor mechanical issue or even strong wind can cause a bike to tip or run off the road anywhere on the course, each racer must have a chase vehicle follow them.
"It's just such a surreal experience. You're in this thing that looks like an egg … going down a highway in the middle of nowhere, and it only takes a tiny bit of wind to blow it slightly off course," said Karen Darke, a racer from Scotland with the University of Liverpool team.
Options are limited for spectators, even though they are encouraged to come and cheer on the riders. Portable stands at the finish line are the tallest visible structure in the valley, and they held a couple of dozen fans this year, some wisely staying warm under blankets as the sun began to set.
At the starting line, there's no place to sit, but there's more action there: racers doing laps on shell-less practice bikes and then, when it's their turn, scrambling to get in position. And then the occasional if inevitable wobble-and-falls at the start.
The World Human Powered Speed Challenge ended up on Route 305 after an exhaustive effort by an engineer named Matt Weaver, who drove around California and Nevada in 1994, recording highway data. He found in this stretch one of the longest, straightest and flattest. For any speed record attempt, the maximum grade allowed by the International Human Powered Vehicle Association is two-thirds percent, a very slight slope. Route 305 is also above 4,000 feet high, a good altitude for thinner air.
A nearly $4 million grant made on behalf of the organizers in 2009 led to a repavement of the highway, in which asphalt was poured without a single seam for nearly 6 miles. Steel mile markers were replaced with plastic ones to reduce accidents and injuries. But nine years later, the public use highway is showing signs of wear and tear.
It was Weaver's data that led to the first call to competitors 19 years ago. Today, the challenge is an open invitational. Anyone can try to qualify simply by reaching, on a 2½-mile short track, a speed of 45 mph in morning heats and 60 mph in evening heats. "A great athlete on a regular bicycle won't top 45 miles an hour in this contest," Krause said.
Fifteen riders came from 11 teams this year, representing the United States, Canada, Mexico, Italy, England, France and the Netherlands. The teams name their bikes, such as the Velox 7, Wahoo, Eta Prime, Dos to the Tres, Super Ketta 162, Taurus and Blue Nose.
The current top speed record holder is Todd Reichert, who reached 89.59 mph in 2016. (Route 305's automobile speed limit is 70 mph.) But other world records were broken this year. Ken Talbot's 51.58 mph is now the world speed record for men's arm-powered category. Using the same bike, the Arion4, Darke broke her own record by reaching 46.54 mph in women's arm-powered. And Amminger broke the junior (under age 18) multitrack record at 60.94 mph on a three-wheel bike called CO2.
Announcements, organizing for the next day's heats and an opportunity for all the teams to mingle take place after each heat at the Battle Mountain Civic Center. It's a convivial, well-organized affair with the Krauses in charge. Newcomers ask advice of elders, who are happy to answer.
Blowin' through the wind
The International Human Powered Vehicle Association's broad definition of a bike brings the concept to an existential point. Some of the bikes don't have pedals. The rules don't even require wheels, even though they always have. "If it had skis, it would be a land vehicle in the open class," Krause said. And the bikes can have more than two wheels; in a recent year, one (non-record-breaking) entrant had at least seven.
That said, most of the current designs are made of recognizable bike parts, if in different positions. No one has built a chain configuration that can beat circular. "While there have been experiments with linear drives, ones with a straight-line pedal path, no linear drive has equaled the performance of traditional bicycle cranks," Krause said.
Speed enhancements tend to largely focus on designs to reduce wind resistance.
The holy grail, aerodynamically speaking, is "laminar flow," a state in which a bike shell shape achieves very little wind resistance. Even a dead insect on the shell can mess up that ideal state of flow. It's an engineering challenge worthy of Elon Musk, who will probably show up as soon as he learns of it.
Because the bubble of a window adds drag, many of bikes are fully enclosed, the driver navigating by screen and a video camera.
Weight is another factor. The world's fastest bikes are now made from high-tech and aerospace composite materials such as Kevlar, carbon fiber and foam cores. "You really have to work on design and efficiency. You can't just throw more horsepower behind it," Krause said.
But the final component is being in proper shape for a burst of energy required in the few minutes it takes to build up speed. There are few rules, but of course, the main one is that the bike may not contain an engine, or "stored energy," as one crew member called it.
Do you have the need? The need for speed?
To make an attempt at a bike speed record, you don't have to go to Nevada in September. If you meet the proper conditions, have proper timing equipment and get it cleared by international association, you can make an attempt closer to home. What is helpful about the World Human Powered Speed Challenge is that those requirements are taken care of by the organizers. All the racers have to do is show up.
Competitors tend to be elite ath-geeks at the intersection of amateur athletes and engineers and home builders, the kind of people who enjoy poring over technical trade publications with detailed black and white photos and titles such as CyclingScience, Bicycling Science and Human Power, available at the Battle Mountain Civic Center gatherings.
Being in shape and getting in miles on training bikes similar to the final racing designs is also key to having any chance at making history in the desert. "It's a unique combination of athleticism and engineering. Both are critical to the performance," Krause said.
"There's a mental component, too," he added. The experience is scary for some, claustrophobic for others. "These bikes are uncomfortable to be in. They're very cramped. There's no air, and some wear oxygen masks."
Darke noted, "after I tried it for the first proper run, I was shaking for hours afterwards. I was really psyched out by it. I think maybe some of this is more psychological than physical."
Although a bike must pass a tech inspection to make sure it can stop and turn, there are virtually no safety rules other than a bike helmet. Seat restraint requirements may be coming. On the highway, organizers add wood boards to the bottom of guard rails to keep sideways-sliding bikes from slipping under them and falling into a ravine.
Crashes can, of course, occur at very high speeds, but injuries are typically not serious, usually just minor abrasions and burns. One of the worst accidents a couple of years ago occurred just after the finish line, when the bike "exploded," Krause said, but the rider had no broken bones and mainly minor concussion symptoms due to the abrupt stop.
As Mario Andretti, one of the fasted motor-powered speed champions, put it: "If things seem under control, you are just not going fast enough."