The Camp Fire ravaged Northern California quickly and ferociously. Now flooding, mudslides and rivers of charred debris could do just the same.
With more than 151,000 acres of newly scorched earth, heavy rain expected this week could lead to several other disasters.
"Rainfall that would normally be absorbed will run off extremely quickly after a wildfire, as burned soil can be as water-repellent as pavement," the National Weather Service said.
Wildfire survivors and evacuees could face instant flooding, mudslides or debris flow soon after the rain starts.
Who's at risk of flash flooding?
Anyone near the Camp Fire's burn scars – the land torched by the fire – is at risk of flash flooding. But the danger is greater for anyone living downhill or downstream from burn scars.
"If you can look uphill from where you are and see a burnt-out area, you are at risk," the National Weather Service said.
And the flooding can come with little or no warning. In fact, heavy rain over burn areas can produce flash flooding and debris flows "nearly as fast as National Weather Service radar can detect the rainfall," the weather service said.
That kind of flash flooding can quickly pick up and sweep away cars.
Who's at risk of ash and debris flows?
The rain will likely create a slurry of ash and debris, especially in the town of Paradise – where most of the homes and buildings have been reduced to charred rubble.
Ash from the Camp Fire will probably get swept away by the rain, meaning places miles away could get hit with liquid soot.
"The Camp Fire will likely see ash flows, and it's possible the rain could fall hard enough to create more dangerous debris flows," CNN meteorologist Dave Hennen said.
Such debris could include burnt vegetation such as trees, the weather service said.
"The force of the rushing water and debris can damage or destroy culverts, bridges, roadways and buildings even miles away from the burned area," it said.
Who's at risk of mudslides?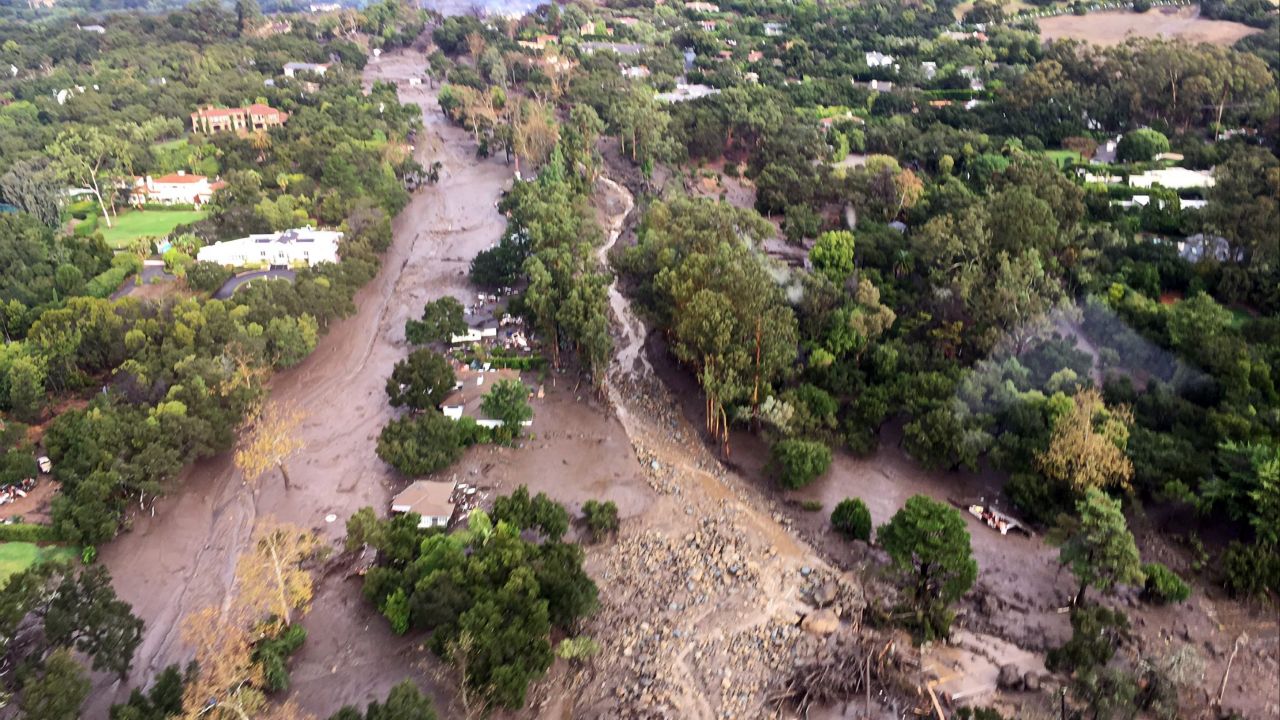 Mudslides are possible in and around areas charred by Northern California's Camp Fire and Southern California's Woolsey Fire.
But while the south will get only about an inch of rain this week, Northern California could get inundated with 3 to 6 inches, Hennen said.
The risk of mudslides is especially severe in areas of steep terrain – which is also where firefighters are battling the deadliest and most destructive wildfire in California history.
"They're having to fight this fire right now in the mountainous areas," Cal Fire Deputy Chief Scott McLean said this week. "They're back there on dirt roads, dirt trails, trying to fight this fire. Now it's going to turn into mud, which will be another hazard for them to contend with."
How long will this risk last?
Even after the rain passes this week, the areas scarred by wildfires will be vulnerable to flooding for years.
"Flood risk remains significantly higher until vegetation is restored – up to 5 years after a wildfire," the National Weather Service said.
CNN's Paul Vercammen contributed to this report.