The idea of deducting points from countries or clubs whose fans are found guilty of racist abuse has the backing of nearly two thirds of football supporters, according to a new survey on Wednesday.
In the study of 27,000 fans from 38 countries – conducted by anti-racism group Kick It Out and live-score app Forza Football – 60% of respondents said they would support points deductions, while 54% of supporters said they had witnessed racist abuse while watching a game.
Docking points from a team could include instances such as Chelsea's Champions League clash against Paris Saint-Germain in 2015, where traveling fans of the English Premier League club physically stopped a man from getting on the Paris metro, suggested the survey's organizers.
Visit cnn.com/sport for more news and videos
In the past, football teams have had points deducted for a range of transgressions, including insolvency, financial problems, fielding ineligible players and match-fixing, but not racism.
"The governing bodies, including The FA, UEFA and FIFA, must do more to promote methods of reporting racism and they must listen to supporters' demands," said Lord Ouseley, chairman Kick It Out.
"Clubs or countries whose supporters are racially abusive should face harsher sanctions, including points deductions."
The survey found that only 28% of fans know how to appropriately report racist incidents. That figure is as low as 13% in Arabic countries.
A spokesperson from The FA, English football's governing body, told CNN that "we encourage all fans and participants who believe that they have been the subject of, or witness to, discriminatory abuse to report this through the appropriate channels: The FA, our County FA network or via our partners at Kick It Out."  
Ahead of the 2018 World Cup in Russia, FIFA announced a "dedicated anti-discrimination monitoring system" that enabled referees to stop, suspend or abandon a match if racist or discriminatory chanting took place.
This came after the Russian Football Union was fined $28,000 for racist chanting by fans during a friendly against France in March.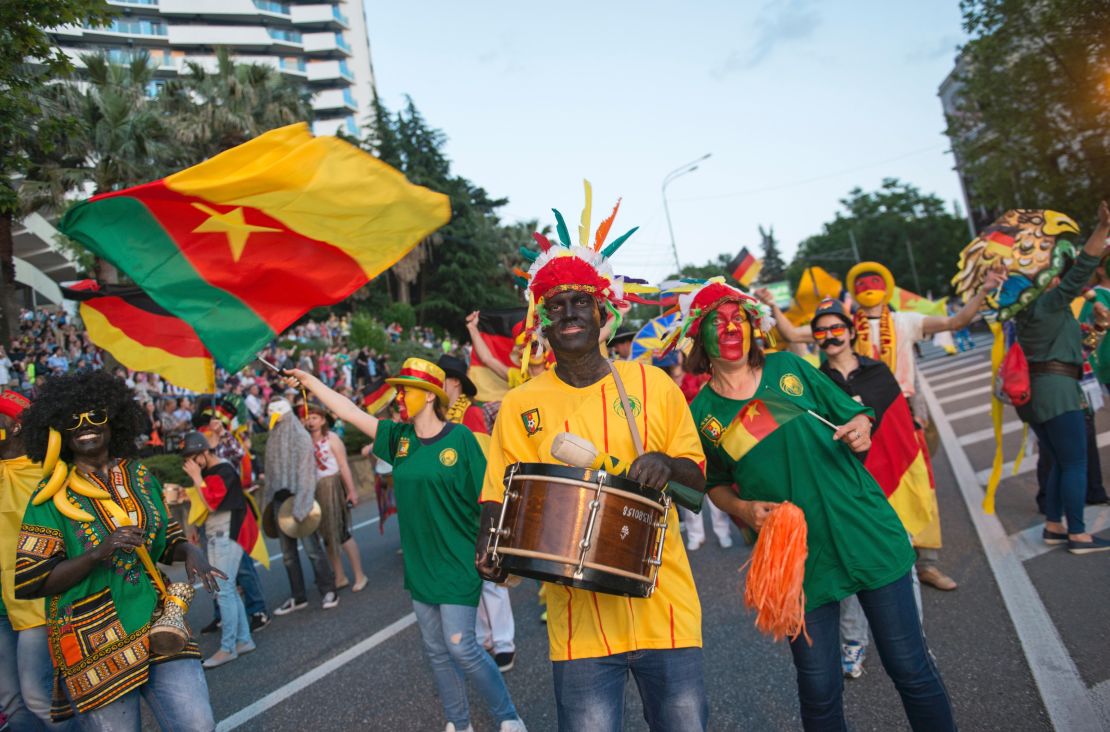 In recent months the German Football Federation has come under scrutiny after star player Mesut Özil, who has Turkish heritage, announced his retirement from international football for what he called a "feeling of racism and disrespect."
In the survey, 77% of German football fans said they feel comfortable with a player of different ethnic or racial background representing their national or club team. Amongst Europe's top five leagues, this figure is lowest amongst Italian fans (71%).
In 2017, Ghanaian footballer Sulley Muntari said he received racial abuse every game playing in Italy's Serie A.
Playing for Pescara at the time, Muntari walked off the pitch after hearing abuse and later told CNN Sport that he'd support a player boycott in protest against racism.
European governing body UEFA instructs that a player or team found guilty of racist conduct must be suspended for at least 10 matches. Referees are instructed to stop, suspend, or even abandon a match if racist incidents occur.
Lazio stands with Anne Frank
In a statement to CNN, UEFA said that "the fight to eliminate racism, discrimination and intolerance from football is a major priority for our organization.
"UEFA condemns such deplorable behavior and has always shown zero tolerance for any form of racism and discrimination.
"The campaign against discrimination, not just in and around football, but in European society as a whole, is a key belief of UEFA's social responsibility program."
FIFA did not immediately respond to CNN's request for comment.
"As our research reveals, too many supporters, both in the UK and across the world, are unsure of how to report discrimination," Lord Ouseley told CNN. "Leaders in football must use their platform to do more to raise awareness of the reporting methods available to fans.
"Paltry fines for clubs or national associations have a very limited impact on repeat offenders, so governing bodies need to be bolder in their approach to tackling racist abuse.
"Education is vital to help people understand the impact of racist behavior, but at the same time stadium bans, more severe fines, and points deductions all have to be on the table. Our research shows that supporters across the globe would be receptive to that too."