Editor's Note: Giovanna Delarosa is a former Toys "R" Us employee who spent 20 years working at the store in Chula Vista. She is a leader of Organization United for Respect's "Rise Up Retail" campaign, a movement of retail workers fighting for respect in the retail industry. The opinions expressed in this commentary are her own.
Around the same time I lost my job, my 13-year-old son came down with bronchitis. After a trip to urgent care and four prescriptions later, I had spent all of my rent money.
No income, no job, no health care. How did I get here?
I started working at Toys "R" Us as a summer job when I turned 18, and I never left. For the next 20 years, I worked at the same location in Chula Vista, California.
That job was my life. I got married to someone I met at work, I had my son, I put myself through college, and I gained a second family in my coworkers. I loved working at Toys "R" Us, especially around the holidays. I loved bringing joy to families. I was proud of my work.
Now a single mom, my life changed last spring when news hit that Toys "R" Us stores would shut down nationwide and lay off over 30,000 of us without a dime of severance pay, despite our dedicating years to the company. We had sacrificed so much for the company, missing almost every holiday with our families for 20 years. We felt left out in the cold, unable to support our families.
So we joined with Toys "R" Us families across the country to organize and call attention to our plight. We fought for the money we were owed in severance pay. And we mobilized quickly, online and offline, to help our families.
And on Tuesday, KKR and Bain Capital, two of the former owners of Toys "R" Us, created a $20 million fund to help our families. This money will help so many employees like me who faced an uncertain financial future. Especially around the holidays, this support means the world to my family. And it feels even better knowing I helped make it happen, and that I helped other families like mine.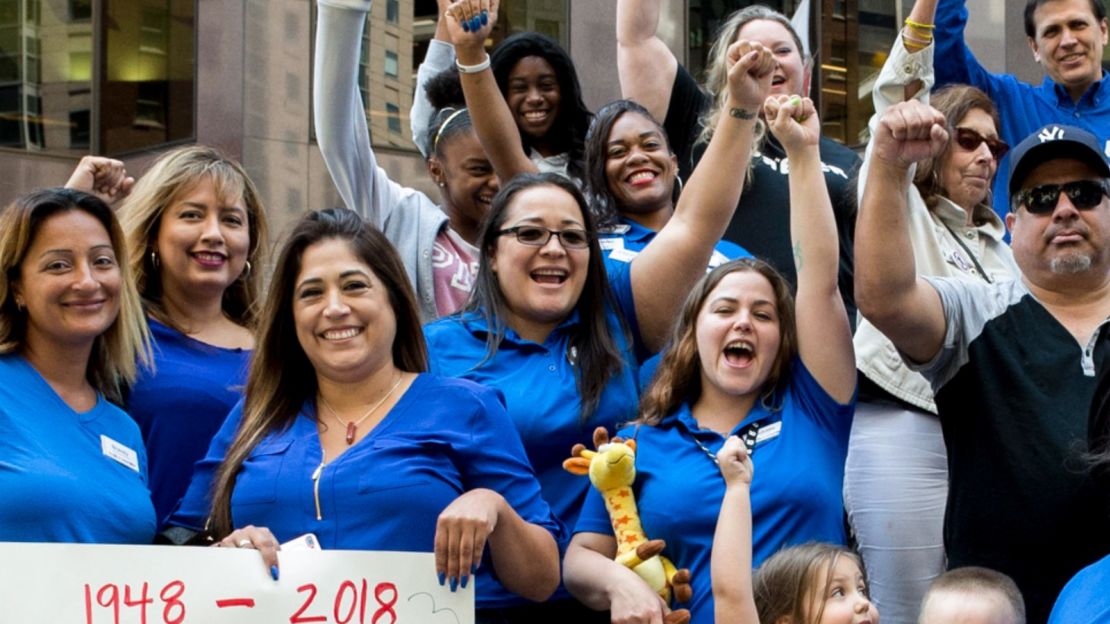 While this is a moment to celebrate, our work is far from over. Toys "R" Us creditors Solus and Angelo Gordon, and third former owner Vornado, still have not contributed their fair share to the fund to make sure all our families get what we deserve. So this week, I'm joining in solidarity with Toys "R" Us workers across the country to protest at Geoffrey's Toy Box, a new pop-up shop that the creditors Solus and Angelo Gordon have launched with Kroger. On the ground and online, Toys "R" Us families are making our voices heard once again. In Kroger stores across the country, former Toys "R" Us employees will be putting on their uniforms and raising awareness to call on these creditors to do their part and contribute to the fund. And even more will be protesting on social media to amplify their actions and raise awareness online.
Toys "R" Us was America's favorite toy store for 70 years. And this is the first holiday season in 70 years without it. For many former employees like me, this is the first holiday season not working there, and the first not having a steady income. But together with Toys "R" Us families across the country, we've already made a huge impact to secure financial support.
The holidays will be brighter for so many families because of this fund, and because of the amazing work that our Toys "R" Us family is still doing to help the thousands of dedicated employees who lost their jobs and their livelihoods.
Editor's note: In response to CNN's original article about the severance fund, Solus said KKR and Bain are responsible for, "saddling the company with crushing debt." It said that the lenders had provided money that had been used to pay workers' salaries, including earlier severance payments, which it said "vastly exceed" the severance fund set up by Bain and KKR. Vornado did not immediately respond to request for comment, and Angelo Gordon declined to comment.