Editor's Note: Jane Merrick is a British political journalist and former political editor of the Independent on Sunday newspaper. The opinions expressed in this commentary are hers.
It is barely six months since the wedding of Prince Harry and Meghan Markle was feted by the British press as a modern, progressive fairy tale.
But now, certain corners of that same British press are turning against them – or, more specifically, the bride.
For the last few weeks, the Duchess of Sussex has been the subject of hostile briefings by so-called "royal insiders," "courtiers" and "family friends," who portray her as a demanding bridezilla in the run-up to the wedding and a difficult boss who snaps at her staff.
An assistant has left amid reports of barrages of emails and phone calls at 5 a.m., while Harry is reported to have loudly told courtiers before the wedding, "What Meghan wants, Meghan gets."
We are told that the Queen was displeased about the bride-to-be's request for an emerald tiara and, in the latest story, that Meghan left her future sister-in-law, Kate, in tears at the fitting for Princess Charlotte's bridesmaid dress.
Whatever the truth in any of these reports – and there are always at least two sides to any story – a troubling narrative is developing about the new Duchess of Sussex that seems designed to put her firmly in her place.
There is an apparent effort to "other" her – perhaps due to her being American but also, in a more insidious way, over her biracial heritage. After all, how dare this successful, independent-minded, forthright woman have opinions on how she wants her wedding to be? How dare a woman who has worked hard at her career before she joined the royal family continue to send emails now she is on the inside?
It has long been the case that young royals – particularly those who marry into the family – simply cannot win. Take a laid-back approach to royal life, and you are accused of being lazy. But if you dare approach signing up to what must be an overwhelmingly rigid and traditional family firm with enthusiasm and gusto, as Meghan apparently has, you are attacked for being pushy and demanding.
The Duchess of Sussex is not the first new royal to be criticized by the tabloid press for, in their eyes, not getting it right: Her husband's late mother, Diana, was both adored and pilloried by newspapers; her sister-in-law, Sarah, Duchess of York, is to this day portrayed as apparently not quite fitting in.
Before her engagement to Prince William, Kate Middleton and her family were always too middle-class, rather than aristocratic, for those "courtiers" who briefed the newspapers.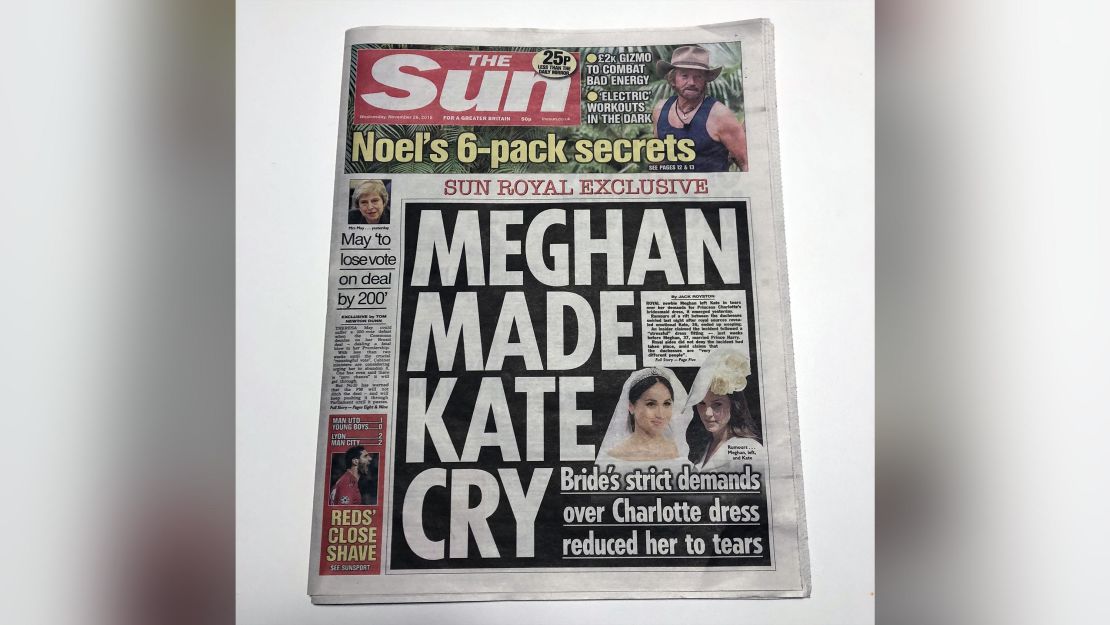 But for Meghan, the othering has been stepped up a gear. The fact that she is an American and a Hollywood star added glamour to her wedding to Harry in May at St. George's Chapel in Windsor. Now, her background is being used against her, as if no one else in the royal family has ever been demanding or dared to express an opinion about a tiara.
Even if there is a grain of truth in these stories, let's step back for a moment. There are always tensions and stressful demands from a bride and groom in the run-up to any wedding. For a royal wedding, to be watched by 2 billion people worldwide, those tensions and stresses must be magnified by a thousand.
For Meghan, on top of all of this, it was a period of intense personal turmoil as, for those with short memories should remember, her father was hounded by the media, not exactly supported fully by Kensington Palace in the maelstrom, and then announced he could not attend.
She had to endure other family members selling their stories about her personal life, while unable to speak publicly herself.
So, if Meghan did snap at Kate at Charlotte's dress fitting, does she not deserve some understanding? And if, as is reported, Kate did indeed cry, is this also not entirely unexpected, given that she herself had very recently given birth? If Harry really did say, "What Meghan wants, Meghan gets," was it not simply an attempt by a loving husband-to-be for the wedding to go as smoothly as possible, given all the turbulence? And is asking for an emerald tiara from the Queen an act of treason, as some would have us believe, or merely a request from a bride-to-be to put her own twist on tradition?
It is possible these stories are gaining traction because there are rumored frustrations among royal journalists that the family – and the Duke and Duchess of Sussex's camp, in particular – are not giving anything away as they retreat to a more private existence in anticipation of the birth of their first child, moving to a cottage on the Frogmore estate at Windsor, away from the media glare of London.
It is also notable that the negative briefings began shortly after Meghan and Harry broke the news of the pregnancy in October at the champagne reception of his cousin, Princess Eugenie – as if because the new couple had broken one unspoken social rule, they surely must be guilty of breaking others.
But, judging by the crowds that turn up to Meghan's public engagements, she remains one of the most popular members of the royal family. As she is unable to publicly hit back against anonymous hostile briefings against her, our newest royal does not deserve the version of the fairy tale that's been written for her.