Images and stories from Philippines President Rodrigo Duterte's brutal war on drugs have shocked audiences worldwide, as bodies have stacked up in cities across the country, many of them victims of extrajudicial and vigilante killings.
While the government has hardly been shy about its intention to go after both dealers and users, hard data on the number of killings has often been tough to come by. One indispensable source of information, both for the international media and readers in the Philippines has been the upstart news site Rappler, which is now facing a reckoning with the government it has been a dogged check upon.
Rappler CEO Maria Ressa and her company were formally indicted on multiple counts of tax evasion last week, charges critics say are politically motivated and designed to silence independent media in the southeast Asian country.
The formal accusations bring with them a potential 10-year prison term under Philippines tax law.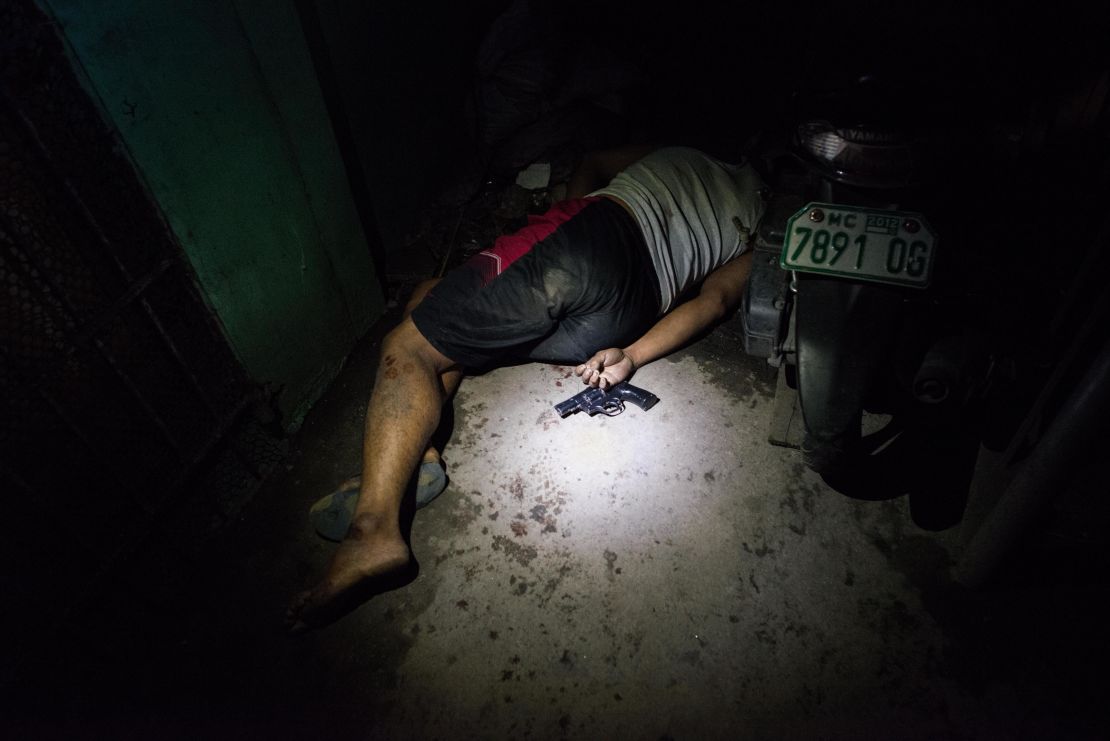 On Sunday evening, Ressa landed in Manila to fears that she could be arrested at the airport.
She was not arrested at the airport but confirmed to reporters in the arrival hall that a warrant of arrest had been issued. Ressa said she was "ready to post bail and do what our lawyers will advise."
Ressa's lawyer, Francis Lim, told CNN that Ressa left the airport with the rest of the Rappler team, adding that they would "voluntarily surrender Maria to the court and ask it to set her free by posting bail, which is a constitutionally guaranteed right under our legal system."
'Ridiculous' charges
In January, the Philippines Securities and Exchange Commission (SEC) temporarily revoked Rappler's registration on the basis that it had violated the country's constitution over foreign ownership rules.
Philippines officials claim Rappler and Ressa failed to declare about $3 million in 2015 on tax returns from an investment by the Omidyar Network, a fund created by eBay founder and philanthropist Pierre Omidyar. Rappler said five cases were formally filed against Ressa and Rappler Holdings in two courts.
At the time, the Committee to Protect Journalists (CPJ) called the charges a "direct assault on freedom of the press." The rights group Amnesty International, meanwhile, claimed it was "an alarming attempt to silence independent journalism."
Ressa, an award-winning journalist who previously served as a CNN bureau chief in Manila, has defended Rappler's ownership structure as "100% Filipino," and maintained the charges against her company are politically motivated.
"I've long run out of synonyms for the word 'ridiculous.' The basis of this case is that Rappler is classified as a dealer in securities. I am definitely not a stockbroker," Ressa told CNN Thursday, after news of the charges broke.
Shawn Crispin, CPJ Southeast Asia representative, said the charges were a "blatant form of legal harassment and underline President Rodrigo Duterte's desperate attempt to stifle its critical reporting on his government."
Duterte's office has denied he is involved in the prosecutions against Rappler, but the President has previously sparred with the company's employees, personally barring Ressa and reporter Pia Ranada from Malacanang Palace, his official residence, over their coverage of his administration
Brad Adams, Asia director for Human Rights Watch, said the case sent "a chilling message to journalists and human rights activists (in the Philippines) that they will be targeted for exposing his murderous campaign."
Rappler CEO: Stripping of license is political
Duterte's drug war
At least 5,000 people have been killed as a result of Duterte's drug war, his landmark and most controversial policy. That figure is the official police count, however, and opposition lawmakers and rights groups estimate the true death toll could be in the tens of thousands.
Those killed have included children and innocents, as well as ordinary drug users and criminals executed extrajudicially.
Among Philippines media, Rappler in particular has focused on the human toll of the drug war, and often contested the official death counts put out by the government under the social media campaign #RealNumbersPH, a self-described effort to counter what it calls a "false narrative" on the war on drugs.
This has attracted criticism from both supporters of the President and Duterte himself, who has long had an uneasy relationship with the press since before he was elected in a landslide in May 2016.
Ahead of his inauguration, Duterte defended the notoriously high fatality rate for journalists working in the Philippines as sometimes justified and accused the media of being corrupt.
"Just because you're a journalist you are not exempted from assassination, if you're a son of a bitch," Duterte said in comments that were swiftly denounced by press groups. "Freedom of expression cannot help you if you have done something wrong."
As many as 12 journalists were killed in the first two years of the Duterte administration, higher than under any other president during a similar period, according to the National Union of Journalists of the Philippines (NUJP).
In the latest Press Freedom Index, the Philippines fell six places to 134th of 180 countries, with the report's authors warning that the "dynamism of the media has … been checked by the emergence of a leader who wants to show he is all powerful."
This man compares himself to Hitler
A dangerous job
Journalists who push back against the official narrative on the drug war, both in the Philippines and overseas, have faced online harassment from supporters of Duterte, who organize on Facebook and other platforms to go after media critical of the President.
Ressa has previously called out the effect of Facebook in enabling the spreading of disinformation and attacks against journalists online, saying this has become a key policy for the Duterte administration.
"We were the first, two-and-a-half years before the United States started talking about disinformation, we saw because of our partnership with Facebook, we saw these exponential attacks on social media that began in July of 2016, the same month that the drug war began," she told ReCode last month.
"In August of 2016, I gave that data to Facebook and I said, this is really alarming. These people are targeting anyone who attacks, who asks questions about the drug war. The drug war began in July of 2016. It's targeting journalists. It's targeting anyone who's perceived to be critical of President Duterte. Those attacks are heinous. It brings out the worst of human nature."
While Facebook has come under intense scrutiny for its role in spreading disinformation in the US and Europe, the social network has also been roundly criticized for not doing enough to police its platform in Asia, with both Facebook and its subsidiary WhatsApp accused of allowing hateful and dangerous content to be shared in countries such as Myanmar and India.
Ressa was overseas when the charges against Rappler were first announced, but she has vowed to return to the Philippines and fight them, even if that means doing so from a prison cell.
"In many ways the government's attacks against Rappler have made it very clear to us exactly who we are, what our identity is, and for our young reporters who are on the ground, how clear and necessary our mission is today," Ressa told CNN last month.
"Our democracy is in transition … the mission of journalism has never been needed as much as it is now, and we'll continue doing these stories."
CNN's Joshua Berlinger and Euan McKirdy contributed reporting.